 A parody Twitter account mocking Exxon's response to spill clean-up in Arkansas has been suspended by Twitter.
The account, which creators say was inspired by BP parody account @BPGlobalPR, was formed Tuesday, several days after Exxon's Pegasus pipeline spewed an estimated 84,000 gallons of heavy crude oil into residential streets in Mayflower, Ark.
According to a copy of the email sent to the account holders, provided to HuffPost, Twitter said that the account "is engaged in non-parody impersonation," which is impersonation that "misleads, confuses, or deceives others." The email directs the account holders to the site's "best practices" and directs them to change the account name, username, background and avatar.
The parody account holders also provided HuffPost with a copy of their response, in which they point out:
It's obvious from the content of the tweets themselves that the account is a parody; every piece of public interaction with @ExxonCares from the Twitter community confirms this. This is an important current event, and I am of the strong belief that the introduction of parody in the overall narrative can raise awareness about a small town in Arkansas that has been turned upside down by the largest oil company in the world.
They conclude by citing the precedent of @BPGlobalPR, and suggest that the addition of the word "not" into the account's biography section should be sufficient for reinstatement.
Twitter spokesman Jim Prosser told HuffPost that the company doesn't comment on individual accounts for privacy and security reasons.
The fake account was suspended once before, shortly after it went live, according to its creator, but it has since been updated in accordance with all of Twitter's guidelines for mock accounts. "We added the line in the bio about how it was parody," the account's co-creator told HuffPost in an email. "Not sure why this is happening again."
The news comes after reports that journalists covering Exxon's Pegasus pipeline spill have been denied access to the spill site and threatened with arrest. Inside Climate News' Lisa Song, after trying to locate representatives from the EPA and Department of Transportation in Mayflower, was told she could be "arrested for criminal trespass." Michael Hibblen of radio station KUAR told Mother Jones he was threatened with arrest by deputies from the county sheriff's office after attempting to shadow state Attorney General Dustin McDaniel, who was inspecting the spill.
Related
Before You Go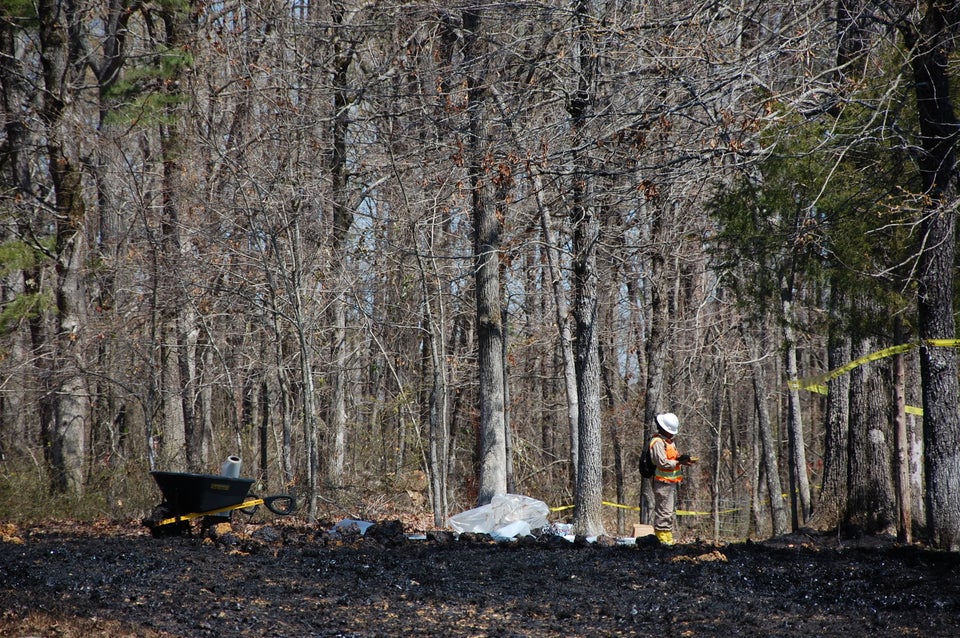 Arkansas Oil Spill
Popular in the Community