Exxon Mobil Corp. isn't sweating the diplomatic crisis simmering in Qatar.  
The oil and gas giant's profits doubled to $3.35 billion compared to this quarter last year, the company said Friday. That's despite the weeks-long spat between the tiny Gulf Arab nation ― which Exxon Mobil helped build into the world's biggest exporter of liquefied natural gas (LNG) ― and its neighbors Saudi Arabia, the United Arab Emirates, Bahrain and Egypt.
"Simply put, we've not experienced any impacts to LNG production or exports," Jeff Woodbury, Exxon Mobil's investor relations chief, said during a quarterly earnings call on Friday morning. "We are very proud of the contributions we've made in supporting Qatar's evolution as the world's largest supplier of LNG."
Qatar is an important U.S. partner in the region and host to the largest American military facility in the Middle East. That base is the hub of the ongoing battle against the self-proclaimed Islamic State.
But President Donald Trump ― despite efforts by his own State and Defense Departments to diffuse the crisis with Qatar's U.S.-aligned neighbors  ― has repeatedly attacked the country in public.
Since its neighbors began their blockade on June 5, Qatar has only become more keen to maintain its status as the world's top source of natural gas. Earlier this month, the country announced that it would boost gas production ― a sign that it wants to sustain its energy market share and challenge rival producers.
Long overshadowed by Saudi Arabia, the region's political and oil-fueled economic juggernaut, Qatar has in recent years used natural gas revenues to bolster its influence and independence on the world stage.
The country has sought to become a sort of Switzerland, open to dialogue with players of all stripes, including Iran, Saudi Arabia's regional rival, and supporters of political Islam, who other regional governments see as a threat but Qatar says should be accommodated lest they turn to militancy. It's poured money into support for activists ― and in some cases armed groups ― abroad, and into a widely popular news network, Al Jazeera, that has subsidiaries broadcasting in Arabic, English and other languages.
The blockade is seen by many observers as an attempt to punish Qatar for flexing its muscles abroad and force it to realign with Saudi-led regional foreign policy.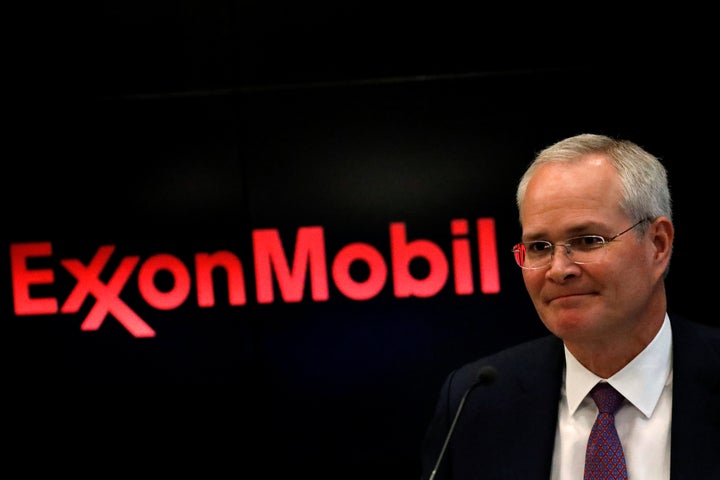 Still, business as usual is the chief message from Qatari officials, who hope to highlight that their economic ties to the outside world and their security contributions remain consistent.
Exxon Mobil's relationship to the country is heightened by the fact that current Secretary of State Rex Tillerson used to be the company's chief executive. 
Tillerson has led efforts to mediate the crisis by diplomatically engaging with all the governments involved, and underscored that Washington does not intend to sever its strategically important links to Qatar.
But Trump's statements on the matter have undercut his work: the president has repeatedly condemned Qatar and appeared uninterested in encouraging Saudi Arabia, the UAE and others to back down. Some reports suggest that Tillerson has become so frustrated he is considering leaving his post, although he subsequently said that he had no intention of resigning. 
For its part, Exxon Mobil seems to be taking the longer view. Woodbury said Friday the company was open to "future investments" in Qatar, adding it would continue to back the monarchy.
"I'd put it this way: Qatar is a very important partnership for us," Woodbury said. "We'll continue to support Qatar."
Calling all HuffPost superfans!
Sign up for membership to become a founding member and help shape HuffPost's next chapter
BEFORE YOU GO
PHOTO GALLERY
Qatar Airways Treasure Hunt