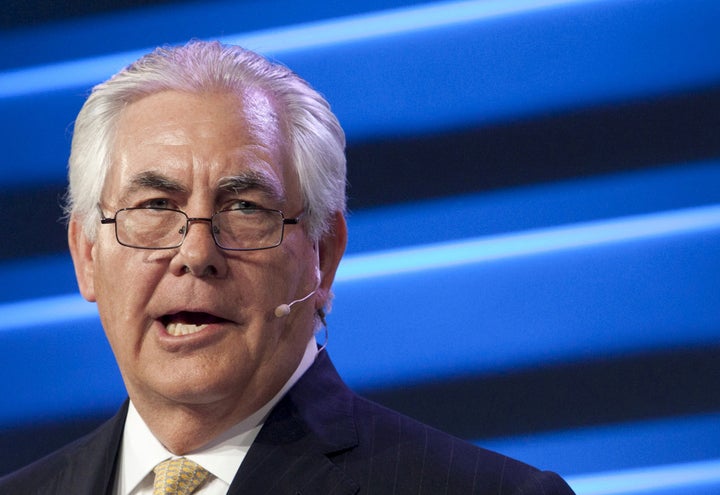 With so many other issues surrounding the nomination of former Exxon Mobil CEO Rex Tillerson for secretary of state, his company's history on women's rights and gay rights hasn't gotten much attention.
It ought to. Exxon's record on advancing, promoting and retaining women is poor. And its record on human rights for LGBTQ employees might be worse. Indeed, the oil giant was the target of gay rights protests for years and only recently has caught up with modern corporate standards in that arena.
As the Senate weighs Tillerson's nomination on Wednesday, these issues shouldn't be ignored.
Even in corporate America, where women are hard to find in the uppermost ranks, Exxon and the oil and gas industry overall stand out for the scarcity of women at the top. The industry culture is still largely rooted in a time when men brought home the money and supportive spouses trailed behind.
Tillerson joined Exxon straight out of college in 1975. It's the only workplace he's ever known, and it's hard to imagine it hasn't shaped his view of how a company runs. Apparently, it runs without many women. Only 16 percent of managers at Exxon are women, according to company data. 
The women's issue is particularly poignant considering that, if confirmed, Tillerson would be leading a State Department that's made notable strides in the advancement of women. The department promotes and defends women's rights around the globe, and anyone in charge of it should understand why this is critical.
This goes beyond ideals of gender equality and diversity in the workplace. Women's rights are a national security issue, as Valerie Hudson, a professor at the Bush School of Government and Public Service at Texas A&M University, and Dara Kay Cohen, an assistant professor of public policy at Harvard, wrote recently in The New York Times.
"The State Department's gender equality programs are not just politically correct fluff — they deal with matters of life and death, like rape during war, genital cutting, forced marriage and access to education," Hudson and Cohen wrote. "The State Department provides essential funding to combat these problems."
No one can say for sure how Tillerson would handle the responsibilities of the State Department. But it seems unlikely that a man steeped in the patriarchal values of an old-fashioned industry would keep women's issues at the forefront of his mind.
The culture in the oil and gas industry was crafted decades ago by men, for men, and hasn't changed much, said Anna Beninger, director of research at Catalyst, a nonprofit devoted to women in leadership.
"The old boys' club is still very much alive and well," said Beninger, who's conducted extensive interviews with women in the industry. The industry is "30 years behind" when it comes to the treatment of women, she said. "Oil and gas is an extraordinarily difficult culture to work in."
Exxon, which is known for its secretive corporate culture, declined to make any employees available to talk to The Huffington Post about diversity and women, instead referring us to its website.
But the company isn't much different for women than other oil and gas outfits, according to interviews with several women who work in the industry. Women in the oil and gas industry may have it even worse than women in the technology industry, which is often criticized for its male-dominated culture.
Women make up just 14 percent of employees in management in the energy industry, according to Catalyst data.
At Exxon, few women have top positions. They do hold 31 percent of professional positions ― that is, those not working out on rigs. If you include nonprofessional workers in the count, the percentage of women drops to 26.1. There are only three women among the 13 people on the company's board of directors.
And in 2017, when many well-paying white-collar employers are offering robust parental leave to all employees who welcome children into their families, Exxon only offers paid leave via disability benefits to women who physically give birth. That means employees who adopt or foster children do not get paid leave. There is no paternity leave.
In 2015, Exxon fought off a shareholder proposal to see its data on gender and pay, to determine if there was any pay inequality at the company. Eve Sprunt, a former engineer for Chevron and president-elect of the American Geosciences Institute, authored the proposal. Her aim is to better understand if there is systemic discrimination against women at the company, she told HuffPost.
When a company does not have a lot of female executives, getting the hard numbers on pay is critical, Sprunt said. For any one promotion you can always make a case for why a woman didn't get the job. That's why statistics are important. "It's only when you look at multiple cases that you see the patterns," Sprunt said.
It wouldn't have been unusual for Exxon to make this data available. Many tech companies have voluntarily done these types of pay audits, including Amazon, Apple and Salesforce.
Exxon's record on LGBTQ rights is also poor. When the company acquired Mobil in 1999, Exxon stopped providing benefits to same-sex couples and got rid of an antidiscrimination policy that had protected employees from being treated differently due to sexual orientation.
Exxon only amended its discrimination policy to include gay employees in 2015, after years of criticism and boycotts. By then, Tillerson had been CEO for nine years. The company is the only corporation ever to receive a negative rating on the Human Rights Campaign's corporate equality index ranking, The New York Times reported that year.
Tillerson himself has a stronger record on LGBTQ rights than Exxon's, having played an instrumental role in getting the Boy Scouts of America to open up its ranks to gay kids. He led the organization from 2010 to 2012, and BSA made the change the following year.
Part of the issue for women in the oil industry is a deeply held notion that promising employees must get out in the field ― on rigs, drilling sites and so on. And there's a perception that women don't want to do that. 
Sprunt and others say that things have gotten better for women in the industry over the years. Duke Energy is now run by a woman, and other firms have women in top positions. At Chevron, managers are even rated on whether they're promoting diversity issues. 
Exxon is trying to do better, according to Sprunt. The company, like most, does have a website devoted to its diversity efforts and says that in recent years it has picked up the pace of hiring women. Now 40 percent of new hires are women. The company is starting to recognize that it needs a diverse workforce, observers say.
However, the underlying culture is still a problem. There are more subtle ways that executives avoid advancing women, Sprunt said. Often, men don't notice these things.
Beninger said she still thinks about one female oil executive's response when asked how she got ahead at her company. (Beninger wouldn't name the company.) The tips for succeeding as a woman in the oil industry? First, bring a black coffee mug to meetings so men don't notice lipstick rings on your cup. Second, definitely don't bring notepads to meetings, or you'll be mistaken for a secretary. Basically, make sure any reminders of your femininity are kept out of sight.
"She's obviously been successful and the way she did it was by blending in, acting like one of the guys and not embracing her authentic self," Beninger said. "What that suggests is that these are not welcoming cultures."
The State Department, meanwhile, has made a huge push to hire more women since the 1990s. Women make up 44 percent of State staff, according to data provided by the department. And of course, the department has had a few female leaders over the years.
"The priority is to have a service that truly reflects the people of our nation and women do represent half of our country," Woody Staeben, director of the State Department's Office of Recruitment, Examination, and Employment, told HuffPost. "We want to have as many women that are as competitive as possible. It's been a priority for a long time."
It wasn't always like this at State. But in the '90s, the department settled a long-festering discrimination suit, kicking off the new push for gender diversity.
The point is, the agency evolved. Just on Monday, Secretary of State John Kerry issued an apology for the agency's discrimination against gay people dating back to the 1940s.
Tillerson hasn't publicly apologized for the way his company treated gay employees.
Last month, the president-elect's transition team sparked anxiety at the State Department by requesting information on all of its programs on gender equality. Some believed this was the beginning of a witch hunt, and were concerned that these programs were in danger.
The Trump transition team said there was nothing to worry about.
"President-elect Trump will ensure the rights of women across the world are valued and protected," they said in a statement at the time. "To help fulfill this promise, the transition team inquired about existing programs at the State department that helps foster gender equality, ends gender-based violence, and promotes economic and political participation ― finding ways to improve them, along with hundreds of other requests."
CORRECTION: This article has been updated to note that Eve Sprunt is not currently a Chevron employee.
Calling all HuffPost superfans!
Sign up for membership to become a founding member and help shape HuffPost's next chapter