Part One: A manufacturer with a vision that could change the world.
In 1991, I was struggling to keep a young NFTE going -- even though we had been operational for three years, we came up against crippling cash shortages. EY was there to help us -- donating our audit since 1988 so that we could uphold transparency and good practice. Then, through their program to honor young entrepreneurs, they nominated me in the supporter category.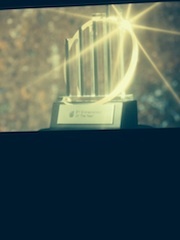 I remember this moment vividly: sitting with Ray Chambers and his daughter Christine, I was eager to win the award -- not for me, but to garner support for NFTE's students and teachers. They announced the NFTE name, and I was so ecstatic that I must have lept onto the stage. Then, twelve years later, I recieved the 2004 EY National Entrepreneur of the Year Award in Palm Springs -- also supported by the wonderful Kauffman Foundation (see my article here), one of my greatest memories. The award was even presented to me by Jay Leno!
EY is a global leader in accounting and financial services, but what really impresses me with this company is their commitment to the entrepreneur. Maria Pinelli, their Global Vice Chair of Strategic Growth Markets, serves on NFTE's board where she passionately supports young entrepreneurs. Their Entrepreneurial Winning Women program hand picks some of the most promising women entrepreneurs from around the country, and invests considerable resources in helping them grow their businesses and scale their genius. (You can learn more here: http://www.ey.com/US/en/Services/Strategic-Growth-Markets/Entrepreneurial-Winning-Women).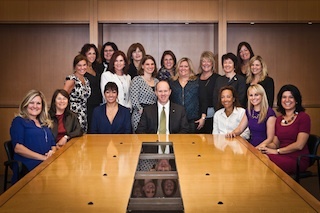 The Winning Women, 2008-2013, with Steve Howe, EY's Managing Partner for the Americas.
A few days ago, I again had the pleasure to attend one of my favorite conferences of the year -- EY's meeting to present the award. It does enormous good by connecting and recognizing the best entrepreneurs in America.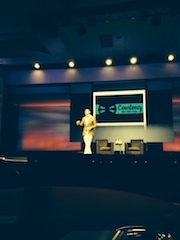 Josh, a NFTE grad, speaks to the audience of 650 of America's leading entrepreneurs!
While I was there, I had the opportunity to hear from a truly inspiring woman -- both an entrepreneur and a crusader in changing the way multicultural children see themselves. Dr. Lisa Williams, CEO of World EPI.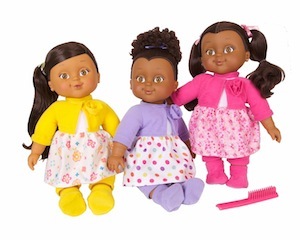 I sat down with Lisa to learn how this dynamic, energetic, and intelligent woman went from a path of academic success to trailblazing in children's toys. Lisa was the first female professor to receive a multi-million-dollar endowed chair, the first African-American female professor to earn tenure at Penn State University, and the first African-American to receive a doctorate in Logistics from Ohio State University. Now she runs a hugely success business with every manufacturer's dream -- Walmart is her biggest customer.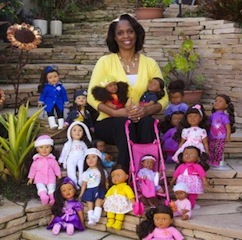 Steve Mariotti: How did you get interested in this unique field of multicultural doll manufacturing?
Dr. Lisa Williams: Actually it was a circuitous route -- that was not my plan. I went, like any other person, to school and got my undergraduate degree in three years instead of four. I got my Master's in a year; I got my second Master's in eight months. Then I got my Doctorate -- I was the first African-American female to graduate from Ohio State. My dissertation was on EDI -- Electronic Data Interchange, and building the trust relationship between companies. You have to share data openly in order for business to work, so it was about trust in inter-business relationships.
SM: You are thinking constantly about trust -- but between corporations or people?
LW: Actually it's both because there has to trust between the individuals in the organization for the organizations to trust each other. I have to trust you then my company can trust your company. [At University of Arkansas' business school] I taught undergrads, Masters, PhD students and business executives. Business to business relationships. My hypothesis in my dissertation was: if you have a level of trust between companies, then the technology will work. However, the technology cannot work on its own, it's not the panacea. You can't have that partnership if you can't trust each other. The technology was simply an aid or tool to help people be more successful in their relationships.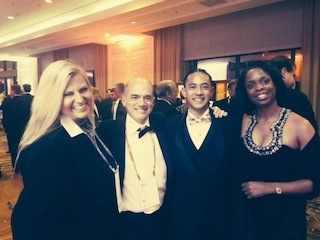 Me with NFTE grad Josh, Dr. Lisa and Denise Wilson, CEO of Desert Jet.
SM: So, what happened next?
LW: I thought at the time I was supposed to be teaching executives. I thought executives could impact the world because you have employees that are in your care eight hours per day or more, so how you treat your employee impacts how they treat their wives and husbands, and children. It affects the whole fabric. So, executives have a key responsibility. That's why I left the University of Arkansas -- to teach corporate executives how to have more successful careers. I moved to San Diego and started my business on my own. Then Walmart calls me and says "We understand you have a leadership book out, we would like to sell your book." (Leading beyond excellence: 7 Steps to Inspire yourself to the Top) Of course, I did and the book did very well. Then they asked, "do you have any books for children." So, I hired graphic artists and illustrators and authors, and I did a line of children's books. They did very well, and Walmart came back and asked for a line of dolls based on the books. In my book, I had African-American children, Latinos, Asian -- the whole gamut. When they asked me to do children's toys, I said that wasn't my area of expertise.
But later, I was watching a report by Anderson Cooper and Soledad O'Brien (http://edition.cnn.com/SPECIALS/2010/kids.on.race/) and they were talking about the doll studies (http://en.wikipedia.org/wiki/Kenneth_and_Mamie_Clark), which you probably remember. They took the old study where African-American children thought they were unattractive and they did it again -- I was watching and nearly in tears. We have an African-American president and beautiful first lady, all of these celebrities on the covers of magazines. Surely, little girls believe now that being multicultural is beautiful. But, when they look at these dolls, they all said the brown doll was ugly and it was ugly like their skin was ugly. That's when I said I had to do it, it was in 2009.
SM: Was it the next morning?
LW: No it was right then. When I saw that little girl on television, she was a beautiful girl. They asked her why she didn't like the African-American doll and she said it was ugly -- "her skin is ugly just like my skin." I cried. You cannot have little girls growing up and believing that they are unattractive.

SM: We had black dolls before, so what is different?
LW: What you see now when you go into stores are companies that have taken a Caucasian sculpt, added brown paint and a pink lip, and call it an African-American doll. They take another popular Caucasian doll, they add tan paint and a pink lip, and they call that a Latina doll. There are no authentic sculpts. I mean, the lips are not full and gorgeous like a multicultural girls are -- their noses, their eye shapes, their hairstyles. My doll line is truly authentic. I custom blend every skin tone to represent the skin tones of our little girls.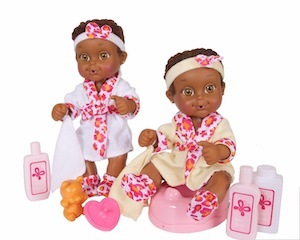 Positively Perfect Dolls have a unique face shape to reflect the beauty of multicultural children.
SM: They don't mean harm, they just don't know...
LW: Right, they are looking at it from a cost perspective. The most expensive thing on a doll is the face. You have to do a whole mold and sculpt, which costs thousands of dollars. Why do that it if you have one that is successful? Even though it's Caucasian features -- a narrow nose, thinner lips -- it's still a popular doll with the Caucasian market. The idea is not to invest more money, to take the same sculpt and just paint it a different color.
SM: Tell us about your first investment.
LW: My first thing was to come up with my own money. Like every young entrepreneur, I borrowed from my retirement. I wrote a business plan after because when Walmart comes calling, you do it on the backend.
SM: How did you find a manufacturer?
LW: Initially, I went to the doll aisle and turned over packaging to try to find out who was making them.

SM: What are the three key things you would like to share with young entrepreneurs?

LW: First, have a passionate vision. It's important because you have to know what you are trying to achieve. With manufacturers, you need to know what you are trying to achieve, whether its a domestic or international factory. In my case, I don't see myself as just a doll manufacturer. I am someone that builds positive self esteem and helps to heal generations of children.
Second, make sure that you do your due diligence. Don't assume that, because there are laws in the U.S. that govern certain practices, laws will apply in other countries. It's very difficult and expensive to create a law suit in another country, so be diligent about a factory. Check it out -- do an unexpected tour. Look at the quality of the other products they manufacture. Meet the top management -- not just the people on the floor. Talk to the CEO or owner to make sure that they have the same or a similar vision to you own.
Thirdly, make sure that your product and factory fits into an overall growth strategy. Can they expand with you or is it just for one year? Can they do other products? Really look strategically, not just operationally.
REAL LIFE. REAL NEWS. REAL VOICES.
Help us tell more of the stories that matter from voices that too often remain unheard.