 In December last year, I had the privilege of meeting and speaking to Dr. Gregg Feinerman, and I came to understand why he created Operation Insight five years ago and what an amazing man he truly is. He explained that Operation Insight is a way to give back to the community. He started the project because he felt that the best thing that he could give to the community was the gift of sight.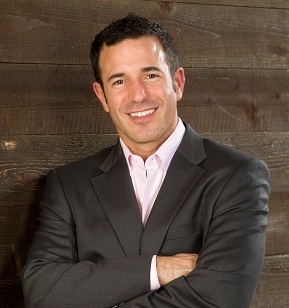 "Fortunately, something I have been blessed with is the ability to improve people's vision through surgeries," Dr. Feinerman explained. "We decided to do work in communities where unfortunate patients are unable to have insurance and get eye care, and it is really rewarding, as they are extremely excited about their vision. So we created Operation Insight to reach out and help people in need of eye surgery, and the project is not just in the USA, but also abroad."
Dr. Feinerman traveled to Vietnam on two medical missions, where he worked on people who had no access to any type of health care. These were farmers that could not do their work because they had lost their vision. For instance, they operated on one farmer who came in and could no longer support his family. He couldn't even see the big "E" on the eye chart, and with a simple 15-minute procedure, the team provided 20/20 vision to this man. These surgeries are life-changing and give people back their lives.
Not only does Dr. Feinerman do operations, but his passion is also to teach local doctors new techniques. In Vietnam, the problem was not only the lack of access to health care, but the surgeons are not up to date with the latest surgical techniques. So the transfer of knowledge to the local surgeons is yet another incredible gift to the people of Vietnam.
"In this case, there were surgeons that had machines that had been donated by Mitsubishi about a year before I arrived, and they hadn't even opened the box because they didn't know how to use it. So I went there and showed them how to use the machine, and although I had never used that particular type of machine, it's similar to what I use in the states. We had also brought them tonnes of supplies purchased in the USA. We started with their head surgeon and taught all their other surgeons as well," Dr. Feinerman explained.
When I asked him what inspired him to give, he said he had always wanted to give back, and he is now at a stage in his career where he can do that. "Now that I have a practice, we do a lot of surgeries and have the connections with amazing suppliers. We discussed with them what we need, because for all the surgeries we did, they were generous enough to donate the equipment I need and bring it to Vietnam. I use my resources, skills and contacts to turn around things for the people who don't have access to this type of health care," he said.
He described one 88-year-old patient in Vietnam who was dancing the next day after the surgery. She was so excited, smiling and laughing. That woman was unable to feed herself because she couldn't see the food. He explained that these are the people who motivate and inspire him to do this work.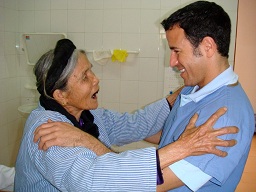 This incredible doctor explained to me that throughout his career he was fortunate enough to have worked with very skilled surgeons who gave him their time and expertise.
"I worked with a very talented surgeon who taught me how to do this surgery, perfecting the technique before we tried it on people. He taught me things that not all surgeons were doing, and we spent a lot of hours practicing the technique. On a Saturday morning, we would be working. He really gave of his time. That is when I realized that giving is not only about money; time and imparting knowledge are two priceless resources. Giving in this way has changed my life," Dr Feinerman said. "It makes me want to do it again. We have already worked with a Cambodian hospital, and once or twice a year, we set up a mission to get out of the United States to teach in other countries. Our techniques mean the healing is quicker and less traumatic on the patients. They don't have to wear eye patches but can literally get off the table and can see the clock across the room straight after surgery. We plan to work with the John Fawcett Foundation in Bali, Indonesia as well this year.
"Giving is important not just for the future of humanity, but for your own self. I am fortunate to work with the most skilled eye surgeons around the world and learning techniques which are cutting edge. Medicine is a science, and science should be shared. It's something I love to give back. We really are teachers even though we are doctors."
The cases he has worked on in the past do vary; they also worked with John Wilkins, who is a local fire fighter in Southern California, to aid him to protect and serve.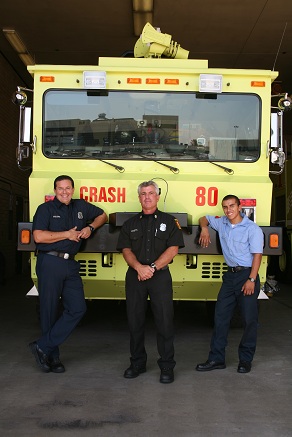 And just before Christmas last year, Dr. Feinerman worked with a 22-year-old young man with Wolfram Syndrome. Usually, life expectancy for Wolfram Syndrome is around the age of 40.
Austin's debilitating eye sight was a roadblock at work and for his daily lifestyle. He wanted to see the world clearly for the remainder of his life,but hasn't had the resources until now.
His gift last Christmas was the gift of sight, and Dr. Feinerman made this happen.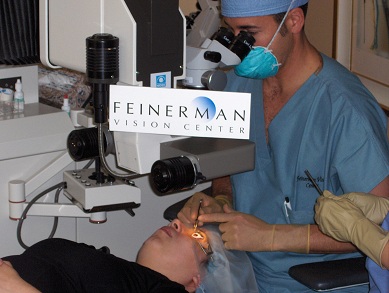 Operation Insight is looking for people with a need for eye surgery, particularly cataract surgery. Most people in the new year make resolutions. Have you set your goals? Is your sight getting in your way to accomplish your goals? Please tell us your story.
• Are you a college baseball player who needs eye surgery, but can't afford it?
• Are you a dad or mom who protects and serves, but your eyesight is getting worse and you can't perform job duties?
• Do you know a couple who has a great story or who gives back to their community but are in desperate need of eye surgery? This year for Valentine's Day, the Feinerman Vision Center is giving a couple a "Gift of Sight."
We would love to hear from you, so please submit your story to: OperationInSight2013@gmail.com
Finally, would you like to volunteer and travel with Dr. Feinerman to support his work? We are travelling to Bali, Indonesia in May 2013 to support him perform cataract eye surgery at the John Fawcett Foundation. Send me an email to: getrude.m@medicalrecruiters.co.nz
For more by Getrude Matshe, click here.
Photos used with permission.
REAL LIFE. REAL NEWS. REAL VOICES.
Help us tell more of the stories that matter from voices that too often remain unheard.