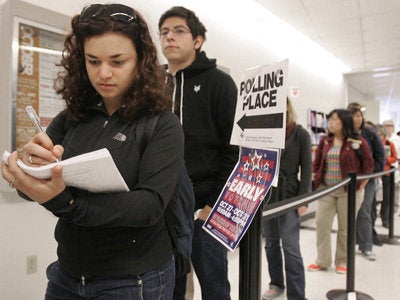 Catholics account for 1 in 4 voters nationwide and have sided with the popular vote winner in the last nine presidential elections. They tend to be heavily concentrated in swing states like Pennsylvania and Ohio - in fact, many believe Catholics gave Bush the edge he needed to win Ohio in 2004. Those looking for early indicators of how tonight will turn out would be well advised to keep an eye on the Catholics as exit poll data comes in.
Catholic voters overwhelmingly prioritize economic over social concerns - 51% versus 7% according to a recent poll from the University of Akron's Bliss Institute; perhaps this is why Obama was posting a double-digit lead among Catholic voters earlier this month. But the Pew Forum on Religion and Public Life is reporting that the democrat's Catholic advantage has dwindled to a dead heat in the final days. If these numbers are correct, the race could be incredibly tight. If Obama recovers even a fraction of his previous lead among Catholics, we could be looking at an early night.
Here are some key areas to watch:
Bush lost Pennsylvania Catholics by a thin margin in 2004, 51 to 49%, and Catholic Democrat Robert Casey, Jr. carried them decisively in 2006, 59-41%. Pennsylvania's 21 electoral votes - and the outcome of the entire election - could easily hinge on the behavior of the 32% percent of the state's population that identifies as Catholic.
Watch Pittsburgh and Scranton (where Catholics make up about half the population) as well as Erie. Obama has struggled with white working-class Catholics in the Keystone State and results in these areas could serve as bellwethers for a broader trend. Also keep your eyes on the Philadelphia suburbs. Montgomery, Bucks, and Delaware counties are the state's third, fourth, and fifth most populous counties and home to a 35, 43 and 49% Catholic population, respectively.
In 2004, Ohio Catholics favored Bush 55 to 44%. But these same voters broke 54-43 for Democrat Sherrod Brown in the U.S. Senate race two years later. In 2006, 25% of Ohio voters identified as Catholic.
Watch the state's rural western-central region, including Putnam, Mercer, Shelby and Auglaize counties. Catholics make up a majority of voters there, in which Bush received 77, 75, 71 and 74% of vote in 2004, respectively. Results from this sparsely-populated area will come in early, and could serve as an indicator of white Catholic voter trends statewide and nationwide. Cincinnati may serve as another kind of bellwether. Although Hamilton County is the largest urban center carried by the Republican Party in both the 2000 and 2004 elections, the GOP lost a bit of ground there in 2004. A continuation of this trend will not bode well for McCain.
Colorado's relatively large percentage of Latino Catholics makes it an interesting case study. In 2004, Bush won all Catholics in the Centennial State by a relatively narrow margin (52-46%), but captured the white Catholic vote by a whopping 25 points, 61-36%. This is significant because white Catholic voters outnumbered their non-white counterparts by a 3 to 1 margin, suggesting tremendous support for Kerry among non-white Catholic voters. A shift in white Catholic voting patterns would be significant, as would markedly increased turnout among Latino Catholic voters. Approximately 20% of Colorado's population is Latino, suggesting significant opportunity for improved turnout.
Virginia Catholics voted decisively for Bush in 2004 - 63-36% - but supported Republican Senate candidate George Allen in 2006 by a margin of only 2 points, 51-49%. Although only 16% of Virgina's voters identified as Catholic in 2006, larger concentrations of Catholic voters live in the D.C. suburbs of Fairfax, Loudoun, Arlington and Prince William counties - some 30% of the state's entire Catholic population. Pre-election polls suggest that an Obama victory in Virginia will depend on his performance in these heavily Catholic areas.

Calling all HuffPost superfans!
Sign up for membership to become a founding member and help shape HuffPost's next chapter