At least 84 people were killed and dozens were wounded.
Warning: The video below of the attack contains disturbing footage.
The truck "came out of nowhere," said Northern Irishman Paddy Mullan, who was on vacation in Nice with his girlfriend.
It mounted the sidewalk, he told the BBC, adding that "all you could hear was banging and shouting and screaming." 
"There was a lot of confusion, misdirection, because we didn't know what exactly what was happening, why it was happening," Mullan said.
Dallas woman Kristen Crouch, visiting Nice for a friend's wedding, had to take cover in a nearby apartment during the rampage. She had been in the Texas city after a sniper shot and killed five police officers last week.
"I heard like two pops. I thought it was fireworks and then didn't think anything of it but all sudden all these people were running in the opposite direction speaking in French and screaming," Crouch told KTVT.
"It's really sad when you've been marked safe twice on Facebook in the last week. We shouldn't live in a world like that," she added.
"Heard noises, cries that I will never forget."
The truck eventually came to a stop and the driver emerged from the vehicle with a weapon. Police shot him dead. It's unclear whether he had an accomplice, authorities said Friday morning.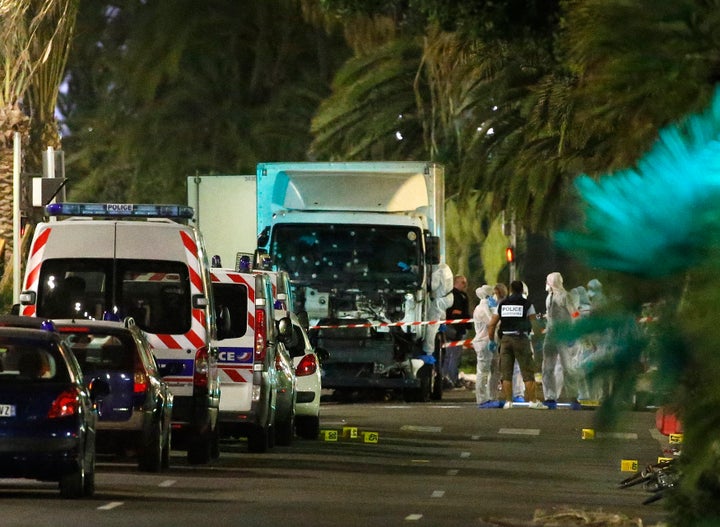 Local resident Wassim Bouhlel recalled seeing "bodies everywhere" following the attack. "There was carnage on the road," he told The Associated Press.
Dominique Molina, president of the San Diego-based American Institute of Certified Tax Coaches, witnessed the massacre from her hotel balcony while on vacation with her family, including her 14-year-old son.
Molina described the "scary awful" situation and posted photographs of the promenade in several tweets.
Kayla Repan, from Boca Raton, Florida, was visiting Nice with her fiancé.
"The whole city was running," she told the AP. "I got extremely frightened and ran away from the promenade. It was chaos. We hid in a restaurant but now we moved to a separate hotel."
She later relived the experience on camera:
Kevin Harris, a Briton who was also on vacation in Nice, watched the attack unfold from the terrace of his hotel room.
"I heard a lot of screaming and shouting," he said on Friday. "I came out onto my terrace and in front of me I could see lots of what appeared to be bodies lying on the road just outside of where I'm sitting now actually."
Meanwhile, London-based lawyer Harjit Sarang said she was attending the display with her children when the attack began:
Counterterrorism officials have taken over the investigation into the attack, HuffPost France reports. No group has yet claimed responsibility.
This is a developing story; please check back for updates.
Calling all HuffPost superfans!
Sign up for membership to become a founding member and help shape HuffPost's next chapter
BEFORE YOU GO