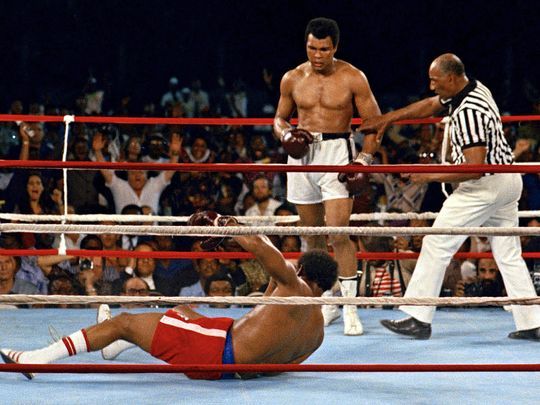 Muhammad Ali knocks out George Foreman on October 30th, 1974, in the Rumble in the Jungle in Kinshasa, Zaire (photo cr.: usatoday.com)
"AAA...LI, BO-MA YE!" ("BO" like in "eBOla" and "MA" like in "MAgazine", "YE" like in "YEllow"): "Aaali, Boma ye! Aaali, Boma ye!"
This was the cry in the Heart of Africa, in 1974, in then-Zaire (today's DRC), in Kinshasa the capital city, which was then described by Africans, in French, as "Kinshasa La Belle" or Kinshasa the beautiful (now, in the after-Mobutu Kinshasa, even natives of the country call it, with poetic sadness, "Kinshasa La Poubelle" or Kinshasa the garbage dump, with photos to back it up (but that's another story...).
"Aaali, Boma Ye! Aaali, Boma Ye!" How did this chant develop? Well, the whole world media was in Kinshasa and all of the sports media experts were saying, prior to the fight, that there was no way Ali was going to win the fight. As George Foreman, who called Ali the "greatest fighter and the greatest man he ever knew", just testified after Ali's passing that he intended "to kill Ali" in that fight, just like everyone else was saying. So, spontaneously, those of us Zairois (citizens of Zaire - "Zairians" in English) who religiously loved the man and, against all odds, we decided to encourage Ali to turn the tables on Foreman and kill him instead. That's why whenever we saw Ali in Kinshasa we started screaming, "Aaali, Boma ye!" And, when Ali inquired the meaning of what we were chanting, well, he took it up and, as the saying goes, the rest is history... (smile... Ali, though, couldn't pronounce it right, so he would chant something like "Aali, Boom Ye" instead of "Bo-ma Ye").
On November 1st, the day after knocking out George Foreman, he told the media in Kinshasa: "I told you all, all of my critics, that I was the greatest of all time... Never make me the underdog until I'm about 50 years old."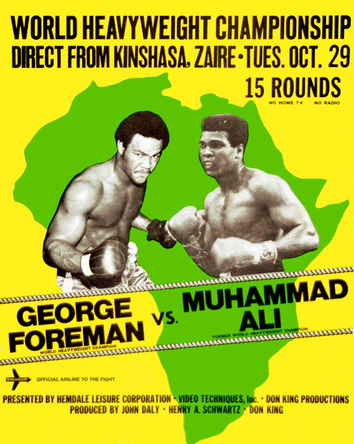 Poster advertising The Rumble in the Jungle, the entire world's focus was on Zaire, the Heart of Africa (photo cr.: en.wikipedia.org)
Just as he captivated the world, Muhammad Ali more than captivated Africa because of all that he represented to Africans and to all those people who stand up for their beliefs and against injustice, discrimination, and against racism. A hero for Africans and for the world. I was an eyewitness to the "Rumble in the Jungle" or, as Africans called it, "The Fight of the Century" in Zaire, I was there to be part of and to see and live history... I was, then, a young college graduate working with City Bank in Kinshasa while moonlighting in the evening as a singer of American pop music (in English), which helped improve my English while dreaming about coming to America. I was performing with a young local band called Lokoko (a split from a famous band of young performers called Thu-Zaina). The mood, in Kinshasa, was like a festival. In fact, Mobutu and his people spent millions of dollars to plan it and make it that way so that there were numerous African-American bands, musicians, and other artists in Kinshasa performing all over the city along with Zairian bands every evening for about a week leading up to the night of October 30th, 1974 when the fight took place...
Then came the fight... Oh, what a fight!...Most of us lost our voices chanting, screaming, and, after the fight, we celebrated Ali's win until dawn... While in America it was called "The Rumble in the Jungle", the Africans called it "The Fight of the Century" ("Le Combat du Siècle", in French). What courage, what guts, what determination, and, finally, what genius... Ali accomplished the unthinkable by knocking out Foreman in the 8th round, the fateful EIGHTH ROUND, immortalized by a local Zairian pop band called "Sosoliso et Le Trio MaDjeSi" in a tune by the same title, in French "Huitième Round" (8th Round), soon after the fight...
Indeed, in Zaire, like in his entire boxing career, Ali did fly like a butterfly, though not much, but, surely he did sting like an African bee that put an end to Foreman's and every expert's predictions. So, the Greatest, finally, regained his Champion of the World title in the heart of Africa. Who could ever forget? As was Ali's genius, poetry, and mind game, in Zaire, he portrayed Foreman as fighting for "them" while he was coming back to the land of his ancestors... And, when the Africans saw that Foreman brought with him this huge dog, well, that played in the hands of Africans who were fans of Ali and who snickered, "what does Foreman think Africans are for him to bring a dog here?" Hence, Ali's African fans said that their Ancestors ("Bankoko" in Lingala) were going to help Ali win this impossible fight, though no one gave Ali a chance to beat Foreman,... And, for the Africans, the Ancestors did...
Indeed, Africans believe that the dead are not dead, but they live and they become the Ancestors who live with us and, because we live, they live, and because they live, we live... Thus, to Africans, Muhammad Ali is, now, an Ancestor...
REAL LIFE. REAL NEWS. REAL VOICES.
Help us tell more of the stories that matter from voices that too often remain unheard.