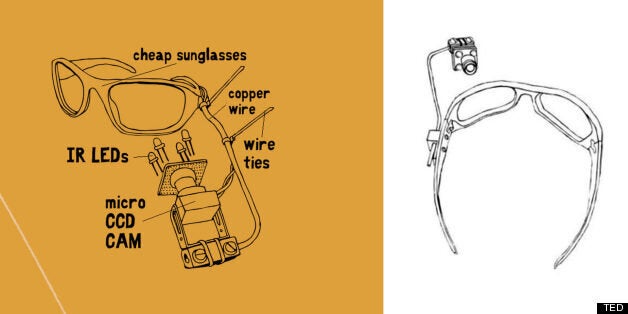 TED and The Huffington Post are excited to bring you TEDWeekends, a curated weekend program that introduces a powerful "idea worth spreading" every Friday, anchored in an exceptional TEDTalk. This week's TEDTalk is accompanied by an original blog post from the featured speaker, along with new op-eds, thoughts and responses from the HuffPost community. Watch the talk above, read the blog post and tell us your thoughts below. Become part of the conversation!
It all started with Date Night.
My wife and I received advice long ago that Date Night was the key to a successful marriage.
We had plans, but a friend came by and asked if we wanted to go to an art show instead.
That was the night I was introduced to Tempt.
When we got to the show there were posters and signs everywhere saying "TemptOne Benefit." There was a palpable buzz about the place. I kept hearing people talking about this Tempt. Even the art on the walls by incredibly famous artists had his name worked into them. After being there a while and hearing about this Tempt, I finally asked "So where is this guy anyway?" The answer was shocking. "He lives in a hospital. On life support. He's completely paralyzed. He has ALS."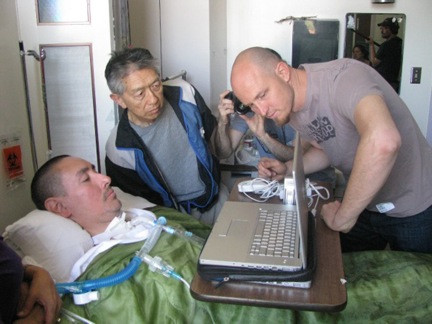 Tempt in his hospital bed. Photo credit: Mick Ebeling.
Since that night, my life has never really been the same.
The EyeWriter has been a journey, and due to the nature of ALS it's a never-ending one. It started in 2008, and it continues on today.
I am often asked, "Why did you do it?" The first time I heard this question, I was caught off guard. I had never really thought about "why" I did it. I was always just focused on the "how" to get it done.
I boiled the HOW down to 3 things:
We weren't trying to create the next big thing. We didn't have visions of revolutionizing the medical device industry. We wanted to help Tempt. One person. I think that had we gone in with visions of sugarplums and tried to help all people with ALS, we would have missed the mark of creating something that helped Tempt because we would have been so distracted. Singularity of focus kept us and keeps us on track.
The act of giving the EyeWriter away was one of the most important and powerful components of the project. -- Mick Ebeling
Giving something away is a powerful thing, but I had no idea how powerful it really is. When we first created the EyeWriter in the living room of our house, it was decided that if we were going to make this thing to help Tempt draw again, then it had to be open source. Understanding the practice of open source within the software world did not prepare me for what this philosophy was capable of when applied outside of the world of programming. I can say, without a doubt, that the act of giving the EyeWriter away was one of the most important and powerful components of the project. We made a documentary about the EyeWriter journey called "Getting Up: The Tempt One Story." (We want this story shared so we are giving it away at gettingup-thedoc.com.)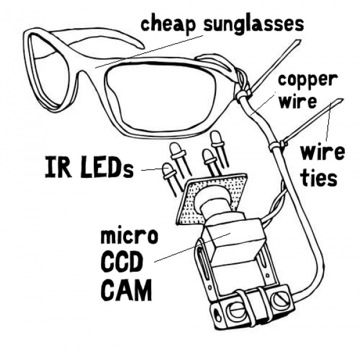 The open-source design of the EyeWriter. Photo credit: Mick Ebeling.
3. Beautiful, limitless naivety.
After our documentary premiered in Park City, a group of computer programmers approached us to tell us how much they enjoyed the film. They told us that since seeing our film they had been discussing amongst themselves why they thought we had succeeded. Their consensus? "If you had any f***ing idea how hard it was to do what you did, there was no way you would have done it in the first place." They had discussed this idea amongst themselves and concluded that they should become more like us. "Clueless?" I asked. "Sort of... more like naive," they replied. Turns out, our naivety was the key to us tackling the EyeWriter with brave abandon. We didn't know that we weren't supposed to be able to do it. We didn't know that kind of thing doesn't really happen in 2.5 weeks. We didn't know what we didn't know. And because of that, the entire team just did it because no one ever contemplated or considered the concept of failure.
Since this project has been ongoing since 2008, I've had some time to think about the "why." Why I pushed so hard to make the EyeWriter for a person I didn't really know at first. Why it was so successful. Why it seems to touch people in such a powerful and meaningful way.
I did it for my brother. I did it for my dad. I did it for my sons. It's really that simple.
The day I met with Stephen and Ron, Tempt's brother and father, it was like looking in a mirror that somehow, luckily, had avoided me.
I am a father. I have sons. I have a brother. I could not imagine what it would be like to not be able to talk to them everyday and ask them what they were thinking or feeling. Basic communication was nearly impossible for Tempt. That struck me as wrong.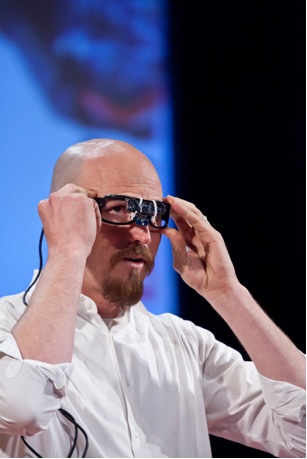 Mick Ebeling demos the EyeWriter. Photo cred: Mick Ebeling.
Why did I do it? Because I don't think anyone who has stared face to face with a reality like that can just walk away and say, "Good luck. I hope everything works out for you." You can't walk away from someone or something that hits that close to home. I had no idea how it was going to affect my life -- or more importantly -- how I was going to pull it off. But I knew I could not, in good conscience, just walk away.
What is it in your life that you just can't walk away from?
Ideas are not set in stone. When exposed to thoughtful people, they morph and adapt into their most potent form. TEDWeekends will highlight some of today's most intriguing ideas and allow them to develop in real time through your voice! Tweet #TEDWeekends to share your perspective or email tedweekends@huffingtonpost.com to learn about future weekend's ideas to contribute as a writer.

Related
Popular in the Community