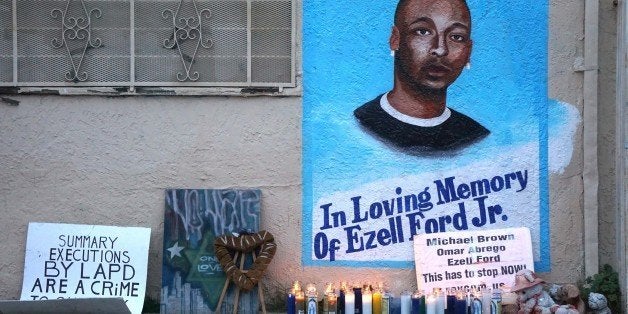 Dec 8 (Reuters) - Los Angeles Mayor Eric Garcetti on Monday said he expects the results of an autopsy on an unarmed black man shot by police in August will be released by the end of December, probably in the next week or two.
Police have said two officers shot and killed 25-year-old Ezell Ford, described by a family lawyer as mentally challenged, in mostly poor South Los Angeles on Aug. 11, after he struggled with an officer and tried to grab his gun.
"I think we'll see it before the end of the year, probably [in the] next week or two, maximum," Garcetti told KNX 1070 during its "Ask the Mayor" segment.
"I felt like it was time for the family, for the community, to release the body, release the results, that that was taking too long and so I asked the police chief to do that, ordered him to do it ... and I hope we can beat that deadline."
Ford's death drew some 500 demonstrators to police headquarters the Sunday after the shooting. It followed the shooting death of 18-year-old Michael Brown by white police officer Darren Wilson.
Grand juries decided not to bring charges against that policeman, nor against a white officer in the chokehold death of an unarmed black man in New York City.
The LAPD said no officer was hurt in the incident, and Ford, who was identified by family members, died in hospital.
Police Chief Charlie Beck, whose department has faced distrust in the largely black South Los Angeles location of the shooting, has said he would follow Garcetti's directive. The report is being withheld so as to enable the corroboration of possible witness statements, he has said.
Beck has said no one who saw the entire encounter had spoken to authorities, and Garcetti told the broadcaster no new witnesses had emerged. The Los Angeles Times said the officers were Asian-American and Latino.
Garcetti told the broadcaster the release of the results would not mean the end of the investigation into Ford's death.
Ford's family filed a federal lawsuit in September, seeking damages of $75 million for what they called the officers' violation of his civil rights. (Reporting by Eric M. Johnson in Seattle, Washington; Editing by Curtis Skinner and Clarence Fernandez)

Related
Popular in the Community