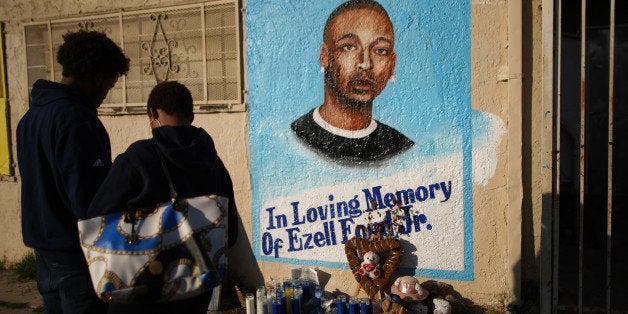 "So Wonderful to think of, so hard to forget" the life and death of Ezell Ford.

A sixteen-year-old boy sits down at the urging of his Aunt, to write down his goals for his life. In neat handwriting he wrote at the top "My Goals in Life" and then went on to imagine each decade of what he wanted to do and what he wanted to be.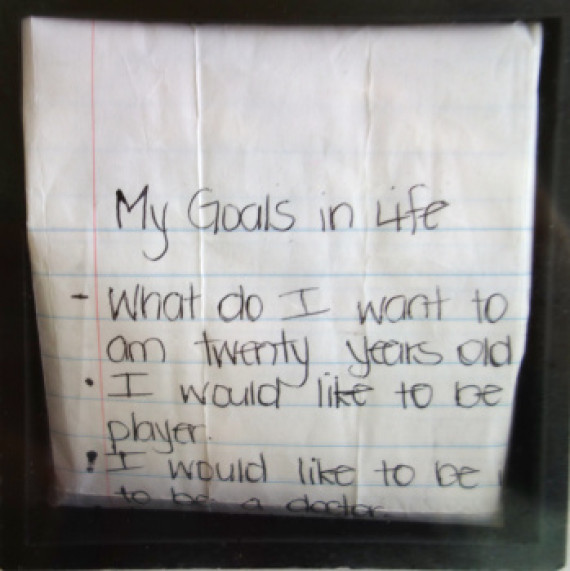 "What do I want to be when I am 20 years old?" He wrote. "I would like to be a pro basketball player. I would like to be in college studying to be a doctor." At 50, he wrote "I would be relaxing with my wife. I would still like to be a doctor."

It's the kind of list that we would even label as quintessentially American. It's hopeful and ambitious and no one would look at it and say No. Not possible.

This hand written note-to-self and dreams belonged to Ezell Ford. He was 25 years old when he was shot and killed by 2 officers from the LAPD Gang unit last August, only two days after 18-year-old Michael Brown was shot and killed by Police in Ferguson.

But there is a portrait of this young man before he was killed: A complicated, nuanced and sometimes tragic story. Too often we think only of young men like Ezell Ford, Michael Brown, Eric Garner and all the others only in the moment of their deaths, as if their entire lives can be reduced to a snapshot of their final encounter with police.

But Ezell had a life too...

Ezell's parents were teen sweethearts when he was born. His mother, Tritobia, was 16; his father, Edsell, 17. Ezell was the first of the seven children they would have together: six boys, one girl.

The Ford family lived in a small stucco home on 66th Street in South Los Angeles. Ezell and his brothers often played basketball on a fold-out portable backboard set up on the street in front of their house.
Ezell had early health problems and was diagnosed with asthma when he was five. But that didn't slow him down.

He attended local public elementary schools but as he grew and played basketball every day with his brothers and friends, private schools like Pacific Hills Prep and Verbum Dei noticed his athletic talent. He got a scholarship to attend Verbum Dei in 2003-04, but left before completing the full term. What happened?

According to an interview with Ezell's mother on KPCC radio shortly after his death, she said as her son grew up he began to exhibit signs of the bipolar disorder and schizophrenia that run in her family. "Maybe it was always in him," she said. "But it peaked when he was about 18."

Years before Ezell was killed by LAPD officers, he was the victim of another shooting. Those that knew him say that it marked a turning point in his life -- perhaps the moment when the 16-year-old teenager who so methodically wrote down those goals for his life began to slowly fade away.

Court documents say that in 2008 Ezell was shot in the leg during a gang related gun battle that killed at least four men and wounded a dozen others around his South Los Angeles neighborhood. According to accounts of those who knew, he was not a member of any gang but an innocent bystander. His mother said that his emotional and mental challenges increased after he was shot. She took him to a doctor who diagnosed him with bi-polar disorder and prescribed medication.

But Ezell didn't escape troubles with law enforcement.

In 2007, Ezell was arrested on felony charges of possession of marijuana with intent to sell and carrying a loaded firearm. He was 19.

Sheriff's deputies said he threw a paper bag containing 18 small baggies of pot out the passenger window of a car as Sheriff's deputies chased him. He jumped out of the car and ran, but was caught and cuffed. He was charged with misdemeanor drug possession paying a small fine, but served 90 days in jail for carrying the firearm.

He used to walk for hours to try to clear his head. This is probably what he was doing when shortly after sunset at 8:10 PM on August 11, two officers got out of their patrol car to question Ezell, who was walking on the sidewalk on 65th Street near the home where he grew up. The officers reported that Ezell grabbed for one of the officer's holstered gun. LAPD Police Chief Charlie Beck then said in a statement that the officer's partner shot at Ezell, hitting him twice, in the side and arm. The officer on the ground reached for his backup weapon and shot Ford at close range in the back.

Ezell's aunt framed that memo of goals that he wrote when he was sixteen.

Some people would perhaps have compassion for him. And a lot of people would look at the scant details of Ezell's life and perhaps say he shouldn't have dropped out of school, he shouldn't have socialized with known gang members, or been carrying a gun and having bags of pot. But that's the easy road. Ezell did not have an easy road. He did not deserve to die. It's that simple. We have to be willing to re-pave the road that he tried to navigate. We can't ignore the fact that the road he walked was too often unpaved, full of potholes and was leading him toward a dead end. And we have to be made very uncomfortable in the recognition that we are responsible for that treacherous road he walked on.
Until we can collectively see and feel the tragedy that Ezell's life was on that road to being extinguished long before his untimely death -- and that massive and holistic systemic and social change is the only answer, we will not see an end to this racial injustice, incarceration and death trap.
#iammichaelbrown...#icantbreathe...#tamirrice...#ripezellford...#blacklivesmatter.
This post is part of the "28 Black Lives That Matter" series produced by The Huffington Post for Black History Month. Each day in February, this series will shine a spotlight on one African-American individual who made headlines in 2014 -- mostly in circumstances we all wished had not taken place. This series will pay tribute to these individuals and address the underlying circumstances that led to their unfortunate outcomes. To follow the conversation on Twitter, view #28BlackLives -- and to see all the posts as part of our Black History Month coverage, read here.
Calling all HuffPost superfans!
Sign up for membership to become a founding member and help shape HuffPost's next chapter