LOS ANGELES -- A group of demonstrators gathered outside of Los Angeles Mayor Eric Garcetti's home on Monday, calling for the mayor to immediately fire Los Angeles Police Department Chief Charlie Beck in the wake of a report claiming Beck will recommend the two officers involved in last year's fatal shooting of Ezell Ford be cleared of wrongdoing.
Near the front gates of Getty House, Garcetti's official mayoral residence, a group of about a dozen protesters held signs and photos and wrote chalk messages on the sidewalk in support of Ford, the 25-year-old unarmed, mentally ill black man shot to death by Los Angeles police in the Florence neighborhood of south LA in August 2014.
Demonstrators began gathering in front of the mayoral home on Sunday following a Los Angeles Times report from Friday claiming that Beck and Alex Bustamante, the department's inspector general, have found that the two offers who shot Ford near his home were justified. The Times report, citing unidentified "law enforcement sources," says department investigators found evidence Ford had struggled for control of one officer's gun -- a claim that supports the account the officers gave following the shooting.
While Bustamante reportedly also found the shooting justified, according to the Times report, he did fault the officers over their initial approach of Ford.
LAPD declined to comment on the report or confirm its validity.
"I hope they give us some justice," Dedric Kennedy, a demonstrator outside of the mayoral residence, told The Huffington Post. "This has been going on for 40 or 50 years -- the police doing whatever they want to do in LA. It's a dire situation out here. Beck should be fired immediately."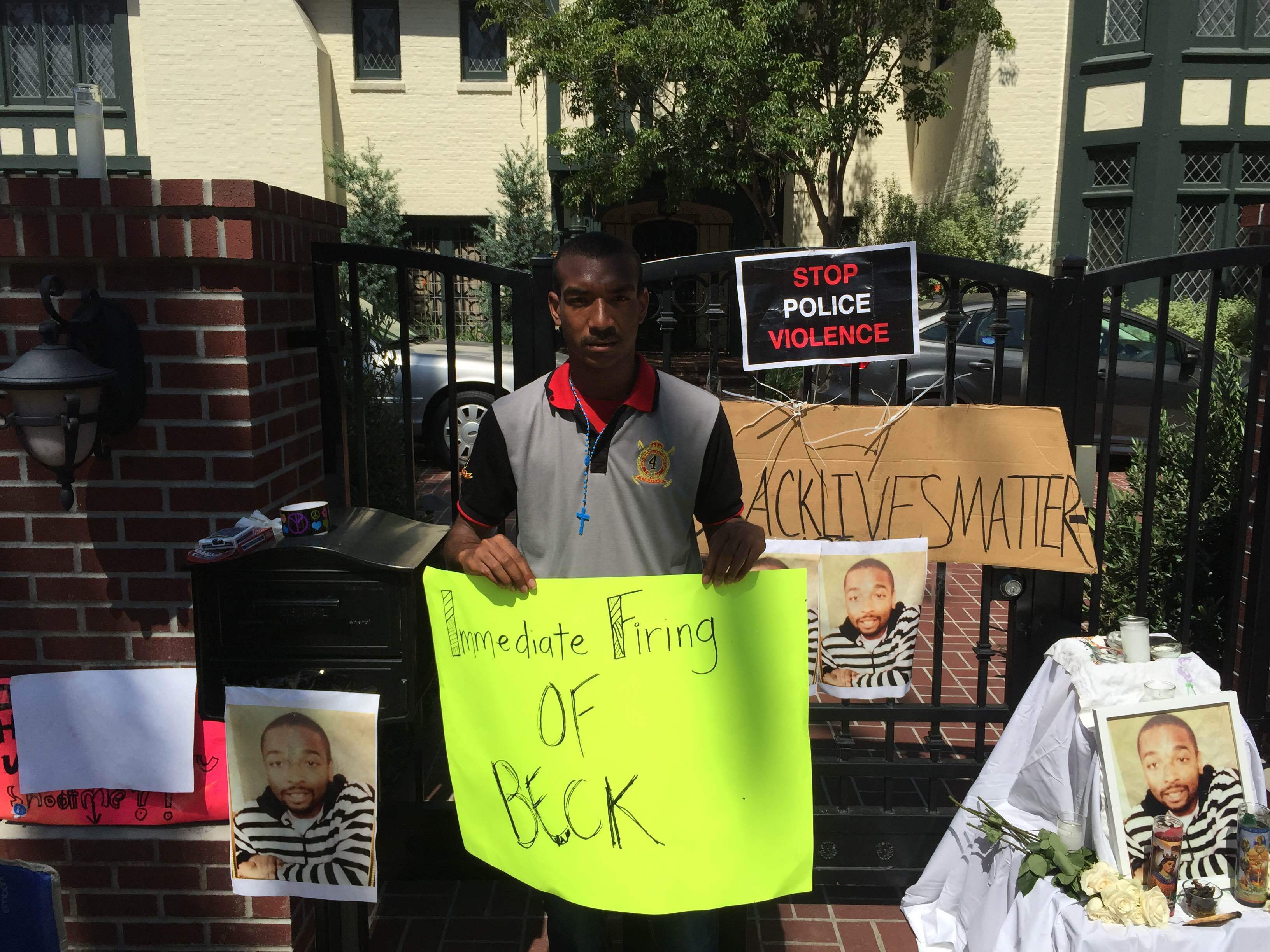 Dedric Kennedy stands in front of Garcetti's mayoral residence holding a sign protesting the fatal shooting of Ezell Ford. (Matt Ferner/HuffPost)
On Tuesday, the commission is expected to decide if the use of lethal force by LAPD officers Sharlton Wampler and Antonio Villegas was within departmental policy. The commission will take into account the recommendations made by Beck and Bustamante.
Garcetti said Monday he is confident the police commission will conduct an "impartial and fair-minded review" of the LAPD's and inspector general's investigations.
The mayor also said he called Ford's mother, Tritobia, Sunday night and told her his "heart goes out to her and her grieving family, as it has since the news first broke," adding that he looks forward to meeting with her in the coming days, following the commission's decision.
In 2014, the coroner's official autopsy report ruled that Ford's death was a homicide, detailing that he was shot three times, resulting in two fatal wounds and one nonfatal wound.
The skin around one fatal wound in Ford's back had a "muzzle imprint," which may suggest the shot was taken at close range. The second fatal wound was in Ford's side abdomen. A third wound, ruled nonfatal by the coroner's investigation, was on his right arm.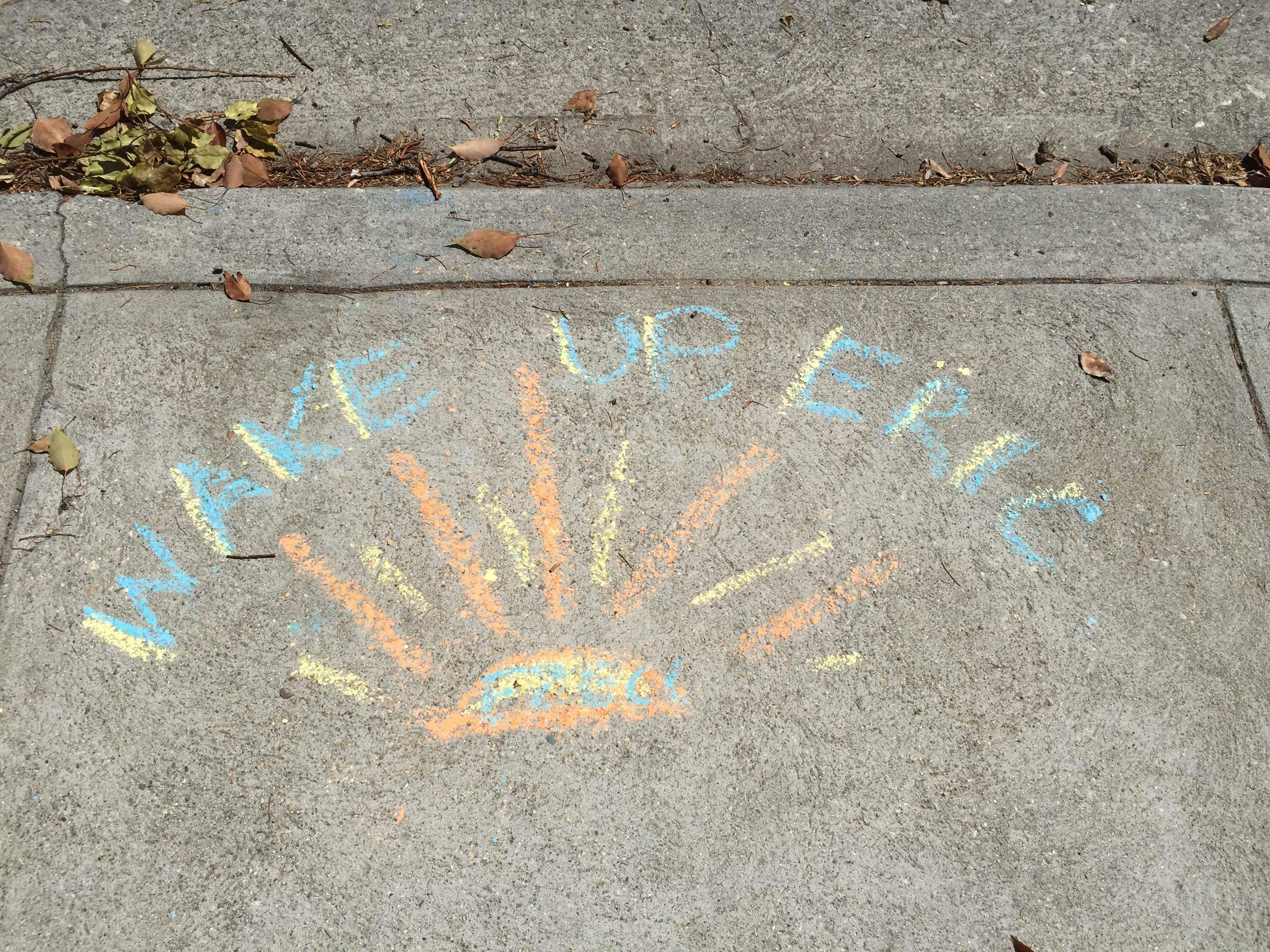 A chalk drawing outside Eric Garcetti's official mayoral residence reads "Wake Up Eric." (Matt Ferner/HuffPost)
Ford died just two days after teenager Michael Brown was fatally shot by a Ferguson, Missouri, police officer. Just weeks earlier, New York resident Eric Garner died after being put in a chokehold by a police officer. The national protests over the deaths of Brown and Garner have also cited Ford's case. Ford's death was followed by multiple protests around Los Angeles.
Police and eyewitness accounts of Ford's death vary wildly. Police have said that during a struggle, Ford attempted to pull an officer's handgun from its holster, and in response, the officers shot Ford. But eyewitnesses have disputed that story, saying that Ford was shot in the back while already lying on the ground. Another eyewitness said he heard a police officer shout, "Shoot him!" just before Ford was shot three times as he was lying on the ground.
Steven Lerman, a lawyer for the Ford family, described the shooting of Ford as "an execution," and in 2014 filed a $75 million wrongful death lawsuit for the Ford family. Earlier this year, Ford's family filed a second lawsuit against both the city and the LAPD that alleges Ford was targeted by law enforcement because of his skin color.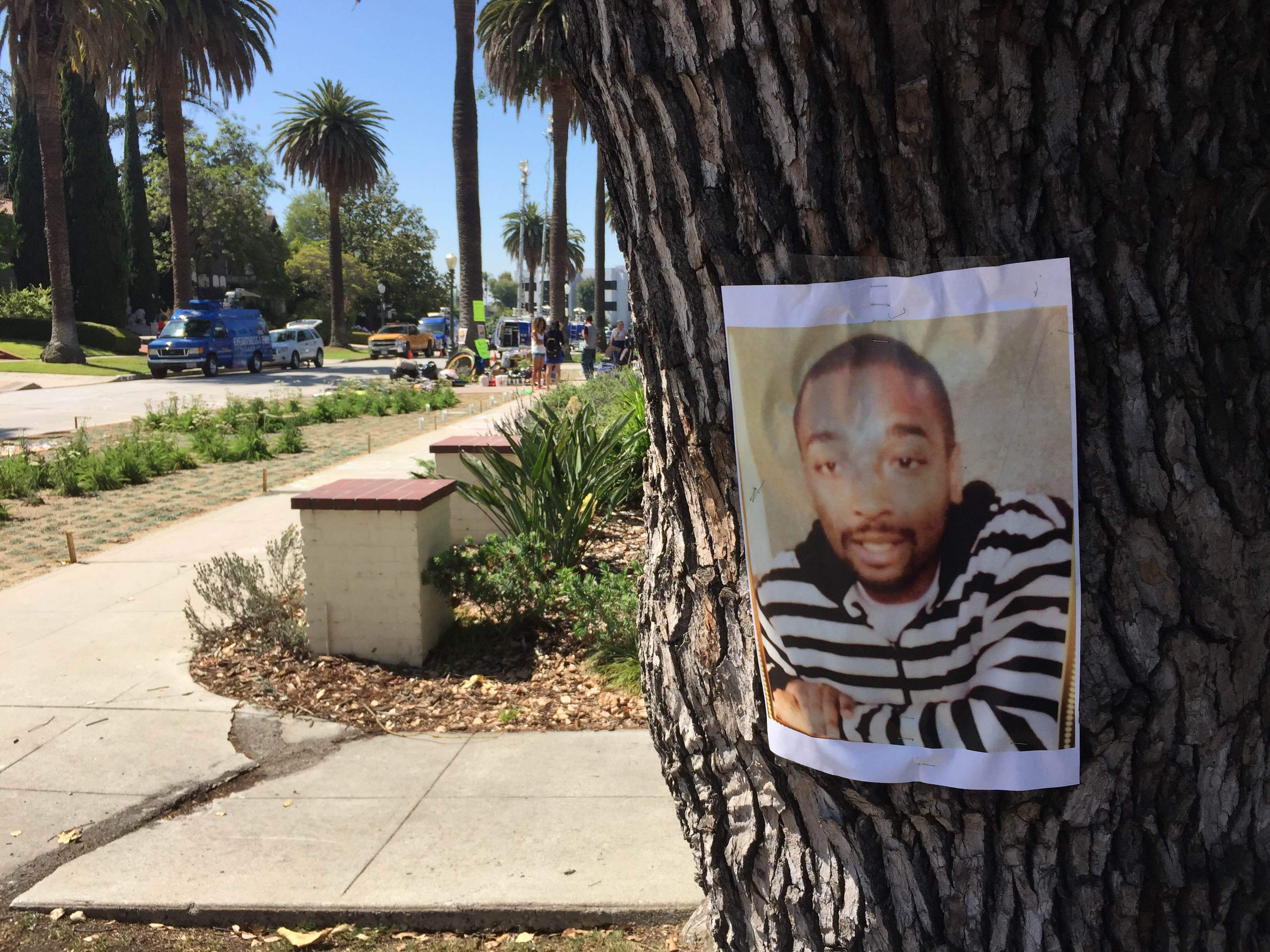 A photo of Ezell Ford is hung on a nearby tree outside of the Los Angeles mayor's residence. (Matt Ferner/HuffPost)
REAL LIFE. REAL NEWS. REAL VOICES.
Help us tell more of the stories that matter from voices that too often remain unheard.
BEFORE YOU GO