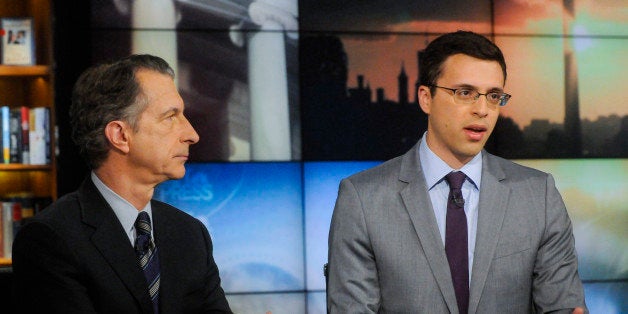 NEW YORK -- Ezra Klein, a top Washington Post policy writer and editor of the paper's Wonkblog, is currently speaking to outside suitors about starting a new media venture, according to a source familiar with the matter.
At the same time, Klein is still in talks with the Post about possible next steps in his career, and he may end up staying at the paper, the source said.
Klein declined to comment.
If he does decide to leave, his departure would be a major blow to the Post, where he's built an influential and popular brand within the newsroom over the past few years. On Wonkblog, Klein and his staff break down complicated policy ideas in a digestible, straightforward way -- and often with charts. The blog has grown to become its own newsroom fiefdom, with spin-offs like The Switch and Know More.
In addition to his role at the Washington Post, Klein currently serves as an analyst for MSNBC and a columnist for Bloomberg View. The New Republic dubbed him the "prince of D.C. media" in a February profile.
His ability to build a unique brand within a legacy media institution has drawn comparisons to Andrew Ross Sorkin, who founded Dealbook within The New York Times newsroom, and Nate Silver, who expanded his FiveThirtyEight blog at the Times before leaving to launch a more comprehensive version of the site for ESPN.
And given Klein's significant online following, it's not surprising he would consider launching his own media entity.
A senior media executive who previously talked with Klein told HuffPost that Klein has pondered such a move before. Still, the executive said Klein spoke of his loyalty to the Post -- and of his awareness of the difficulties facing a blogger looking to create a stand-alone operation outside of a larger media institution, as Andrew Sullivan has done since leaving The Daily Beast.
A Washington Post spokeswoman did not immediately respond to a request for comment.
Related
Popular in the Community