Driven by a "fear for this planet's future," actor Ezra Miller has joined with three young people and a support crew on a dramatic expedition to the North Pole.
Miller and the 15 other members of Project Aurora -- organized by Greenpeace as part of their Save the Arctic campaign -- left a Russian base on April 7 for an arduous ski trek across Arctic sea ice to the pole.
At their destination, the Project Aurora team plans to lower a symbolic capsule to the seabed. Within the titanium capsule are cassettes and a USB stick holding 2.7 million signatures calling for the protection of Earth's northern extremes and an end to Arctic petroleum exploration.
Along with a live map tracking their progress, members of Project Aurora have been tweeting updates as they near the North Pole. Miller posted on Thursday, "Sorry to be a little quiet. Our mission [to the Pole] is magical but getting tough. Ice drifting south as we try to forge north means no matter how hard we ski (and how many pressure ridges we conquer), not making much progress."
Before leaving for the trip, Miller told The Huffington Post from a London hotel room that he had a "great deal of excitement [for the trip], mingled with nerves." The New Jersey native and "The Perks of Being a Wallflower" star said he had no idea what temperatures of 45 below zero feel like and explained that, despite his training, there were things he couldn't be entirely prepared for.
Miller, who witnessed the "very alarming" impacts of Superstorm Sandy on the New York region, said he's fearful of the future effects of climate change and is "confused by how humanity could possibly be proceeding in the way that it is."
According to Miller, a "key problem" is the "incredible disparity" between the base of scientific knowledge and public awareness.
Recent Gallup polling found that 57 percent of Americans surveyed believe climate change is attributable to human activities. However, a 2012 search of peer-reviewed literature from the previous 20 years found that fewer than one-quarter of one percent of articles on climate change and global warming "reject" its anthropogenesis.
The location of the Greenpeace expedition is significant, as the Arctic region is particularly vulnerable to climate change. New research shows that the Arctic will see ice-free summers by 2050, if not within the next decade or two. It has been suggested that "what happens in the Arctic doesn't stay in the Arctic," and changes there may contribute to more extreme weather at moderate latitudes.
UPDATE, APRIL 15: The Project Aurora team reached the geographic North Pole over the weekend and planted a flag and capsule on the seabed, according to Greenpeace. Nobel Peace Prize winner Archbishop Desmond Tutu said in a statement, "I offer my full support to these young people who travelled to the North Pole on behalf of those whose lives are being turned upside down by climate change."
Before You Go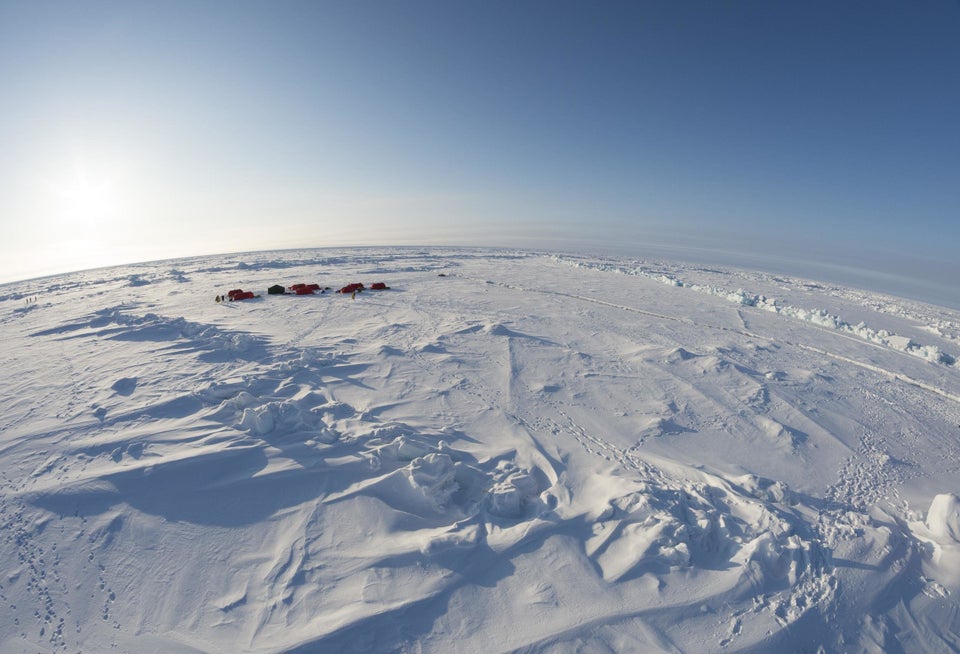 Greenpeace Expedition