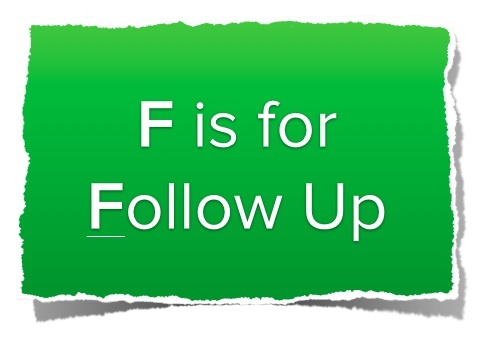 We know that it's fantasy to wish for "closing a deal" on your first call or during your first meeting with a potential customer. If that is the case, effective and efficient "follow ups" are not a luxury but a necessity to win deals.
If "following up" is what it takes to win in the game of sales, why are so many people not good at that skill? Here is a partial set of reasons:
They just forget | Too many things going on in their work and life
They don't have a system | My friend Assaf Guery says that the opposite of following up is writing it down. The system can be as simple as that but people don't use something that works for them
They are not comfortable | Some people told me that they don't want to appear "too pushy" or "too desperate" to win the deal
They are sloppy | There is no other way or putting this.
Depending on the sales cycles for your offerings, follow ups may need to happen over days, weeks, months or even years. This is not easy but it's a critical piece that's NOT optional so you might as well learn to enjoy the journey.
1. Following up is an opportunity to strengthen the relationship
Following up is rarely an act where you just call up and ask about the status of the deal. It is an opportunity to strengthen the relationship by adding value to the person on the other end. While most people are sending stock emails enquiring about the pending deal, you can think about how you can make a difference along the way.
2. You need systems AND you need to use the systems
Your company has to provide the systems (CRM, WittyParrot etc.) AND you need to use those systems to be efficient and effective in your follow ups. Without discipline, things will fall through the cracks.
3. Race to be on "Top of the Mind" in the Prospect's Mind
You are busy. Your prospects are busy. Everyone is busy. If you are not on "top of the prospects mind" when the time is right, you lost an opportunity. The right time may come in days, weeks or months but with a disciplined follow up strategy, you will be on their mind when they are ready for you.
My friend Paul Kirch of Actus Sales Intelligence is an expert on helping sales teams get better at the art of following up. I asked Paul for a few creative follow up ideas and he suggested the following as starters
1. Competitive Intel - Have you made efforts to reach out to a prospect and they won't respond? Perhaps your client has gone radio silent... A great way to create value and leverage in your relationship building process is to share information that is beneficial to them. Research their competition and share what you've found. Perhaps you find a press release from someone who fights for the same clients as they do. You can share that document, or better yet, pull out the important pieces and send them in an email, with the document attached or a link. The approach here is to give them something they might not be aware of and doing it in a way that shows you put effort into this. Depending on the information you compile, you can even create an industry report, which will provide more value and it will be a unique selling advantage.
2. Holding Back - This may surprise you at first but please continue to read before jumping to a conclusion based on the section title. Your goal is to continue to provide great value. Perhaps you conducted a capabilities presentation with them and your focus was to give them as much as you could. If so, what do you share with them next time? The same is true with sales calls, letters or collateral; if you give them everything at once you're missing a golden opportunity. Instead, do your homework and determine what offering you have that would be the best fit. Focus your attention there, providing the most detail. Tailor your questions around that area and get them talking about their needs. You definitely want to make sure they know everything you offer, but the concentration has to be in one area. An easy follow up is to identify other areas of interest and schedule your next interaction. If your business is one-dimensional and you're limited on offerings, develop white papers, case studies and other elements that give you leverage for a next step conversation.
3. The Celebrity - I worked with a client who leveraged a very creative idea that I have since shared with others who have had similar success. I now gladly share it with you. He identified a fortune 500 company that he wanted to work with. He had created a blog on his company website and did his homework. After several attempts to engage with individuals at this firm, he decided to try an experiment. He wrote an article on his blog about this firm and some positive ways they were impacting his industry. He then shared the link with his contacts and marketed it through social networking channels. Where he really struck gold was by sending an email, referencing the article and sharing a link, to the decision maker that he knew would be the ideal contact. Within minutes, he had received a phone call back thanking him, which led to a follow up meeting, which later created a sale. Get creative and you can create the ultimate follow up process.
If you are interested in other articles in this series so far, here they are:
Related
Popular in the Community