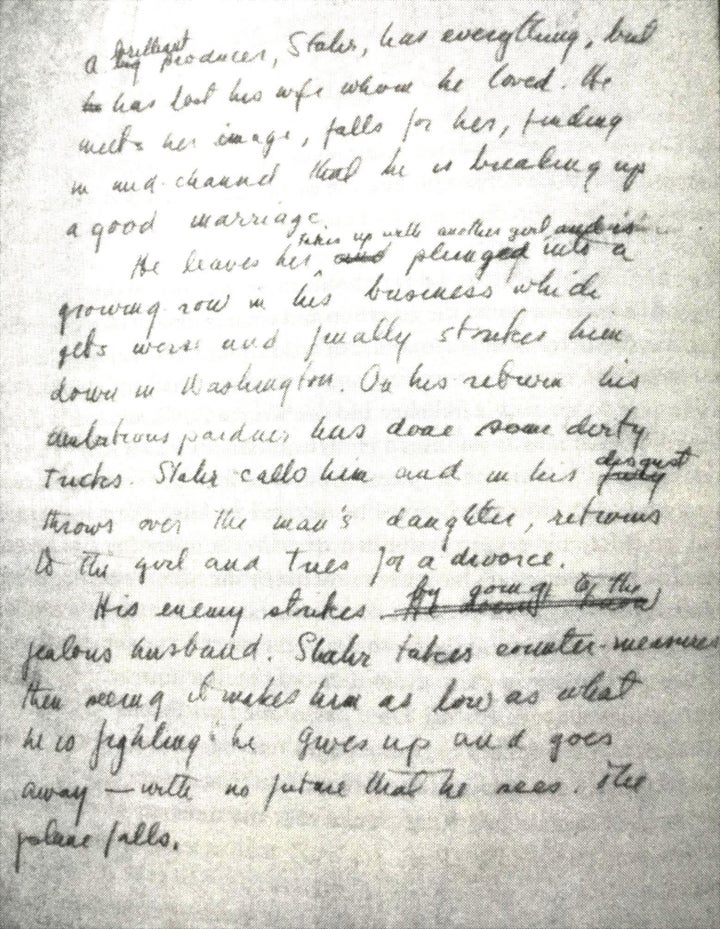 F. Scott Fitzgerald's summary of a plot for The Last Tycoon, above, leaves out its real power: Cecelia, sometimes Cecilia, Brady. Bearing the same name as Fitzgerald's favorite cousin, Ceci Taylor, the 18-year-old daughter of a fleshly powerhouse producer named Pat Brady narrates the frame of what we have for the novel. We meet Cecelia in the air, heading home to Los Angeles from Bennington, where she is in college, at a stop for refueling in Nashville. Soon there is a suicide during the stop, a screenwriter in love with Cecelia (or with her father's position), and hiding in plain view on the plane, Monroe Stahr. We learn soon of his dead wife, the screen siren Minna Davis, meet the motley crew of screenwriters at the studio, and witness an earthquake, during which Stahr falls in love, or something like it — as a woman who looks just like Davis floats up to him on a prop, "a huge head of the god Siva."
Smiling faintly at him from not four feet away was the face of his dead wife, identical even to the expression. Across the four feet of moonlight the eyes he knew looked back at him, a curl blew a little on a familiar forehead, the smile lingered and changed a little according to pattern, the lips parted — the same. An awful fear went over him and he wanted to cry aloud.
In a long letter to Kenneth Littauer, the editor of Collier's, dated September 29, 1939, Fitzgerald outlined where he wanted the story to go. He had bypassed his longtime literary agent Harold Ober, and was trying to sell The Last Tycoon, in serialized form, to Collier's himself. He stipulated that his "great secret" was basing the Stahr character on Thalberg, but with all-important fictional transformation at work: "he may be recognized — but it will also be recognized that no single fact is actually true." The love affair between Stahr and the woman called Thalia Taylor, later Kathleen Moore, was to be "the meat of the book — though I am going to treat it, remember, as it comes through Cecelia." Fitzgerald told Littauer he was modeling his narrative technique upon Joseph Conrad's, "letting [Cecelia] imagine the actions of the characters," and that Stahr was to die in a plane crash. This crash was based on a real event; in May 1935, Senator Bronson Cutting, along with the TWA flight's pilot and co-pilot, were killed near Atlanta, Missouri. The Los Angeles Times reported that there had been a thick fog that night, and all the passengers, many involved with the movie industry, were sleeping when the crash occurred. The Last Tycoon was to end with Thalia standing outside Stahr's film studio. When Littauer rejected The Last Tycoon as not yet complete enough to serialize, Fitzgerald sent him a bridge-burning telegram: "NO HARD FEELINGS THERE HAS NEVER BEEN AN EDITOR WITH PANTS ON SINCE GEORGE LORIMER." (Lorimer was the Saturday Evening Post editor who had first published Fitzgerald).
Read what there is of The Last Tycoon for yourself. It is brief, and I hate to spoil surprises, or the beauty of Fitzgerald's language, for you. It is set in a Los Angeles now gone with the wind, where Malibu is composed of "gaudy shacks and fishing barges" and Santa Monica has just begun to be settled, with "the stately homes of a dozen picture stars, penned in the middle of a crawling Coney Island." The movie business is difficult, and love far more so. You could try to push a one-on-one correspondence between Thalberg (or Fitzgerald) and Stahr, Zelda Fitzgerald and Minna Davis, Sheilah Graham and Kathleen Moore, Scottie Fitzgerald and Cecelia Brady, but I wouldn't. As Fitzgerald noted in that letter to Littauer, there's this thing called imagination that the best writers of fiction all have in spades. F. Scott Fitzgerald had enough for many, many other people besides. Surely he used the stuff of his own life, the lives of others, things he read, and stories he heard, for his fictions — but as changed utterly.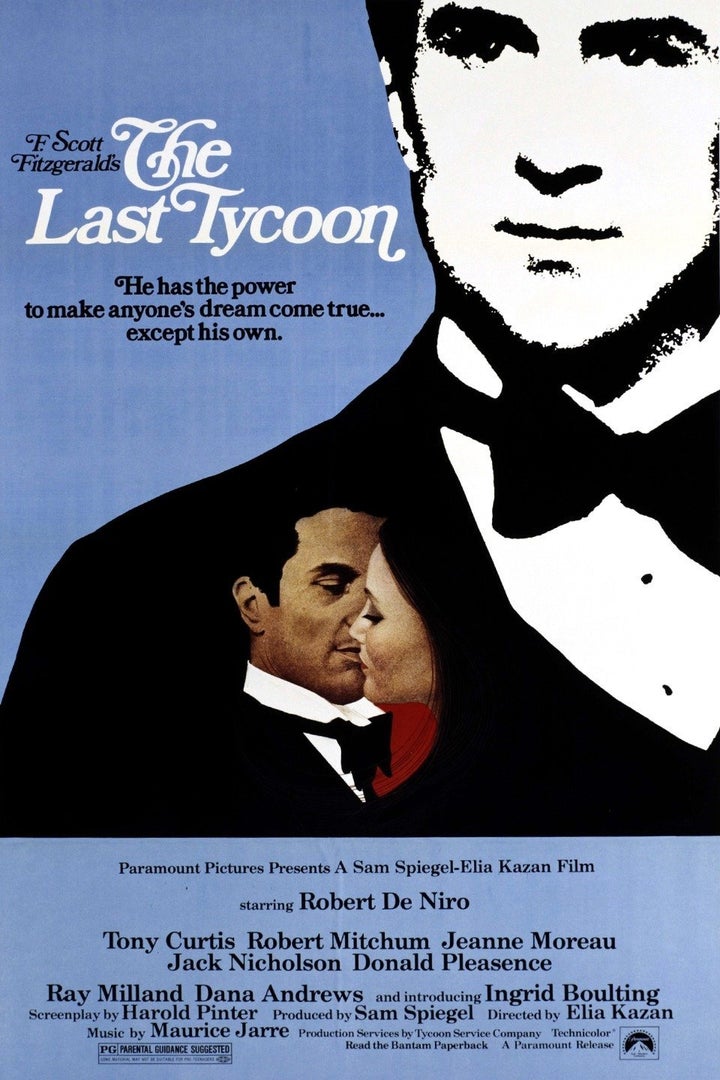 In 1976, Elia Kazan directed an all-star cast in a movie adaptation of The Last Tycoon. It boasted Robert De Niro as Monroe Stahr, Harold Pinter as the screenwriter, and was almost universally condemned — though it gets very many things about the novel right, and contains keen performances by De Niro, Theresa Russell, and Jack Nicholson.
Now, a new film version has been made, and will be available via Amazon Prime on Friday. The Last Tycoon (Sony Pictures Television/Tristar and Amazon Studios) is billed, rightly, as "a drama series based on F. Scott Fitzgerald's unfinished final novel." It is not a film version of the novel; 129 pages could not give anyone nine episodes. Using Fitzgerald's book, and the Fitzgeralds' lives, as template and inspiration, this Last Tycoon tries to give us all Hollywood, and considerable American cultural history, of the 1930s. Its success on these fronts may be largely due to the involvement of biographer, writer and producer A. Scott Berg, a specialist in Fitzgerald and his writing — and Hollywood, and the 1930s. Billy Ray, best known for his work on The Hunger Games, serves up a different kind of hunger and appetite in The Last Tycoon. Christopher Keyser (L.A. Law; Sisters; Party of Five), together with Ray, have used Fitzgerald's unfinished draft, in the end, by dropping it into their mix of scripts and characters, and fantastically fine sets, like a pebble in a pond. Again, I won't do you the disservice of serving up spoilers, but will concentrate in an essay before Friday's premiere on the pilot episode already streaming online.
*Part Two of Two. Tune in Thursday for something new: "The Last Tycoon," via Amazon TV.
Related
Popular in the Community