 The idea of being beautiful and damned is one readers have always associated with F. Scott Fitzgerald. He rather let himself in for it with his plots, from his earliest published stories and novels, of doomed youth and fabulous fatality. That Fitzgerald himself died young, and a long way down from the peak of his early fame as a writer at 23, only intensified the association.
Just after The Great Gatsby was published in 1925, the New Yorker picked up on this theme in a little illustration that largely went unnoticed -- but not by Fitzgerald himself. Illustrator and photographer Herb Roth did a "Suggested Bookplates" series for English and American authors in the New Yorker that year; the first was Shakespeare's. Fitzgerald's ran embedded in an article about one of his own favorite writers, Joseph Conrad, which must have pleased Scott all the more.
For Fitzgerald, Roth drew a capering skeleton, clad in black tie and holding a saxophone in one hand and mask in the other as confetti streams down, under the imperative motto "Be Your Age." A booze bottle bounces near the skeleton's knee. A toad with a gemstone, or "toadstone," gleaming from its head crowns the illustration. The toad's an image of poison and antidote combined, as Shakespeare's Duke Senior in As You Like It, speaking about the sweet uses of adversity, knows: "the toad, ugly and venomous, / Wears yet a precious jewel in his head."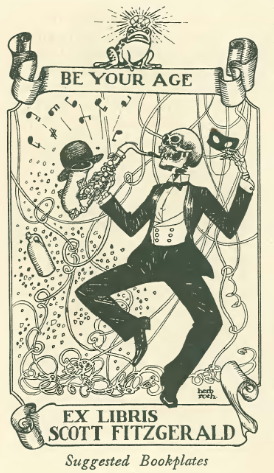 "Be Your Age" shows how fully the magazine at the pulse of the Jazz Age registered both Fitzgerald's personification of the decade, in many readers' eyes, as well as the dangers he had foretold in The Beautiful and Damned, and again in Gatsby of decadence and of the coming Crash. It's a very double-edged image of festivity and fatality, just like so many of the images of people at parties that end in disasters in Fitzgerald's best-known, and best-loved, novel.
Roth's bookplate is virtually homage to E. J. Sullivan's most celebrated illustration for a 1913 edition of Edward Fitzgerald's (no relation to Scott that I know of) translation of The Rubaiyat of Omar Khayyam. Sullivan uses a recurring theme of skeletons for his illustrations, but the most familiar is surely the skeleton-and-roses plate accompanying Quatrain XXVI of the poem: "Oh, come with old Khayyam, and leave the Wise / To talk; one thing is certain, that Life flies; / One thing is certain, and the Rest is Lies; / The Flower that once has blown forever dies."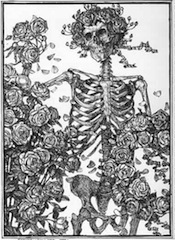 The image is arresting, and inspired Stanley George Miller, a/k/a Stanley Mouse, to create his "Skeleton and Roses" for the Grateful Dead in 1966.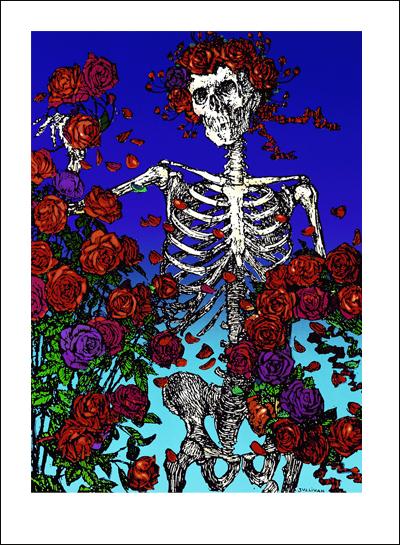 Scott Fitzgerald wasn't in New York to see Roth's bookplate for him when it was published, but a copy made its way into his hands where he was, on the Riviera. Fitzgerald was amused by the illustration, surely appreciated its irony, and saved it in a place of honor. For all his novels, Fitzgerald created scrapbooks full of clippings, reviews, and letters about the books; these survive in the Fitzgerald Papers at Princeton University. If you open the Gatsby scrapbook, you'll smile as you do so. Fitzgerald clipped out Roth's little dancing skeleton, without identifying where he'd taken it from, and carefully pasted it into the front inside cover of the scrapbook, not only associating it forever with Gatsby, but turning it into the very bookplate suggested.
I didn't know where the little illustration in the scrapbook, now yellow with glue and age, had come from until I found Roth's bookplate while paging through a bound volume of the New Yorker in the library. I should've been working on something else, but it was a slow day, and I picked up the New Yorker to enjoy the cartoons and covers. That sort of accidental felicity still makes reading a joy instead of a job for me. I used Fitzgerald's "bookplate" as a handout for a paper I gave at the fifth International F. Scott Fitzgerald Society Conference in Nice, on the Riviera coast where he'd first seen it himself, in 2000. It's as fresh and applicable to Gatsby and many of Fitzgerald's other writings today as it was in 1925.
Illustrations: Herb Roth for the New Yorker, 1925; E.J. Sullivan, plate for Edward Fitzgerald, The Rubaiyat of Omar Khayyam (1913); "Skeleton and Roses" artwork by Stanley Mouse, courtesy of Grateful Dead Productions/Rhino Entertainment Company. For more about Herb Roth and his photography, please visit the Herb Roth Photograph Collection of the Larchmont Historical Society, Larchmont, N.Y.; for more of Stanley Mouse's brilliant art, check out Mouse Studios.
Popular in the Community