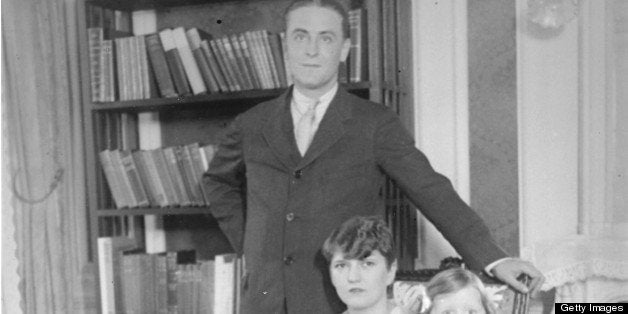 Thirty-nine years ago, as a very young Courier-Journal reporter, I traveled south by train to Montgomery, Alabama, to connect with the world that novelist F. Scott Fitzgerald and his wife, Zelda, knew in the early part of the 20th century. The "peg" for the feature stories I planned to write was the opening that spring of what was then the latest screen version of The Great Gatsby, a multi-million dollar adaptation starring Robert Redford, Mia Farrow, Sam Waterston and Bruce Dern.
The circumstances of my trip were as remarkable as the subject. My publisher at The Courier-Journal, Barry Bingham Sr., had gotten to know the Fitzgeralds' only child, Frances Scott Fitzgerald, during the presidential campaigns of Adlai Stevenson in the 1950s. "Scottie," as she was known, was a newspaper columnist in Washington who would, over the years, write for The New Yorker, the New York Times and The Washington Post. Through Mr. Bingham, Scottie also spent a rather boozy weekend with my then-editor, Carol Sutton, covering a Democratic conference at Kentucky Dam Village. Scottie and Carol became fast friends, and the fact that Carol had read all of Scott Fitzgerald's works didn't hurt.
With Mr. Bingham's and Carol's help I was able to arrange a meeting with Scottie in her mother's hometown of Montgomery. After an adult life in New York, Washington and other points in the East, Scottie was going through a painful separation (and later divorce) from her second husband, C. Grove Smith. It had been only months since her 24-year-old son, Thomas Addison Lanahan, committed suicide. So it was a time of sadness and reflection for the 52-year-old heir to a great American literary tradition.
For whatever reason, she decided that this was an occasion to share as much as she could about her parents and her lives with them with me, a very callow young reporter of 23 who had become infatuated with Fitzgerald's prose three years earlier as a student in England. I was very homesick in London in the summer of 1971. One July evening, after a walk around Hyde Park, I came back to the English-Speaking Union's Dartmouth House and settled in the library. Why I was drawn to the F's, I cannot remember. But I pulled from the shelves a Penguin paperback edition of the Short Stories of F. Scott Fitzgerald. I began to read "The Rich Boy," and then "May Day." I wandered back to the Underground and returned to my room in Bloombury, barely taking my eyes off the pages. And so I remained riveted for days. I was never homesick again.
Not only was Scottie willing to lead me around Montgomery for four days, but she also organized interviews, cocktail parties, lunches and dinners with her mother's childhood friends, all in their seventies by then, and with her Aunt Rosalind, who was 85.
What follows are some highlights from my interviews with her and her mother's friends. If you want to read the entire stories, they are available in The Courier-Journal's March 24, 1974, Today's Living section.
Scottie (I attempted to call her "Mrs. Smith," which went nowhere. "Everyone calls me Scottie," she replied in her voice that was cured by years of gin and cigarettes) told me about a call she had recently received from Julie Nixon Eisenhower, the President's daughter, who was working as an editor at The Saturday Evening Post. Mrs. Eisenhower asked whether Scottie would consider writing recollections of her father for that magazine, in which he once published many of his most famous short stories.
"Oh, Julie," Scottie replied, "I'm afraid I'm no better at defending my father than you are at defending yours!" At that moment, I knew we were sympathetic souls.
I settled into a deep chintz sofa in the living room where Scottie was temporarily living to conduct a full-scale interview, without the distractions of friends or sites around the city so well known to her parents. Scottie sat across from me, nibbling on a Danish pastry and sipping a beer. (We'd been out the night before for dinner at Montgomery's Elite Restaurant, a favorite of her parents where we enjoyed crab claws and martinis. Scottie pronounced it EEEE-lite, in the way native Montgomery people did.) "I seldom do things like this interview," she told me. "In the first place, I can't really remember the differences between what I've read and heard about my childhood and what really happened, so I'm really very disappointing to those who (want to) interview me about my parents."
That was modest, but untrue. The fact is that Scottie Fitzgerald spent most of her adult life telling those stories and serving as the keeper of the flame for her father's legacy, a task that became less daunting as time passed. It is hard to imagine that when Scott Fitzgerald died in 1940, he was deeply in debt, his books were out of print and newspapers like The New York Times editorially remembered him as a fossil of the Roaring Twenties, discredited by the Great Depression and the times that followed.
Of course, those early judgments proved as faulty as Jay Gatsby's hopes of reclaiming Daisy Buchanan. By the early 1940s, Fitzgerald's later fiction, including the unfinished novel The Last Tycoon, was helping to reshape his reputation. "In 1929 (four years after its initial publication), 'Gatsby' made $5.10 in the United States, plus 34 cents in royalties in England," Scottie remembered. In 1972, Scottie received $350,000 for the movie rights, and she admitted to me that her father's writings had made her a very wealthy woman indeed.
"Well, certainly, I never expected it. I lived in the shadow of dire poverty all through college, and it never occurred to me that Daddy would make me quite a lot of money." Ever the diligent young newsperson, I asked her how much money that might be. "I don't think I should quote a figure, because I think that would be very vulgar, but I could tell you that 'The Great Gatsby' sells ... about a half-million copies a year in the United States alone." By 1980, according to Charles Scribner's Sons publishers, 8 million copies of Fitzgeralds' books had been sold in the U.S. Thirty years later, estimate ranges from 30 to 60 million copies, and Gatsby is by far the best seller of all.
All of this brings us to the event occurring this week, the opening of the fourth film version of The Great Gatsby, this one starring Leonardo di Caprio (who was born the same year that the last remake opened, 1974), which debuts in theaters across America May 10. There have been at least five film versions, the first a silent released in 1926, which, sadly, is a lost treasure. In 1949, Alan Ladd starred in a film noir adaptation, which co-starred Macdonald Carey and Ruth Hussey. The Redford-Farrow version followed in 1974, and then Mira Sorvino and Paul Rudd co-starred in a long forgotten 2000 version for HBO. And there has been an opera by John Harbison, which opened in 1999 and starred Broadway stars Dawn Upshaw and Jerry Hadley ("undramatic and dull," one critic called it). Then there was "Gatz," a complete reading of the novel's text, which ran at the Public Theater in New York in 2010. This list (incomplete, I promise you), is an indication of the enduring popularity of F. Scott Fitzgerald's classic, perhaps the great American novel, or at least among the very the best of the 20th century.
But all of this was decades into the future in 1974 when I sat around living rooms and on sunset-drenched terraces in Montgomery listening to Scottie and her mother's friends reminisce about the past. The candles flickered, the Scotch and Bourbon were poured, but most of all we remembered these fragile souls, who had lived, and died, more than fifty years earlier,
I well recall the moments at Oakwood Cemetery, walking through row after row of Confederate graves with Mrs. Eugenia Tuttle, who once raced on roller skates down Dexter Avenue, Montgomery's main street, with the town daredevil, Zelda Sayre. "I was with Zelda all the time," said Mrs. Tuttle "But Zelda was two years older, and I couldn't do all the things she could do. She could swim better than anybody, she could skate better than anybody, and she was a tomboy and climbed trees."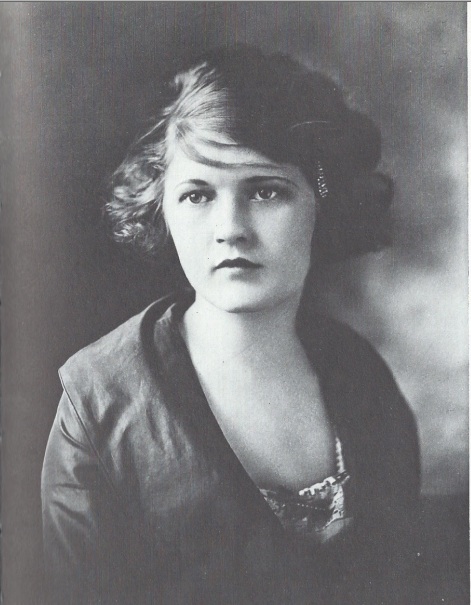 She was also the daughter of the formidable Supreme Court Justice Anthony Dickinson Sayre of Alabama, Montgomery's most respected jurist and a pillar of propriety. Zelda used to spend the night with Eugenia Tuttle and sit up cutting out paper dolls. But Mrs. Tuttle remembered that she didn't like to stay very much at the Sayres', particularly if Zelda's father was at home.
"Frankly," she said flatly, "I was scared of Judge Sayre."
Zelda certainly wasn't. When she and Eugenia passed from childhood to young adulthood they began slipping out at night and, when World War I came to Montgomery, they were often on the arms of handsome soldiers stationed nearby at Camp Sheridan. On more than one occasion, Judge Sayre called down to his youngest daughter to come into the house, "you hussy!"
In the summer of 1918, only a few months after he departed from Louisville's Camp Zachary Taylor, Lt. F. Scott Fitzgerald of St. Paul Minnesota and Princeton stepped down from an officers' car at the Montgomery train station. Blonde, blue-eyed and slender, he cut a stunning figure in his uniforms, tailored in New York City by Brooks Brothers. Shortly thereafter, he was introduced to the belles of Montgomery, all of whom were enchanted.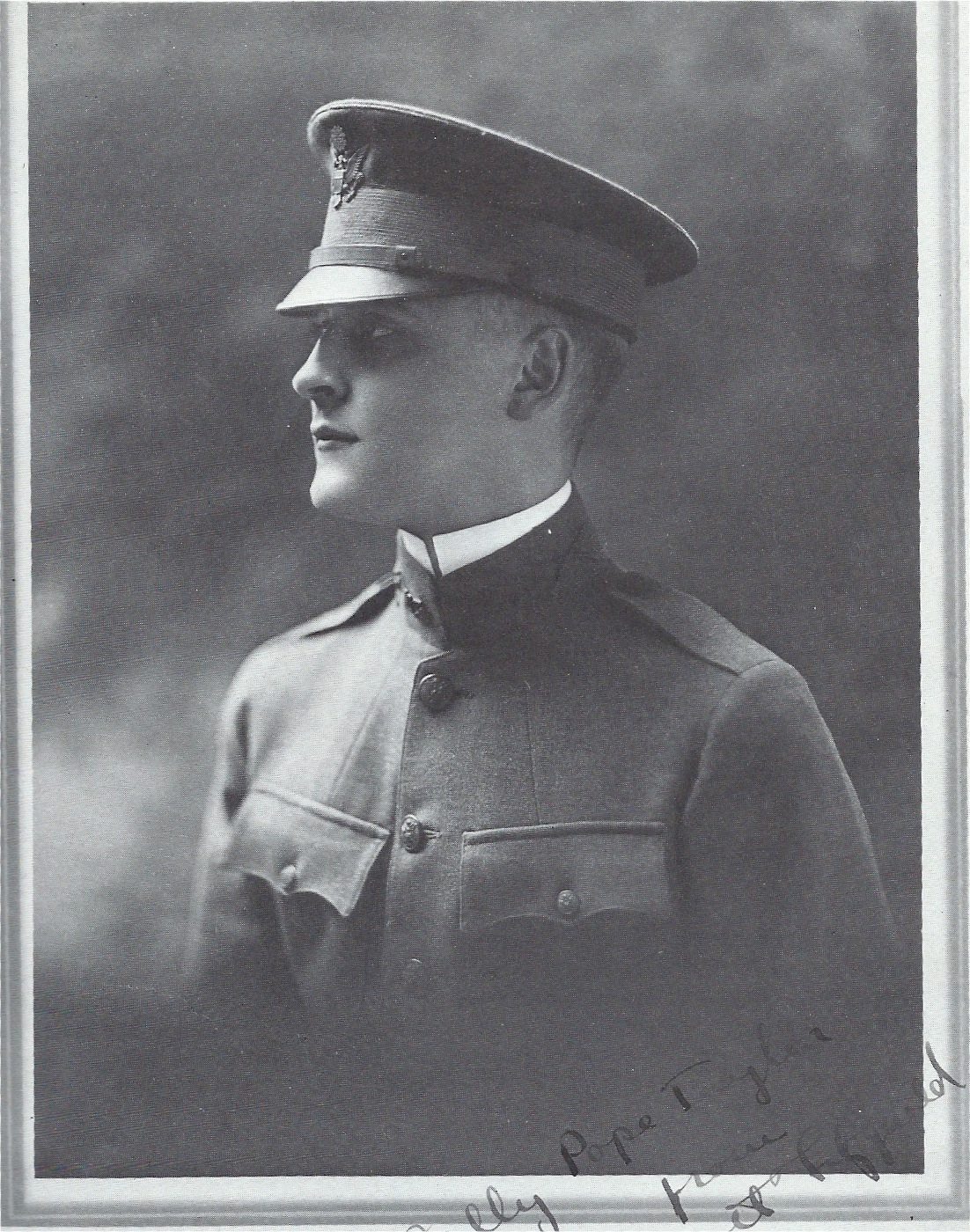 "I met Scott two weeks before Zelda did," said Katharine Haxton, a distant relation of the Sayres who described herself as Zelda's "soulmate" after they passed through the awkward pre-adolescent years. I met Mrs. Haxton when she was 74, the same age as Zelda would have been, and enjoyed a long cocktail hour in her elegant home in Montgomery.
Scott was a dandy in his style of dress, she recalled as Scottie sat beside her, absorbing the stories as I readily as I did.
"Scott was a real nonconformist," Mrs. Haxton recalled. "During the war there were very strict rules about your uniform. Scott didn't do anything they told him to do. He wore jodhpurs that were exaggerated cream colored. He made them that way by putting salt on them and laying them in the sun to bleach. And he wore soft high boots, not like any Army boots anybody had heard of."
Around Camp Sheridan, his nickname was "High Pockets," and the girls at the country club saw why as he stood at the side of the room and watched them, his hands slipped into the pockets that were sewn parallel to his belt.
The Sayres were less impressed with the young man from Minnesota than the belles of Montgomery were. Judge Sayre's career had been a solid one, and he was known as the only Alabama jurist never to be overturned on appeal. Mrs. Sayre, who had a theatrical bent and named Zelda for a gypsy she had loved in fiction, was a native of Eddyville, Kentucky, and her father served as a senator in both the Confederate and the United States senates, a rare achievement.
Before Scott came to town, Zelda used to meet the trains with the other young women of Montgomery. "She was in a group of girls who ran the canteen at the train station. They went out and gave the soldiers coffee. It was called the Service League, but later it became the Junior League," Eugenia Tuttle recalled.
There was much that was jarring about my week's sojourn in Montgomery in 1974. Mrs. Tuttle insisted on taking me to the state capitol, to Gov. George C. Wallace's office, where she extolled his views about states' rights and the Constitution. This was nearly two years after the assassination attempt in Montgomery, Maryland (not far at all from the final resting place of Scott and Zelda in Rockville). Scott Fitzgerald had some links to the Confederacy that were disconcerting; he was a first cousin, once removed, of Mary Surratt, owner of the boarding house where Lincoln's assassination was planned. Mrs. Surratt was hanged with other conspirators in July 1865.
"We were brought up on the Confederacy. It meant more to us than almost anything else did," said Mrs. Tuttle, as we walked through the old graveyard. Scott Fitzgerald had spent many long afternoons with Zelda there, and the experience would be captured in some of his best stories, including "The Last of the Belles" (1929).
The early reviews of The Great Gatsby --- 2013 are not particularly ecstatic. Some say that Scott Fitzgerald's writing eludes motions pictures, although I believe that the 1974 version of the novel was about as close to perfection as film adaptations can be.
But it's fair to say that our world in 2013, is about as far removed from the era of Scott Fitzgerald as it is from that of Mark Twain, Edith Wharton or even Washington Irving.
For Scott Fitzgerald, life was a supreme adventure, and its settings were his native Minnesota and the places he learned to love: Princeton, New Jersey; New York City (and specifically the regions around the Biltmore Hotel and the Plaza), Hollywood, Antibes, Paris, Asheville and Montgomery. Like his fictional Jay Gatsby, Scott's quest for that paradise focused first on wealth and comfort, then on "the girl." In Fitzgerald's case, she was Zelda, who was not only a romantic interest but also a case study.
As with almost everyone else he met in his short lifetime, he plumbed her soul seeking material for the novels he had in his mind, and the stories he would crank out with remarkable regularity over two decades. More than anyone else, Zelda would become Fitzgerald's icon, and his nemesis. Her own fragility (she was schizophrenic and alcoholic; later she became a tormented ballet dancer and painter), appalled Scott. She was too much like him.
Popular in the Community