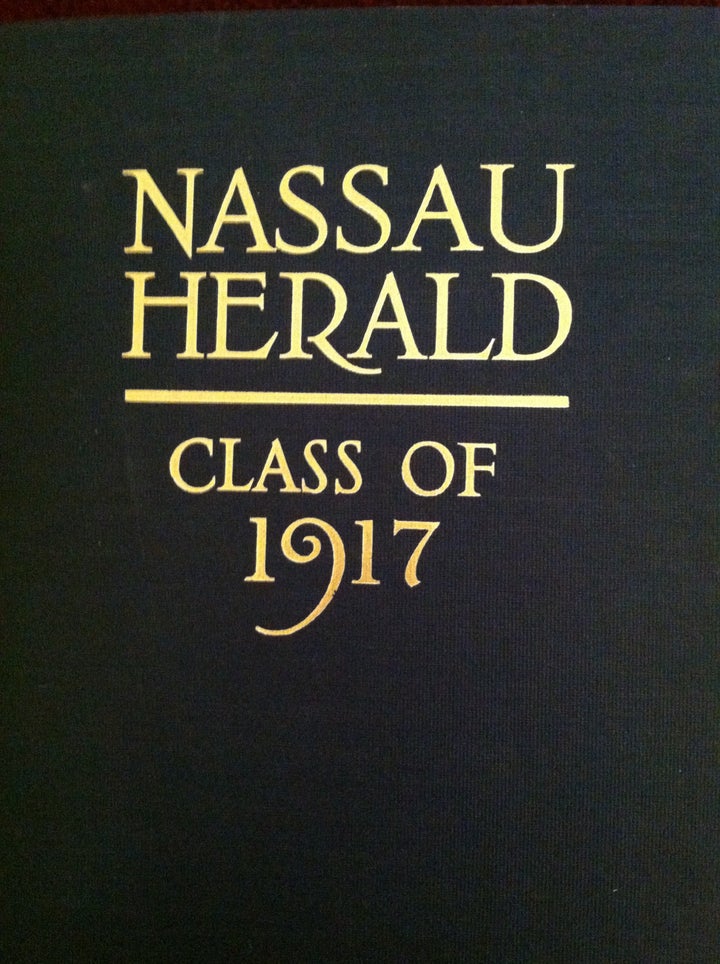 Upon the happy news, recently, that F. Scott Fitzgerald will at last receive a diploma from Princeton University — a hundred years after his own commencement was interrupted by his service in the United States Army during World War I — I sat down to page through his Princeton senior yearbook. (Yes, I own a copy; one of the pleasures of being a Fitzgerald scholar).
The Nassau Herald has been published since 1864. Before that, there were various publications that commemorated graduating classes and provided contact addresses and other information, as well as campus activities during the past year. From 1915, the Herald also included photographs.
Fitzgerald's senior year was 1917. The class photograph is at the front of the Herald. All the young men — and Princeton was all-male in Fitzgerald's day, and indeed until 1969 — posed on the steps of one of the campus literary and debating society buildings, Whig or Clio. The matching buildings, dating from 1893, have wide marble steps and columns suited to group portraits. Camera took awhile in those days; some of the faces are blurred, as people moved before the shutter made its ponderous way open and closed. One young man, right in the middle of the crowd, but mercifully not quite on the photograph fold, didn't even blink.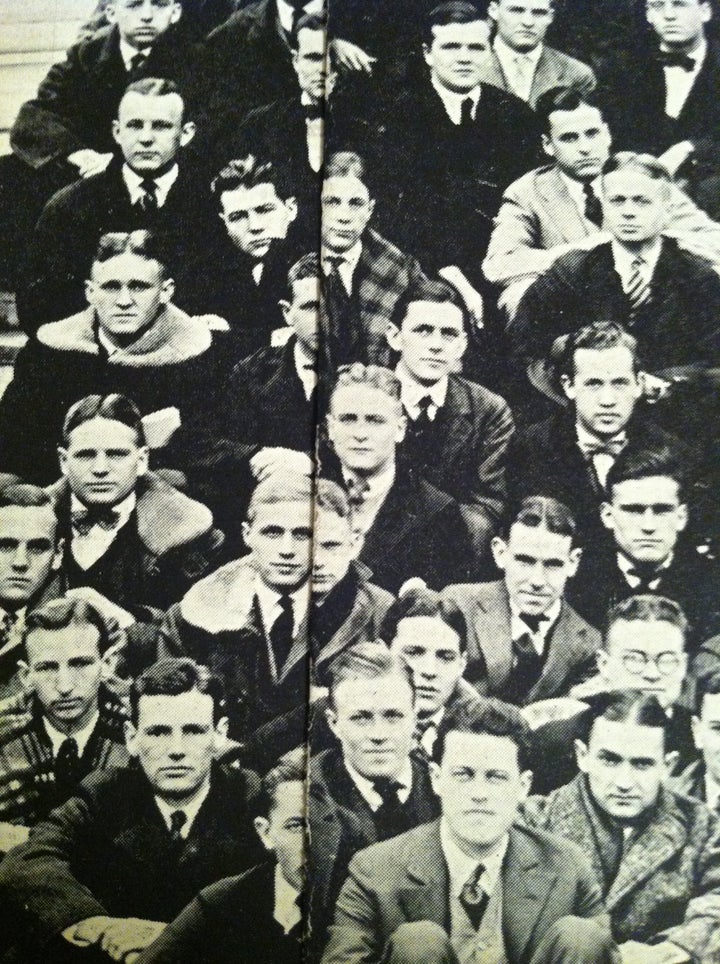 For someone who writes about Fitzgerald and his fiction, it is a pleasure to look some of his Princeton friends in the eye, as it were. Here is John Peale Bishop, poet and editor, who would be the model for Thomas Parke D'Invilliers in This Side of Paradise (1920):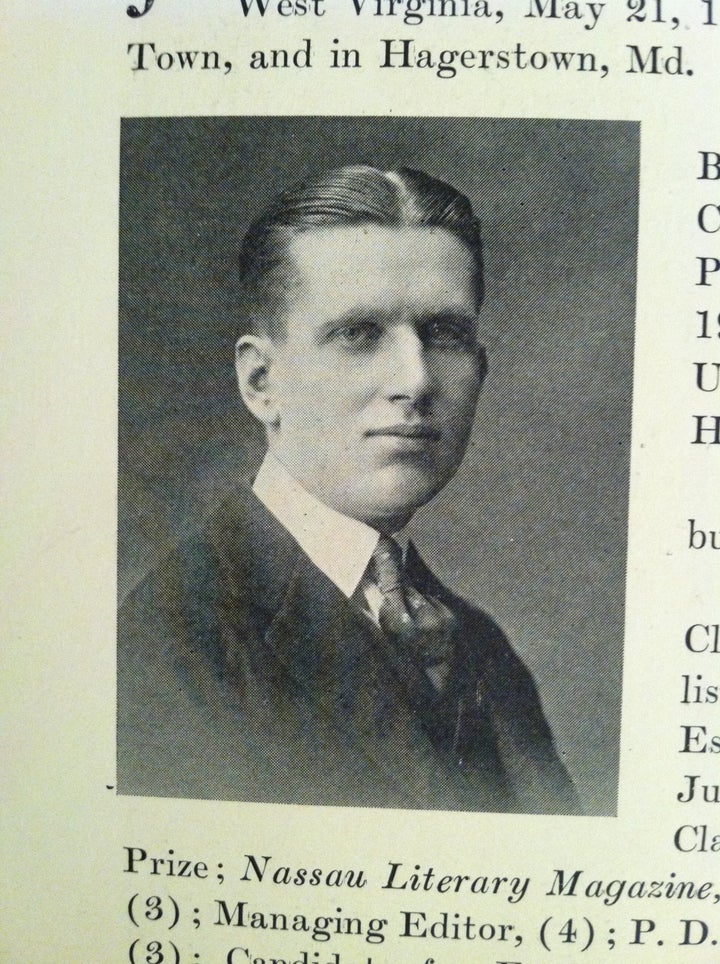 Here is Charles "Sap" Donahoe, a classmate of Fitzgerald's not only at Princeton but during prep-school days, at the Newman School in Hackensack, New Jersey. Note that he, like Fitzgerald and most of the boys at Newman, is Catholic: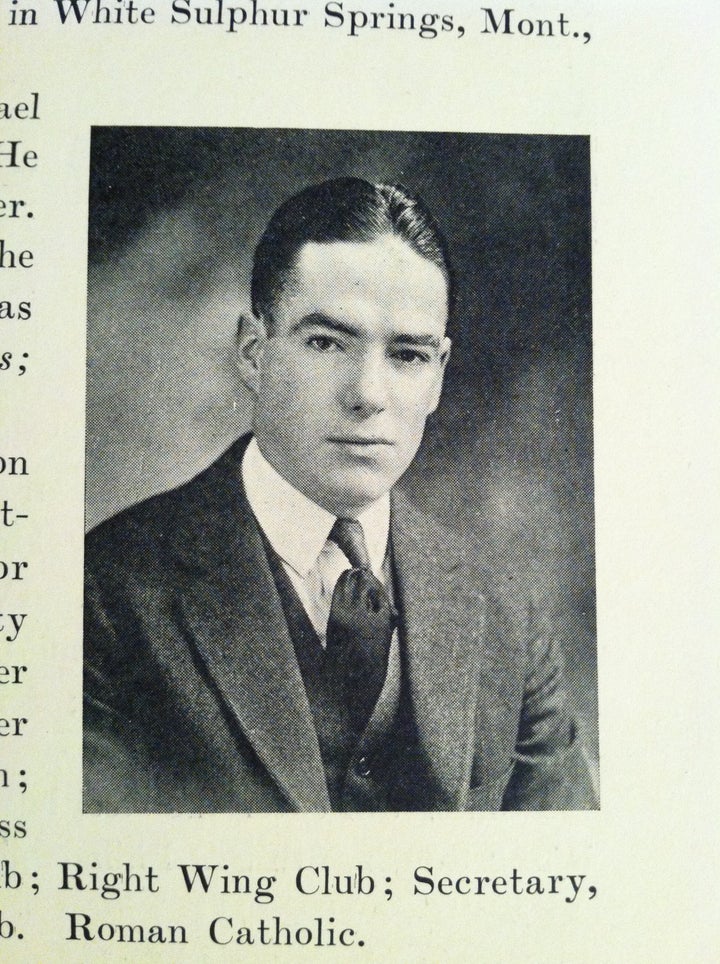 Here is Ludlow Fowler, who would be best man at Scott's wedding to Zelda Sayre in 1920, and a dear friend of theirs through the rest of their lives: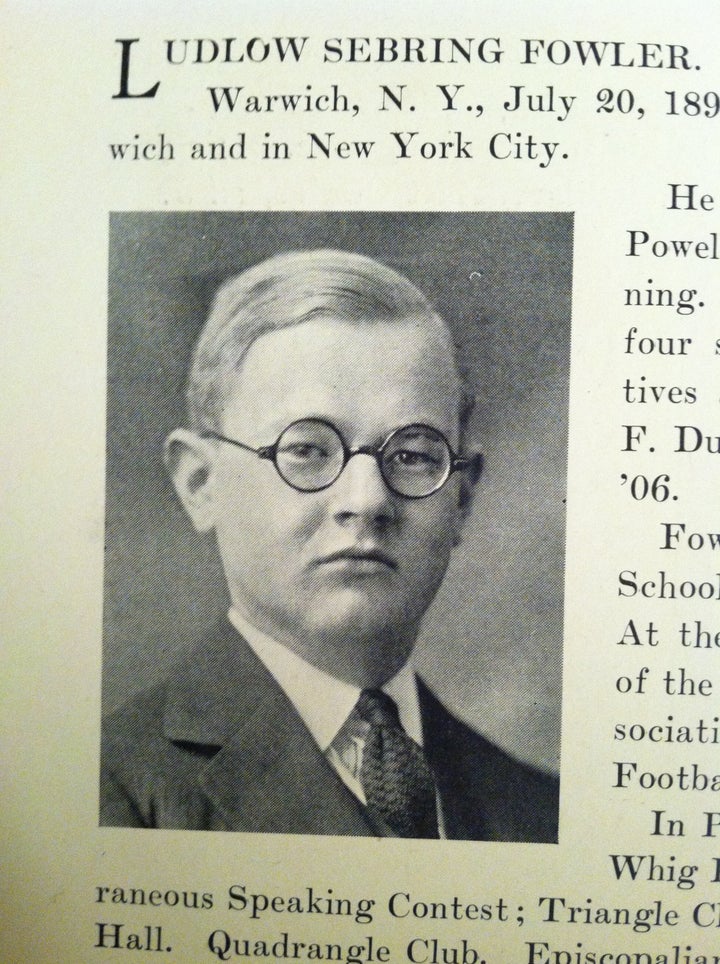 Here is his junior-year roommate, and fellow Triangle Club show-writer, P. B. Dickey. Dickey was one of the composers of the music for Fie! Fie! Fi-Fi! (1914), for which Fitzgerald wrote the story and lyrics: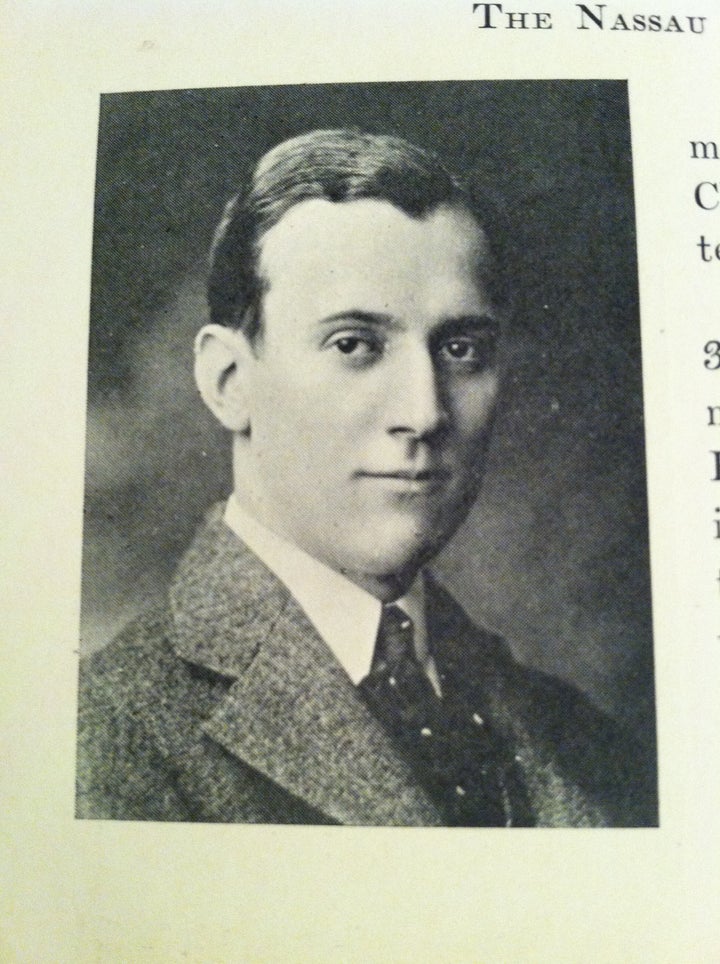 And here is Fitzgerald. Below the photograph, I reproduce in full his yearbook entry: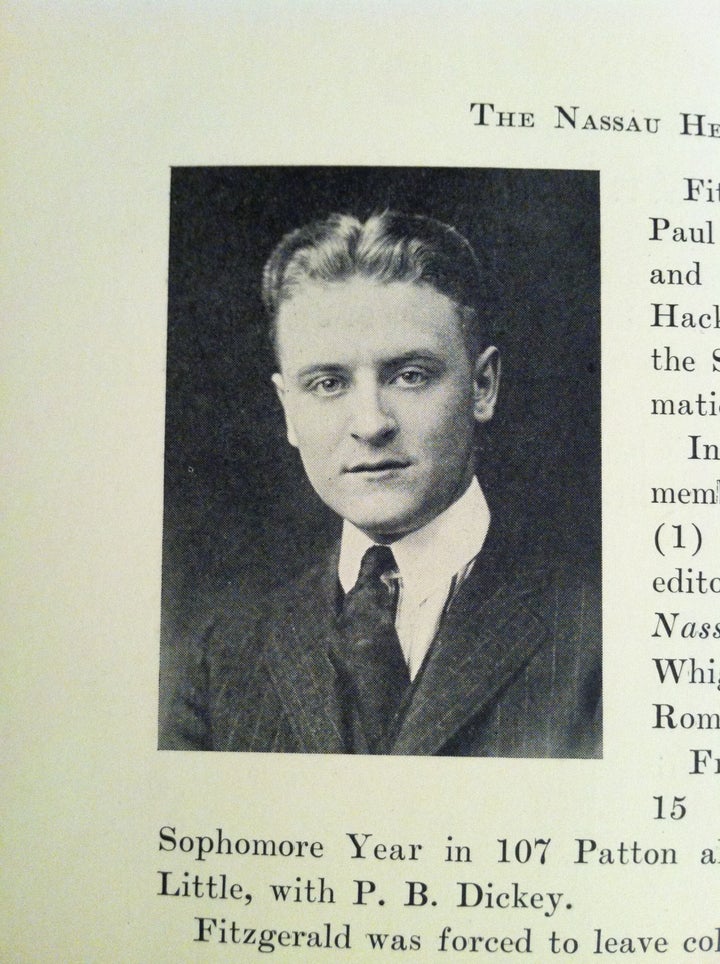 Francis Scott Key Fitzgerald. "Fitz." He was born in St. Paul, Minn., September 24, 1896, and has lived in St. Paul and in Buffalo, N.Y. He is the son of Edward Fitzgerald and Mary McQuillan. His father, a graduate of Georgetown, is a broker. He has one sister. Among his relatives is Dr. Samuel C. Chew '56.
Fitzgerald prepared at Saint Paul Academy, St. Paul, Minn., and at the Newman School, Hackensack, N.J. He was on the School Papers and in Dramatics at each.
In Princeton, he has been a member of the Triangle Club, (1) (2) (3), Secretary (3), editor of the Tiger and the Nassau Literary Magazine. Whig Hall. Cottage Club. Roman Catholic. Progressive.
Freshman Year he roomed at 15 University Place alone; Sophomore Year in 107 Patton alone; Junior Year in 185 Little, with P.B. Dickey. Fitzgerald was forced to leave college in December 1915 because of illness. He will pursue graduate work in English at Harvard, then he will engage in newspaper work. His permanent address is 593 Summit Ave., St. Paul, Minn.
There is a wee bit of poetic license taken in some of this writeup. Fitzgerald was indeed an editor of the Tiger, the campus humor magazine, and of the Nassau Lit, though not the editor. (For more on his contributions to these two publications, see Chip Defaa's utterly delightful F. Scott Fitzgerald: The Princeton Years.) The description of Edward Fitzgerald as a broker is of only indifferent accuracy; of the many jobs he held, this one has the most cachet, perhaps. And while Fitzgerald did indeed take time off from Princeton with incipient tuberculosis, his grades during the semester in question were all failing but one. Interesting is Fitzgerald's political-party identification as "Progressive," that party recently founded by former President Teddy Roosevelt and also known as the "Bull Moose" party. Roosevelt, who had served two terms as President already, ran on this platform in the wild Presidential race of 1912, and lost to a former president of Princeton — and popular man on campus in Fitzgerald's day — Democrat Woodrow Wilson. Wilson had been re-elected in 1916.
The Senior Statistics, at the back of the volume, are entertaining, and tell you things about Fitzgerald in the eyes of his classmates you wouldn't ever have otherwise known. In the category "Most Brilliant," Bishop cleans up with 50 votes, while Fitzgerald languishes at 2. He ties for "Handsomest" with six other classmates, but places higher as "Prettiest" (though a classmate named Ziesing, later an attorney in Cleveland, is far in the lead with 103 votes). Fitzgerald places well in the "Wittiest" category — but is higher in the "Thinks He Is." He places well in the "Thinks He Is" a politician category, reminding me of what Zelda wrote about him years later: that, apart from being a famous writer or a football hero, he'd have liked best to be a diplomat. The class names him one of their choices for "Best Dramatist," though he trails William Shakespeare and George Bernard Shaw.
Last, but not least, I suspect Fitzgerald's hand in some of the write-ins for the Class of 1917's categories about girls. Take a look, and think of his sense of humor. You'll see what I mean. I can't prove it — but, as Bernard Nightingale says expansively, publish.

Related
Popular in the Community