The manuscripts, and finished typescript, for F. Scott Fitzgerald's 1939 short story "Temperature" have rested quietly at Princeton University for many decades. Housed in the Fitzgerald Papers of Princeton's Rare Books and Special Collections Manuscripts Division, in their brown acid-free folder, the drafts and - to my mind - finished story as typed have been read by Fitzgerald scholars and students over the years, but "Temperature" was unpublished until now.
The Strand Magazine, based in Birmingham, Michigan, obtained publication rights from the Fitzgerald Estate, and the story is in the summer number. Order it up, or find it in a bookstore's journals and magazines section, because it's well worth your reading.
In the typescript at Princeton, Fitzgerald has written, in his traditional No. 2 pencil, across the top of the first page: "File Under False Starts." The story feels a bit like a cross between the short story, a form he'd mastered nearly twenty years earlier, and a screenplay, what he was writing and revising in mid-1939. Fitzgerald had come to Hollywood in the summer of 1938 with a contract from Metro-Goldwyn-Mayer, and after his MGM contract expired, he stayed in Los Angeles as a screenwriter and script doctor. "Temperature" features two movie stars in supporting roles: Carlos Davis, a "Dakota small town boy" who "had been born with a small gift of mimicry and an extraordinary personal beauty[;]" and Elsie Halliday, a cypher of a Golden-Age silver-screen goddess. There are filmic touches throughout "Temperature" - Fitzgerald uses moviespeak for segues, thus: "And at this point, as they say in picture making, the Camera Goes into the House, and we go with it." The plot, too, is a mix of screwball comedy and old-fashioned comic theater going back, via Shakespeare, to Plautus.
Fitzgerald's greatest dramatic debt in "Temperature," though, is to his contemporary Philip Barry. He admired the celebrated playwright and screenwriter, who he'd met socially in the 1920s (Zelda once accused Scott of having "disgraced himself" at a party at Barry's), and he particularly commended Barry's sharp dialogue. The Philadelphia Story (1939) remains Barry's best-known play, and the film made from it, with its screenplay based closely upon Barry's original by Fitzgerald's friend and collaborator Donald Ogden Stewart (and an uncredited Waldo Salt), is one of the best-loved American romantic comedies. Stewart won an Oscar for his screenplay, and another Stewart, Jimmy, won Best Actor for his portrayal of the earnest, good-humored writer Macaulay Connor. Jimmy Stewart was Fitzgerald's Hollywood friend and fellow Princetonian; there is more than a touch of Macaulay Connor in Emmet Monsen, the handsome yet awkward hero of "Temperature." Similarly, Barry's unshrinking approach to themes generally taboo on stage, and in movies, in the late 1930s resonates in Fitzgerald's story. The Philadelphia Story features sparring lovers and sharp dialogue about "liquor and dope"; scenes of epic drunkenness; servants involving themselves in family affairs; mistaken identities; and a happy ending. Look for these in "Temperature" when you read it.
Look for much else, of course. "Temperature" is not only autobiographically resonant for Fitzgerald, who was being treated for a heart condition in 1939 much as Emmet Monsen is treated. It is also bright and light and full of humor, which, though he's never given enough credit for being funny, is classic Fitzgerald. You're reading along through "Temperature," and, suddenly, there is a line of such keen descriptive power and joy, such beauty, such unforgettableness. You smile and sigh at the same time, and say to yourself, yes, that's F. Scott. A young lady in a 1931 model car, speeding into "one of those suburbs which make Los Angeles the most far-flung city in the world" takes your breath. A description of "roses around the door...Pernets and Cherokees and Cecile Brunners in the yard, and Talismans and Black Boys climbing over the porches in a multicolored rash" knocks you back into another century, other times, and, surely, what was on Fitzgerald's own mind as he wrote. Pernets and Cecile Brunners, new roses when he was a boy. The Talisman, first cultivated in Montgomery, Alabama, in 1929. The Black Boy, a deep red rose introduced in 1919. Most of all, the Cherokee, that wild, fragrant Southern rose, with its starry yellow center and heart-shaped white petals. I gasped when I read this the first time, remembering Zelda, describing herself as "Alabama Beggs" in her only novel, Save Me The Waltz (1939): "She smelled of Cherokee roses and harbors at twilight." Fitzgerald created a category for his own writings in his notebooks called "Nostalgia or the Flight of the Heart." "Temperature" might be a thoroughly modern screwball-movie story of midsummer 1939, but it is also firmly in this category, a flight into Fitzgerald's own past, and full of his, tragically, all-too-apt fears for the future.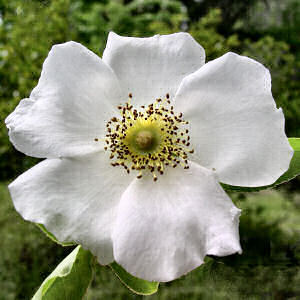 quotations courtesy of and © The Fitzgerald Estate
Anne Margaret Daniel 2015
Popular in the Community