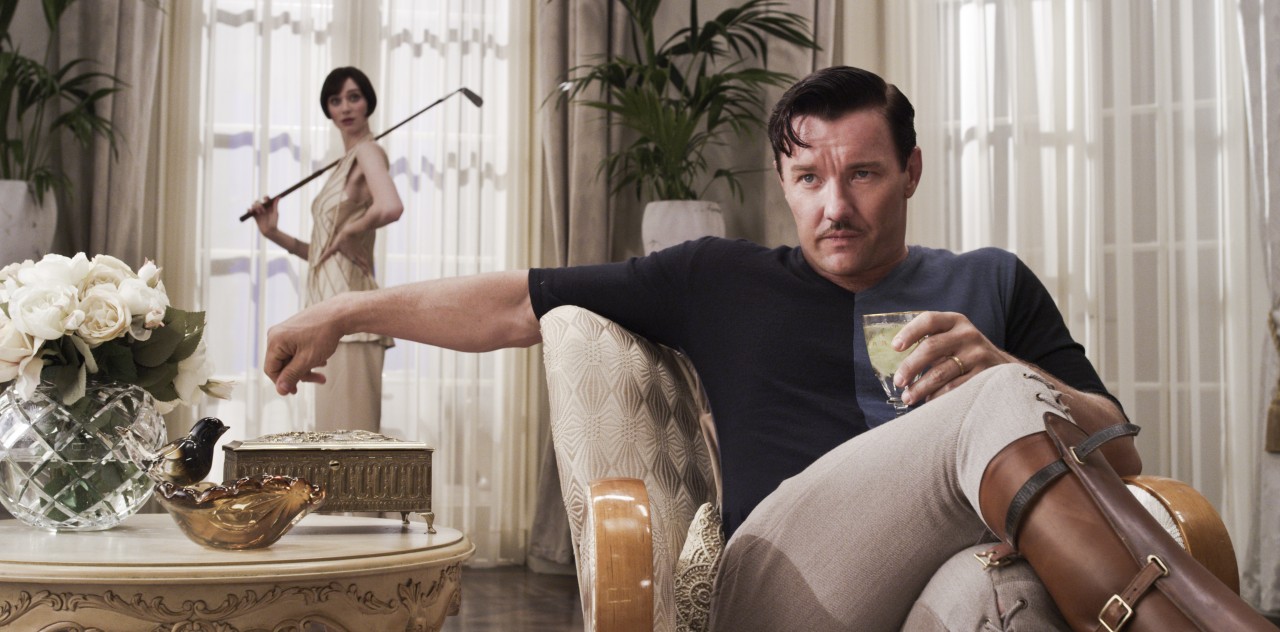 Joel Edgerton as Tom Buchanan, The Great Gatsby (2013). Courtesy Warner Brothers.
A new memoir has begun in the Believer magazine, with the first installment just published. It's by Robert Atwan, writing as "Thomas Buchanan." Yes, that Tom Buchanan, Daisy's husband, Nick's Yale frenemy, Gatsby's nemesis. Pearl-buyer, nose-breaker, bruiser. The hulking polo player, bully and villain of F. Scott Fitzgerald's The Great Gatsby.
That Summer, 1922: A Counter-Memoir by Thomas Buchanan is quite funny and well-crafted. Mark me, though: this will not be true of the dozens of Gatsby-from-other-characters'-points-of-view novels I fully expect to see in the next couple of years. The success of Baz Luhrmann's movie of The Great Gatsby has made the book fly off shelves, and sales of books have always meant one thing for certain sure: imitations.
Some imitations are better than the originals, though it's quite rare for this to be true. Henry Fielding got so annoyed by Samuel Richardson's Pamela, Or, Virtue Rewarded (1740), and by Richardson's success with the book when it became a bestseller, he wrote his own sequels to it, Shamela (1741) and Joseph Andrews (1742). In Richardson's novel, a beautiful young teenage servant is pursued, and repeatedly threatened with rape, by her master until they fall in love and get married -- this marriage being the "reward" for Pamela's maintaining her "virtue" for hundreds of fraught pages. Fielding, blissfully untroubled by copyright laws at the time, recast Pamela as "Shamela" and showed a devious, manipulative girl bent on snaring her rather stupid master into marriage by any and all means. Either of Fielding's books are better than Richardson's.
Recently, the Moderns of the 1920s -- whose writings are now out of copyright themselves -- have been put, with varying degrees of skill, between book covers. Michael Cunningham perhaps instigated this focus of interest with The Hours (1998), his glimmering, elegant re-imagining of Virginia Woolf's 1925 novel Mrs. Dalloway. Paula McLain's The Paris Wife (2011) was shredded by critics like Janet Maslin for its "literary tourism" and much-beloved by readers for the same thing. Pick it up and you get to hang out with Hemingway and Fitzgerald, lingering in cafés and hearing them talk just the way characters talk in their very own novels -- a consummation devoutly to be wished for some of the writers' fans.
Fitzgerald, and his Paris (and only) wife Zelda, have inspired a spate of current fictions. Hardly coincidental, this, with the Gatsby movie prominently in the offing. Of these books I've reviewed the insubstantial Z: A Novel of Zelda Fitzgerald for these pages. Spend your time instead with a delightful illustrated version of the Fitzgeralds' life together, Superzelda: The Graphic Life of Zelda Fitzgerald. Written by Tiziana Lo Porto and illustrated by Daniele Marotta, it'll make you smile, and you'll learn something too.
Pammy Buchanan has already written her own novel. Daisy Buchanan's Daughter (2011), by Tom Carson, imagines the little yellowy-haired toddler as an old woman who has seen the twentieth century and all its history go by. The novel's characters go by, too: Nick gets old and fat, while Daisy commits suicide. Now, via Atwan, Tom weighs in.
Atwan's Thomas Buchanan doesn't seem much like Fitzgerald's Tom Buchanan (or, as Atwan has it, Nick Carraway's Tom) to me. Tom's not capable of the formal, careful speech Atwan gives him. His quick intense physicality, his boorish prejudices, his aggressive manner are all gone. However, Atwan's beginning couldn't be clever or funnier: "I am a gravely misunderstood man and have been for a very long time, thanks to a perennial bestseller written by a Manhattan bond salesman turned procurer, one Nicholas Carraway, the author of a deceptive and biased memoir that thinly disguises itself as a pseudonymous novel."
Atwan's Tom blames Daisy's weight loss after Pammy's birth for his need to begin an affair with Myrtle Wilson: Daisy "seemed quite content to retain the unappealing boyish figure that had become fashionable among smart women." This is piggish enough to have come from the mind of Fitzgerald's Tom, as is a staunch isolationist stance during World War I (presumably Altman's excuse for Tom's failure to serve in the war, as Nick and Gatsby have done). Tom has known Robert Taft and Archie MacLeish at Yale; expect more classmates to pop up later. Tom's name-checking John F. Kennedy seems disconcerting, until one thinks that a man of thirty in 1922 would have only been 71 when Kennedy was murdered in 1963. Atwan is at his best, not surprisingly, when he shows how well he knows and likes the novel, picking up directly on Fitzgerald's own language. The detail of Nick's thinning hair, one of the most memorable lines in a novel full of them, adds to Atwan's first description of Nick on Long Island. I'll look forward to future installments of the self-serving (as is to be expected with Tom) and funny (as is not to be expected with Tom) musings of "Thomas Buchanan."
What I don't look forward to is the flood I already sense is coming of dozens of "versions" of Gatsby written from the points of view of the other characters. Surely the first of these will be from the point of view of Jimmy Gatz, Jay Gatsby himself. Myrtle Wilson will be given voice, after being so thoroughly silenced by Fitzgerald, and morph into a Molly-Bloom figure, uneducated but eloquent and above all a fierce "feminist" making her own choices. Will she recount her version of the novel from the table in the garage where she lies dead, like Addie Bundren in William Faulkner's magnificent As I Lay Dying? Catherine, her sister without a surname, may similarly be granted "her story." Meyer Wolfshiem will emerge from his back office to tell how he came to be one of the most important gangsters in New York, recounting his childhood and struggles, the prejudices against him, and the creation of Jay Gatsby. Old Mr. Gatz will tell the heartbreaking, Willa-Catherish tale of a man who carved out a hard life on the cold northern prairies and lost his only son twice to the same fatal American dream that was really a nightmare. Ewing Klipspringer will write an American version of an English country-house novel, telling of his peripatetic stayings in many homes of the rich and famous, his thwarted career as a composer and pianist, and his ultimate realization of his own dream of playing jazz in Carnegie Hall. Of course, there will be a Gatsby as written by Zelda. (This has already been foreshadowed in books like Z, where she's given credit with providing Fitzgerald with dialogue, characters, book titles and more from her conversations and diaries. His craftsmanship and imagination don't rate, of course).
More than any other American writer, Scott Fitzgerald and his work have been used for other people's purposes. Publishers, please take note: don't make me actually have to read any of the scenarios I posit above, realized as novels. Readers, if you ever see any of these versions of Gatsby, and I sincerely hope you never will, please do let me know who took my facetious suggestions seriously. Until then, let's sincerely hope that any foul dust floating in the wake of Fitzgerald's slight, magisterial novel will be fun flotsam, and nothing more egregious.
REAL LIFE. REAL NEWS. REAL VOICES.
Help us tell more of the stories that matter from voices that too often remain unheard.