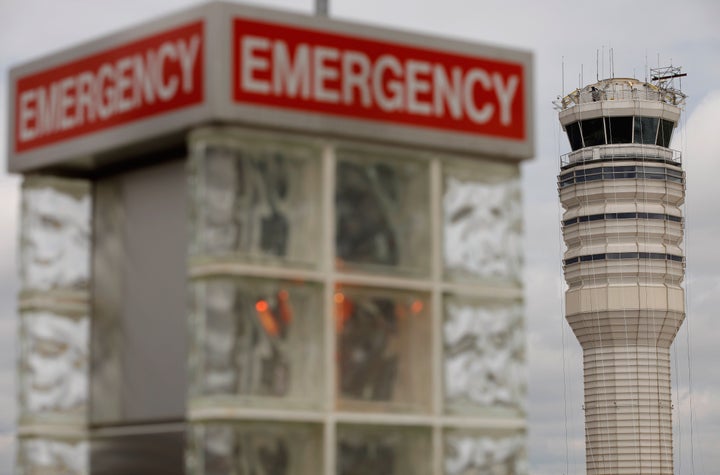 WASHINGTON -- Nearly 4,000 federal employees remained temporarily out of work for the fourth day in a row on Tuesday, as Congress appeared no closer to coming to an agreement on legislation reauthorizing the operating budget of the Federal Aviation Administration.
While Washington remains focused on the looming deadline to raise the debt ceiling, the professionals responsible for the nation's air safety are wondering when Congress will break its stalemate and move beyond partisan politics to restore their jobs.
"This is a microcosm of the debt ceiling problem," said Robert Challender, president of American Federation of Government Employees (AFGE) Local 200. "I've been telling everybody -- this 4,000 people in the FAA is nothing compared to what's going to happen to the federal government if both sides can't agree to extend the debt ceiling."
On Friday, the FAA's operating authority expired, since the House and the Senate were unable to agree on legislation to extend it. Normally, temporarily extending the agency's authority is uncontroversial; it has been done 20 times in the past with little problem.
But this time, Rep. John Mica (R-Fla.) inserted several provisions into the legislation that have engendered heated Democratic opposition.
But even some employees who have stayed at work are running into problems.
Challender told The Huffington Post that one of his Local 200 members, who was supposed to be furloughed but received an exception, has been told that he can't take his sick days. He is suffering from a staph infection, but he had to come to work on Tuesday anyway.
Challender is looking into potentially filing grievances or an unfair labor practices suit against the FAA on behalf of his members. Article 19 of the AFGE contract says that employers need to give employees at least 30 days notice before taking any "adverse action," along with another 15 days for the employee to respond.
"We are on pins and needles, basically, because the agency is not prepared and has not planned for these kinds of disruptions in service," he added.
Laura Brown, a spokesperson for the FAA, told The Huffington Post that so far, she was unaware of any suits connected to the furlough being filed against the agency. She also said that federal law dictates that during a shutdown -- or in this case, a partial shutdown -- employees are either working or furloughed, meaning they cannot take sick or vacation days. The policy applies across the federal government, not just at the FAA.
Not getting reimbursed for the time lost is a concern worrying many furloughed employees, according to American Federation of State, County and Municipal Employees (AFSCME) Local 1653 President William Chouinard, Jr.
When Congress finally passes FAA legislation, it would have to insert language specifying that they should be paid retroactively in order for workers to receive their checks. Chouinard said that quite a few of his members are still worried that the "rancor between both parties" may get in the way.
While air traffic controllers remain on the job and the FAA has gone out of its way to insist that the airways are still safe for travel, many union officials have warned that delays in critical construction projects caused by the furlough could be problematic.
"It's fair to say these are programs that are designed to make the system more efficient and safe going forward, and they're all basically stalled, waiting for the Republican leadership to do a basic funding of the FAA," said Ed Wytkind, president of the Transportation Trades Department, AFL-CIO.
Ironically, as Congress is focused on closing the deficit, the FAA's partial shutdown is costing the U.S. government approximately $200 million a week in lost revenue from federal airline taxes that aren't being collected.
The reprieve isn't translating into lower prices for most consumers, though. Many airlines have been charging more to make up the difference.
"It is unacceptable that rather than passing savings on to customers, airlines continue to charge the same price and pocket the extra profit," said Rep. Nita Lowey (D-N.Y.) "It is shameful that as families across the country struggle, airlines have opted for more profit over customer savings."
Lowey sent a letter Tuesday to the president of the Air Transport Association, urging member airlines to pass savings on to consumers during the time that the FAA is not allowed to collect the 7.5 percent excise tax that is normally built into domestic ticket purchases.
In the meantime, there seems to be no break in the impasse. On Monday, Mica issued a statement making clear he still wants the Democratic-controlled Senate to adopt the House proposal.
"To put people back to work and restart FAA programs, the Senate needs to adopt the FAA extension passed by the House last Wednesday," he said in a statement. "If the Senate cannot agree to a simple provision, which it approved earlier this year, to eliminate excessive subsidies between $1,358 and $3,720 per ticket at three airports, then we don't need to convene a conference meeting."
Sen. John Rockefeller (D-W.Va.), who chairs the Senate Committee on Commerce, Science, and Transportation, said on Tuesday that the House demands were a no-go.
"I was appalled that the House went through on its dangerous threats last week to hold the entire FAA bill hostage to their politics," he said in a statement. "This issue is too serious for a stalemate because the House leadership is insisting on a provision pushed primarily by Delta Airlines to benefit their anti-worker agenda. That provision has already been rejected by the Senate, and the President says he'll veto it, so it is a non-starter. I am calling upon House Speaker John Boehner to work with House Transportation and Infrastructure Chairman John Mica to immediately convene a conference meeting by Wednesday of this week. The Senate named conferees back in May, and we remain eager to solve the differences in this bill and reopen the FAA."
Popular in the Community