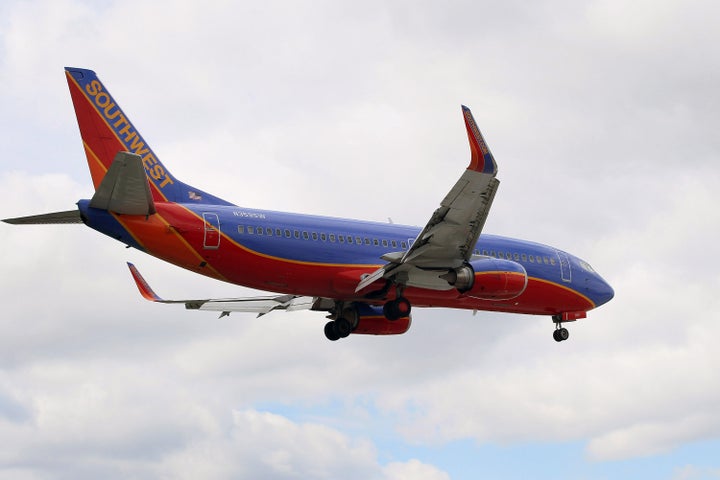 WASHINGTON -- The failure of Congress to authorize a budget for the Federal Aviation Administration has put some 4,000 agency employees and tens of thousands of contractors temporarily out of work. But even some FAA workers who haven't been furloughed find themselves in a peculiar financial jam.
Roughly 40 FAA inspectors have been asked to continue working despite the stoppage because their jobs are important for air safety. Yet since Congress hasn't allocated money to the agency, these employees have to cover their own travel expenses until the shutdown is resolved. Although their wages and expenses will eventually be recouped, these workers will end up covering work-related credit charges -- and possibly interest -- until funding is freed up.
The inspectors are among the thousands who will suffer the real consequences of congressional deadlock.
"It's incredibly unfair," FAA Administrator Randy Babbitt said in a conference call with reporters on Tuesday. "We can neither pay them nor compensate them" for their expenses until the shutdown ends.
Babbitt and transportation secretary Ray LaHood had urged the Senate to pass a bill Tuesday before the chamber breaks for recess and lawmakers head home, leaving thousands out of a job until September. Sen. Barbara Boxer (D-Calif.) asked her colleagues to pass a House bill without its most controversial elements, but Sen. Tom Coburn (R-Okla.) objected to Boxer's request.
Largely lost in the all-consuming debt ceiling debate, the FAA shutdown is now closing in on two weeks. The agency hasn't had a long-term funding plan since 2007, instead relying on a series of short-term extensions, the last of which expired July 22.
House Republicans have left Democrats with few attractive options. The most recent short-term funding bill passed by the House cuts money for rural airports, including several that lie in states with Democratic senators. Meanwhile, the long-term funding bill passed by the House would make it harder for air and rail workers to unionize, a provision that could infuriate the labor community.
With the process stalled, Democrats fumed over what they described as a shotgun approach to negotiating by Republicans.
"The House Republicans' insistence on attaching anti-worker provisions to an aviation bill has brought about a terrible stalemate that is hurting the economy," Sen. Jay Rockefeller (D-W.Va.) said in a statement. "From day 1, House GOP leaders admitted openly -- almost proudly -- that they were doing this to gain 'leverage' toward a larger goal -- undermining worker rights."
House Majority Whip Steny Hoyer (D-Md.) said the FAA standoff is just the latest example of how House Republicans have put politics ahead of good faith efforts to pass legislation. "They were clearly prepared to let America default for the first time in history on its debts unless they got their way," Hoyer said. And now, "They were prepared to leave Washington ... with almost 4,000 federal employees out on the street."
As a result, Senate Majority Leader Harry Reid was "confronted with a terrible decision" of either passing the GOP bill or not reauthorizing the FAA, Hoyer added.
LaHood said he has been in continuing talks with lawmakers and hoped Democrats would "swallow hard" and pass a bill that many of them found distasteful.
"The only option that we have is the House bill that a lot of senators don't like," LaHood said, arguing that too many jobs were on the line. "We are smack dab in the middle of the construction season. We ... have heard many, many grandiose speeches by members of Congress about creating jobs and putting people to work. This is not the way to put people to work."
President Obama called the impasse "another Washington-inflicted wound on America," and on the Senate floor, Boxer said the Republican maneuvers amounted to "hostage taking."
Although the rural airport service cuts amount to a mere $16.5 million, the stalemate has already cost the federal government more than $250 million in airfare taxes that can't be collected until legislation is passed. Worse yet, the stoppage has taken paychecks out of the pockets of thousands of public- and private-sector workers who were either furloughed or saw their projects temporarily shuttered.
According to the FAA, the lawmakers' spat has held up $2.5 billion that should be going to airport projects across the country. The trade group Associated General Contractors of America estimates that the stoppage has affected 70,000 workers, many of whom have been told to go home until the FAA money comes through and the stop-work orders are lifted.
Most FAA employees have not been furloughed, since some workers' funding is secure regardless of the reauthorization bill. But other workers aren't so fortunate, like Michael Weatherby, a computer specialist who was furloughed 11 days ago.
Weatherby, who normally works at the William J. Hughes Technical Center at Atlantic City International Airport in New Jersey, said the irony isn't lost on him that congressional leaders might take flights home for recess without passing an FAA bill.
"All I hear is jobs, jobs, jobs out of Washington, and here they are to put us out of work," said Weatherby, who works on cybersecurity issues.
Weatherby, 43, said the furlough has put serious financial strains on his family. Although his wife continues to work her job with Atlantic County, the two have to support not only themselves but her elderly parents as well. Weatherby said he's already started dipping into his savings and doesn't know how long it will last. His colleagues have started using their vacation time and have been told they should start applying for unemployment.
"It's getting desperate at this point," he said. "The senselessness of all this is amazing."
Jennifer Bendery and Michael McAuliff contributed to this report.
Calling all HuffPost superfans!
Sign up for membership to become a founding member and help shape HuffPost's next chapter