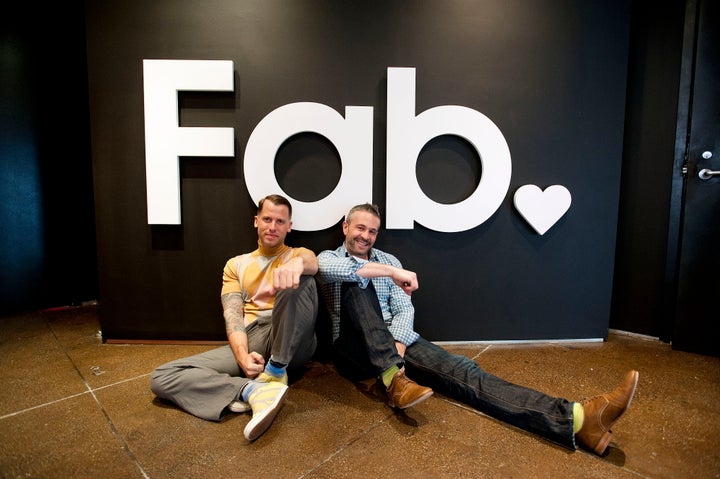 NEW YORK -- In December 2010, Jason Goldberg gave his investors the bad news first. Fabulis, the gay men's social network he started one year earlier with more than $2 million of their money, was a flop.
But the good news was that Fabulis' "Gay Daily Deal of the Day" had generated significant buzz, largely thanks to Goldberg's cofounder, Bradford Shellhammer. The former head of sales at a trendy Manhattan furniture store, Shellhammer had a knack for picking quirky products that caught fire with users.
Goldberg and Shellhammer decided to close down Fabulis and build a shopping site called Fab.com targeting the whole universe of customers, gay or not. The online store would sell housewares, accessories and clothing. Goldberg would bootstrap the business partly with cash previously earned from his starting and selling two other Internet companies.
Investors agreed to pour fresh funds into the new company called Fab, and almost a year after the website launched last June, it seems those investments might pay off.
Today Fab members total 3.5 million, a spike from January's count of 1.5 million. The company has grown from a valuation of $200 million in December (when it raised $40 million in funding) to a valuation of at least $400 million in April, according to financial analysis firm PrivCo. Every day Fab sells products bringing in about $300,000 and its executives expect the company to net more than $100 million in sales this year.
But Fab is not profitable yet, Goldberg told The Huffington Post. For now Fab is using its cash to make acquisitions and add to its team, he said. The company has acquired startups -- in January FashionStake in New York and in February Casacanda in Germany -- and has increased its staff to nearly 280 people worldwide, from just 15 employees last June. The firm recently outgrew its headquarters, and in April, moved to a 25,000-square-foot space overlooking the Hudson River in New York City's West Village.
In a glass-walled conference room one recent afternoon in late April at the company's brand-new digs, Goldberg, now CEO, and Shellhammer, the chief creative officer, explained how the company engineered Fab.com's launch in June.

For three months prior, a web page featuring a portrait of Shellhammer's swank Hell's Kitchen apartment announced Fab.com's imminent arrival and invited prospective users to sign up as members with their email address. In Pinterest-esque style, they could share and discover photos of unique design products uploaded from their Google searches or personal archives. By the time Fab's website launched, 170,000 users had already signed up. Investor Shervin Pishevar of Menlo Ventures told Goldberg and Shellhammer that the traffic on the landing page showed that "taste could be a differentiator."

Shoppers pounced. In the 24 hours after Fab sent its inaugural daily email featuring its first four flash sales, the company sold $65,000 worth of goods. Over the second half of last year, the firm racked up about $18 million in sales. Items offered on the site Thursday morning included a $279 portable clean-burning fireplace for mounting on a coffee table or a wall, a $59 alarm clock that runs around the room when snooze is pressed -- and a $69 vintage Smith Corona typewriter.

Overall, online sales in America are now approaching $200 billion a year: Their share of total retail sales is rising, up from 5 percent five years ago to 9 percent now.
Fab's most direct competitor is One Kings Lane, a shopping site for mid-level housewares that launched in 2009 and is expected to do $200 million in revenue this year, a rise from $105 million in 2011.
Other ecommerce startups on the scene include 7-year-old Etsy, which last year generated $46 million in revenue by tapping into the consumer craze for handmade items. Gilt Groupe, which launched in 2007, buys and sells factory overstock from larger, high-end brands and made $500 million in 2011, according to PrivCo. Fab, for its part, doesn't sell overstock and rarely, if ever, preorders inventory.

Goldberg explained that a large chunk of the traffic arriving at Fab.com is delivered from social networking sites. Half the new members find Fab by clicking on links to its items that their friends have shared on Twitter and Facebook.
Then there's Fab's mobile apps (for Android devices, the iPad and other Apple iOs devices), which draw considerable daily traffic. "Most ecommerce apps are really bad because they're more focused on being a store than on the products and the imagery," said Goldberg, 40. "We just showcase the goods and get out of the way. The user will figure out how to buy it if they like what they see."
Fab's mobile users purchase goods more than two times faster and three times more often than its web-only customers. Only 15 percent of Fab shoppers use the iPad app, but Goldberg expects iPad users to drive 25 percent of the site's total revenue over the next two years.

Shellhammer, 35, still has the final say over every item sold on the marketplace and oversees the site's editorial staff who create pithy blurbs about the designers and goods that Fab features. "We want to present each product in a way that tells people where it's coming from, who designed it, how it was made and the story behind why it was created," said the sartorially inclined Shellhammer, who that April day wore striped suspenders and a colorful argyle turtleneck. "It's not just one of 400 black chairs on Amazon for $69.99."
Both Shellhammer and Goldberg hope the site's eclectic mix of artisanal products and funky gadgets will pull users away from mass-market ecommerce giants like Amazon, whose sales last year topped $48 billion, the most of any online U.S. retailer. "Consumers turn to Amazon when they know exactly what they want to buy," Goldberg noted. "But consumers are increasingly turning to Fab when they want to browse and discover."
Today people in their 20s and 30s do about a quarter of their shopping online, according to eMarketer; the average age of Fab users and the shoppers on its competitors is early 30s, according to Quantcast. A growing share of people flooding the sites are even younger.
To serve the under-35 market -- whose incomes vary widely -- Fab offers prices along a broad spectrum, said Shellhammer. Fab will often feature inexpensive goods next to costly ones, such as a shower curtain next to a chandelier.
"We're not curating museum exhibitions here; we're retailers designing great store experiences," Shellhammer said. "It's this magic of the mix that doesn't exist in big brick-and-mortar retailers and certainly doesn't exist in mainstream ecommerce."
CORRECTION: This story has been updated with Bradford Shellhammer's correct title and age. He is the chief creative officer not the chief creative director; he is 35 not 36.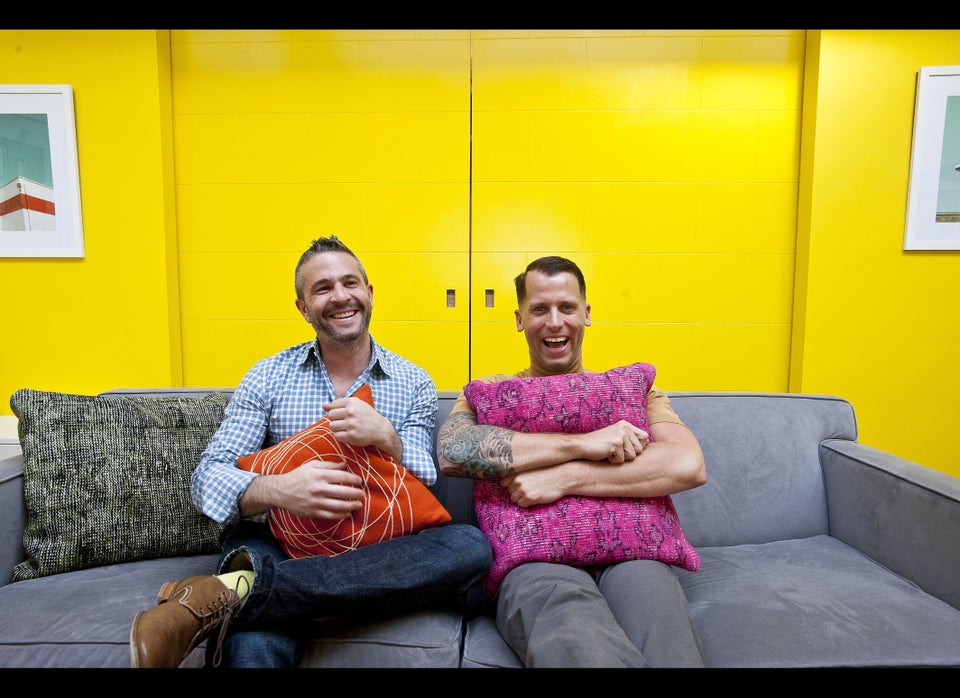 From Fabulis To Fab
Related
Popular in the Community