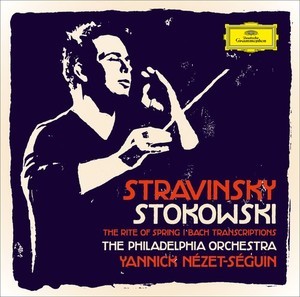 Stravinsky | Stokowski
The Rite of Spring | Bach Transcriptions
The Philadelphia Orchestra
Yannick Nézet-Séguin, conductor
Deutsche Grammophon
2013 marked the centenary of the premiere of the The Rite of Spring (Le sacre du Printemp) the ballet score by Igor Stravinsky and choreography by Vaslav Nijinsky that caused a riot in its Paris premiere. This year performances by orchestras and dance companies have been in abundance to pay tribute to a work that changed two art forms forever.
The Rite had its US debut with the Philadelphia Orchestra under maestro Leopold Stokowski at the Academy of Music in Philadelphia in 1914. The orchestra's current conductor Yannick Nézet-Séguin used Stokowski's transcriptions for several live performances earlier this year. Those performances of Rite were, unfortunately, were part of a dance performance that was more distracting than anything else.
During the performance, Nézet-Séguin seemed oblivious to the dancing amok downstage as he was in the maestro zone attending to every musical detail. Later that week the orchestra recorded it for Nézet-Séguin's first Philadelphia Orchestra release on Deutsche Grammophon- Stravinsky Stokowski | The Rite of Spring | Bach Transcriptions .
These works have been recorded to death and you even have the thought, why would the new conductor want to make these symphonic warhorses his first international recording with this orchestra, then you hear the transcriptions and his liberating orchestral immediacy and you know why. This is a reminder of how Stowkowski built the Fab Phils sound and his baton has been passed to this conductor who has sound architectural ideas of his own. His homage to Stowkowski is an overture to where he will take this orchestra in this century.
Stravinsky's orchestral narrative states that The Rite depicts 'Scenes of Pagan Russia' and where so many orchestras reserve the musical paganism for the more violent passages, Nézet-Séguin conjures its visceral rawness overtly and subtly. The orchestral cross streams, for instance, bubble below the surface but are vividly clear. Its sonic passages are particularly savage from the brass and percussion sections in key moments, yet, avoiding the work's sonic power that makes so many renderings of The Rite seem just hammered out. Among the outstanding soloists in this recording are Daniel Matsukawa, with a bassoon line full of sensual mystery and Jennifer Montone's steeled French horn. 

For the Bach transcriptions Nézet-Séguin states in the program notes that he uses Stokowski's instruction for 'free bowing' which means that the players can line interpret. This technique was in whole or in part (some people attributed it to Stokowski's adjustments in the acoustically challenged Academy of Music) contributed to the famed Philadelphia sound.
This is a exemplar of how Stowkowski built the Fab Phils sound that are again fully realized by Nézet-Séguin, who has interpretive ideas of his own. His homage to Stowkowski is an overture to where he will take this orchestra in this century. If you have yet to hear Nézet-Séguin with the Philadelphians this is a recording that heralds a new era built on a storied past.
REAL LIFE. REAL NEWS. REAL VOICES.
Help us tell more of the stories that matter from voices that too often remain unheard.