Queen Elizabeth and Monaco's Prince Albert own them. So does Russian oligarch Viktor Vekselberg who bought Malcolm Forbes's clutch in 2004 for $100 million. Nothing symbolizes the romance, excess, and tragedy of Russia's last Romanov tsars like Fabergé's bejeweled imperial Easter eggs. Surprisingly, five of the 52 imperial eggs created by Fabergé reside in Richmond at the Virginia Museum of Fine Arts, part of the largest public collection outside of Russia.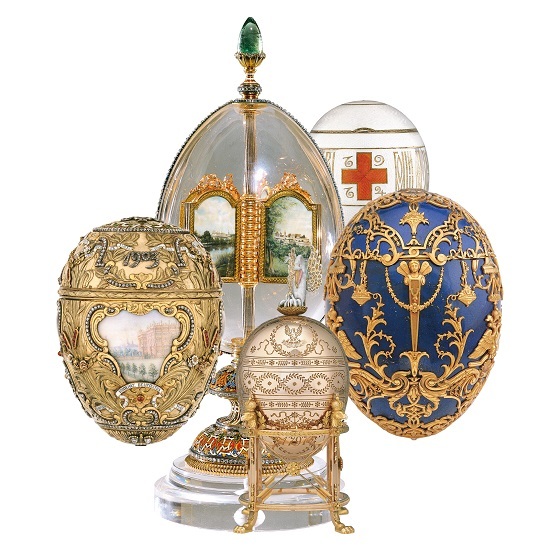 Five Fabergé Imperial Easter Eggs, Virginia Museum of Fine Arts, Richmond. Bequest of Lillian Thomas Pratt, Photo: Katherine Wetzel © VMFA
Opening October 22, "Fabergé and Russian Decorative Arts" features an extraordinary collection of some 280 objects. Four of the five new galleries feature European style Fabergé and other Russian decorative arts in gold and silver, jewelry, enamels, and hardstones. The fifth gallery displays objects inspired by Russian history and design. The highlights -- the imperial Easter eggs -- enjoy their own circular, deep-blue gallery, designed for visitors to enjoy each jewel from all angles.
"I hope visitors will appreciate the quality, excellence, and sheer beauty of these many objects," says Barry Shifman, VMFA curator of decorative arts. "I also hope they will better understand the opulence of the Romanov court and Karl Fabergé's accomplishment as the head of one of the greatest firms of jewelry and silversmiths in late 19th century Europe."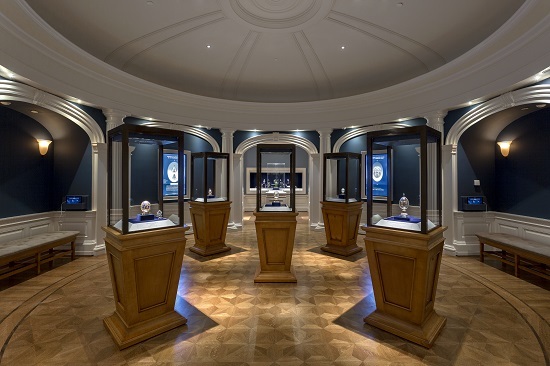 VMFA Fabergé and Russian Decorative Arts, Imperial Easter Eggs Gallery, Photo: Travis Fullerton, © Virginia Museum of Fine Arts
The treasure trove came to Richmond as a bequest in 1947 from Lillian Thomas Pratt of Fredericksburg, Virginia. According to Shifman, Pratt was among a handful of American women collectors including Marjorie Merriweather Post, India Early Marshall, and Matilda Geddings Gray who were swept up by the romance of Fabergé in the 1930s and 1940s. Pratt's infatuation began in 1933 at Lord & Taylor's in New York City where tycoon Armand Hammer organized a Russian Imperial Exhibit with art treasures sold by the cash-starved Soviet Union.
Over the next 12 years, Pratt assembled a highly personal collection of nearly 170 Fabergé objects -- from diamond-studded brooches, pictures frames and parasol handles to champagne flutes, flowers and songbirds. In the guest book of New York art dealer Alexander Schaffer (today's A La Vieille Russie), Pratt's name appears between those of the Duke and Duchess of Windsor and explorer Lincoln Ellsworth. Pratt's most prized acquisitions were her five imperial Easter eggs.
The annual tradition started in 1885, when Russian tsar Alexander III commissioned St. Petersburg jeweler Karl Fabergé to create the Hen Egg as an Easter gift for his wife, Maria Fedorovna. Combining the artistry of European goldsmiths with a popular Russian Easter custom, Fabergé's eggs so delighted his mother, Nicholas II continued to give them to the dowager empress and his wife Alexandra until his abdication in 1917. For the lavish presents, Fabergé assembled a team of designers, gem cutters and setters, engravers, enamellers, and polishers. The decoration was a closely guarded secret; the only requirement was that each egg contain a miniature "surprise" inside.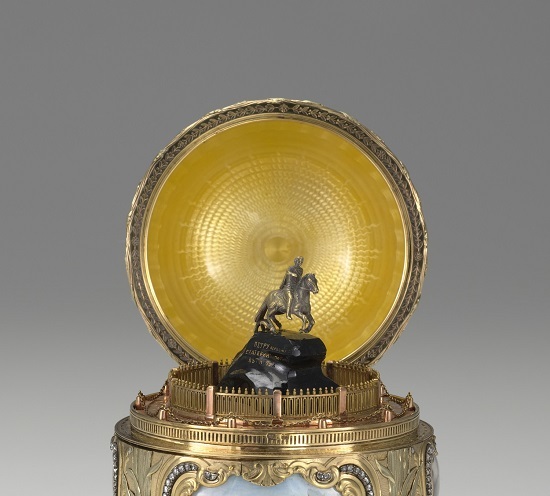 Peter the Great Egg, Surprise, Fabergé, 1903, gold, platinum, diamonds, rubies, sapphire, enamel, rock crystal, watercolor on ivory, height 4.25 in. Bequest of Lillian Thomas Pratt, VMFA
In 1903, Nicholas presented Alexandra with the Peter the Great Egg to commemorate the bicentennial of his predecessor's founding of St. Petersburg. Fabergé jewelers decorated the multi-colored gold shell with watercolor portrait miniatures of Peter and Nicholas and their residences along with diamond arabesques, ruby studded bulrushes, and enamel roses. Inside is a miniature replica of Peter's famous equestrian statue commissioned by his ambitious granddaughter-in-law Catherine the Great. It took Lillian Pratt nearly three years to pay off the $16,500 egg -- a brilliant investment. Last year, the missing Third Imperial Egg by Fabergé resurfaced and sold in London for $33 million.
Another of Pratt's imperial eggs, the 1897 Pelican Egg, is topped by a diamond-winged pelican feeding her young. The red-gold egg unfolds to reveal eight oval frames, rimmed with pearls, each holding a miniature painting of orphanages and schools patronized by the dowager empress. One of Alexandra's favorite gifts was the 1912 lapis lazuli Tsarevich Egg in honor of her son Alexei, who suffered from hemophilia. Diamonds accent the rococo-styled gold work, including two double-headed eagles symbolizing the Romanovs. Inside, a platinum-and-diamond-studded picture frame holds a watercolor portrait of the seven-year-old tsarevich in a sailor suit.
In addition to Russia's last two tsars, Fabergé's clientele included European royals, wealthy aristocrats, and business tycoons. In its heyday, the company employed some 500 people with branches in Moscow, Odessa, London and Kiev. Before the Russian Revolution put an end to the firm nearly a century ago, Fabergé produced some 150,000 luxurious objects.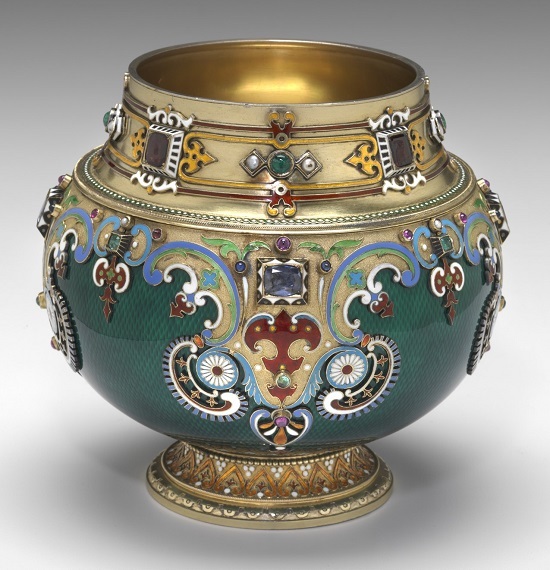 Bratina, Fabergé, Julius Rappoport (workmaster), ca. 1900, silver-gilt, enamel, sapphires, emeralds, rubies, garnets ,blue topaz (?), pearls 5⅝" h x 6⅛" dia., Bequest of Lillian Thomas Pratt, VMFA
Among Faberge's most popular items were enamel objects created with a variety of techniques and a stunning palette of 144 hues -- including a pearlescent "oyster" white and a warm pink "salmon" color. One of the standouts is a beautiful, rare bratina or punch bowl. Inspired by artisans in Moscow, Julius Rappoport designed the bowl with green guilloché enamel overlaid with scroll designs embellished in cloisonné and champlevé with rubies, sapphires and emeralds.
Fabergé also worked magic with hardstones -- a Russian carving tradition dating back to Peter the Great's reign when the rich mineral deposits were discovered in the Urals. Using nephrite, rock crystal, jasper and agate, Fabergé craftsmen produced cane handles, boxes, and frames often mounted with gold and gilded silver.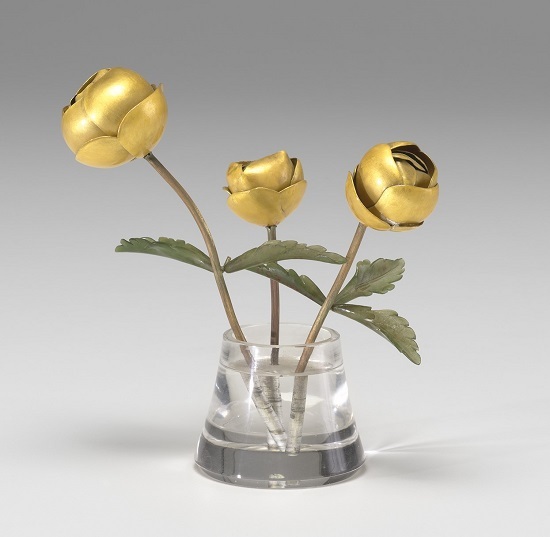 Globeflowers, Fabergé, gold, enamel, nephrite, rock crystal, 5 in. Bequest of Lillian Thomas Pratt, VMFA
Lillian Pratt's charming menagerie of hardstone miniature animals are on view, along with vases of hardstone flowers modeled after 18th century jeweled bouquets from the Russian imperial treasury. Among the flowers are Globeflowers or buttercups, with three gold buds and nephrite leaves, and Pansy, with a blossom of four cabochon sapphires and petal of yellow guilloche enamel studded with rose-cut diamonds.
Susan Jaques' biography, The Empress of Art: Catherine the Great and the Transformation of Russia was published in April by Pegasus Books.
Popular in the Community