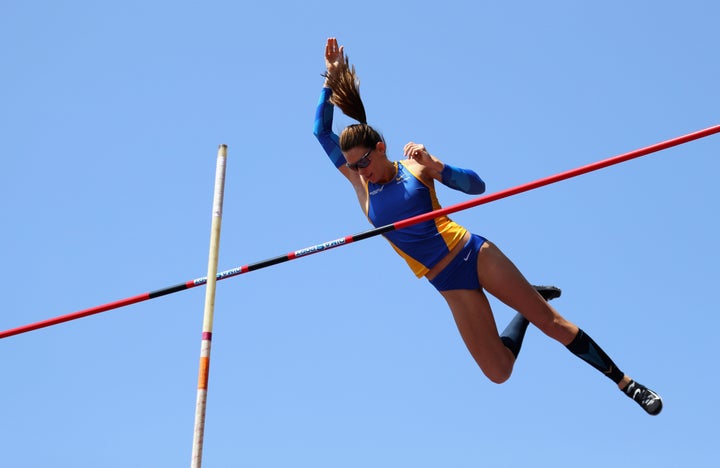 Brazil's Fabiana Murer was 5 centimeters away from taking home gold in pole vault at the World Championships in Beijing last year. Murer was ahead going into the final competition, having equaled her career best result of 4.85 meters ― when Cuban pole-vaulter Yarisley Silva pulled off a 4.90 meter to take gold. Since then Murer, who ended up bringing home a silver medal, has learned a lot about herself as an athlete and competitor. "These years as an athlete have made me more confident to risk doing things I didn't risk before. I learned to know the other athletes, to study their weak and strong points," Murer told HuffPost Greece.
The World Championships in Beijing carried special significance for Murer, who is already considered one of Brazil's greatest living athletes.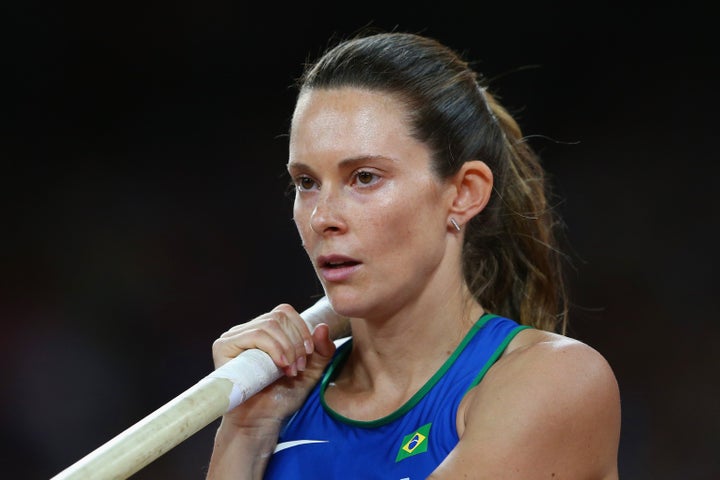 During the 2008 Beijing Olympics, officials lost Murer's equipment and after searching the Olympic facilities near and far without finding it, she was forced to compete using borrowed equipment. Heavily favored to medal going into the games, Murer left without making it to the podium. After a disappointing showing in the 2012 Olympics ― Murer failed to qualify for the finals ― the beloved Brazilian athlete is primed to perform well in her home country. 
Rather than allowing the painful memories of 2008 and 2012 to sour her competitive spirits, Murer has shown a resurgence of late. Last year was as one of the best years for the 34-year-old athlete from São Paulo. Besides finishing a close second in the World Championships, Murer also took a silver medal at the Pan-American Games in Toronto. And on July 3, Murer set a new personal record, notching a 4.87 meter vault earning her a place on Brazil's Olympic team to compete in Rio. 
The pole vaulter has high expectations for herself heading into the 2016 Olympics, but is also careful to point out the work still ahead of her: "I can improve my results, my jumping technique and, who knows, win an Olympic gold medal."
In a conversation with HuffPost Brasil in December 2015, Murer talked about her dreams of standing at the podium in Rio, her past victories, fears, and the anxiety of competing at home. She also addressed the sexism that runs throughout much of sports culture.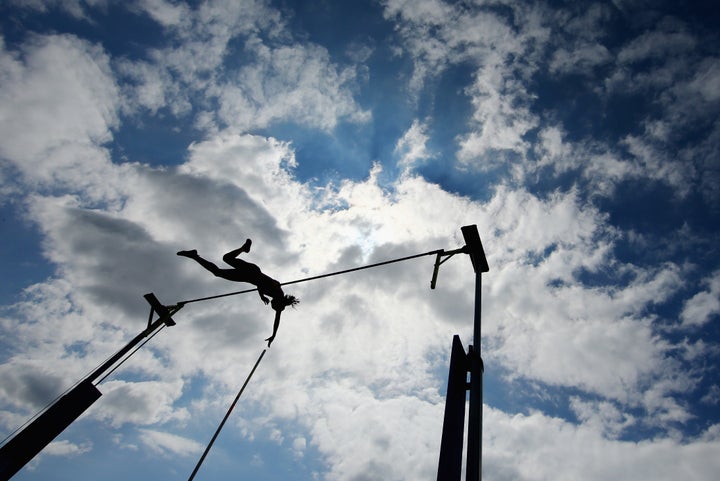 The last few months have brought many good results for you. Good results in the ranking, in the Pan-American Games, in the World Championship. If it were up to you, would the Olympics have taken place in 2015? 
It is hard to say... (laughter). It was a really good year for me, both in terms of training and the competitions. I feel more experienced than before. After so many years competing, achieving good results and bad results ― all that has contributed to better performance. I want to be even more prepared next year, but it depends on the entire training process. I can improve my jumps, my technique and, who knows, win a gold medal. It is hard to compete among high level athletes, but I am preparing for a medal. Any medal would make me happy.
The Brazilian supporters are very demanding. Even in the case of less popular sports, they demand a lot from their athletes. How do you prepare for an Olympics at home? Is there a specific psychological preparation?
I do nothing specific because of the Olympics. It is another important competition, such as the World Championships. That's how I see it. Obviously there is a greater pressure by the supporters and the media, which will be watching our performances very closely. But I am trying to face it as if it were a competition in another country. I know that it is different for being in Brazil, but all these years gave me the experience to remain calm. If I prepare properly and manage to go through all the training phases, I will arrive at the Olympics in a good condition.
I built my life and became who I am now thanks to sports.
Experience is an important factor for any athlete, which means going through defeats and victories, moments of anxiety and fear. It all helps. You have been to two Olympic Games. What has changed in you over all these years?
A lot has changed! What remains intact is the willingness to seek medals. But I know now that I must be calm and know what tactics to use at the beginning of each competition. That is very important. I must follow the results of the competitors and know how high I must jump in order to get medals. Sometimes you must skip one jump and focus on the next. All these years as an athlete made me more confident to risk things that maybe I didn't risk before. You must understand the other athletes, and learn about their weak and strong points. In my first Olympics I was totally focused on just doing things. This time I will combine this willingness with more intelligence.
Let's get away from sports for a while... Besides the expectations concerning the Olympics, there is also the human aspect of the athlete. There is a setback in women's rights at the House of Representatives right now and the country has a huge sexist culture. What's it been like to build a career in sports within this setting? Have you suffered any prejudice for being a woman?
I never had any problems with that. My sport category is quite new. Maybe it is due to this sexism. Previously people thought that women weren't able to compete as pole vaulters, that women wouldn't be able to stand the impact. That is why pole vault is a new category. Only in 2000 did the women's pole vault become an Olympic category. But the athletes have proven that it is possible. And people like to watch women jumping. It is artistically beautiful.
Let us say that athletics has trodden the right path. Men and women get the same awards. There is no difference about that. The situation is the same for any athlete. Women actually had the help of Yelena Isinbayeva's worldwide recognition. When she broke every record and won all those medals, the category became more visible for the general audience. That gave us recognition.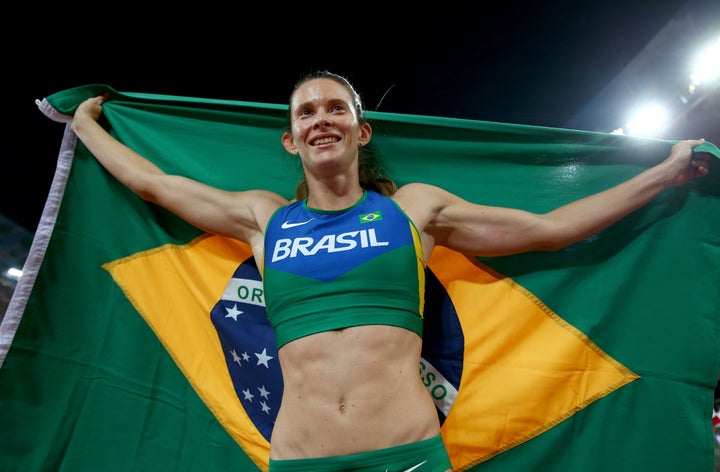 You announced your plans to retire after the Rio Olympics. Those will be the final steps in a successful career. What would you say to the girls who want to become professional athletes?
I have always liked sports. My parents encouraged me since I was a little girl. I built my life and became who I am now thanks to sports. It gave me the opportunity to know other people, to travel and learn about other cultures. I have friends abroad because of that. It opened a lot of doors. It is a hard life, full of sacrifices like any other profession, and you must give up some things to get what you want. But I have no regrets. I don't regret missing a trip with friends or a prom party... nothing. My life was focused on sports. I would say that it requires a lot of discipline, dedication and overcoming the challenges to achieve your goals.
For me it was a surprise. I never thought I would become a world champion, but I did. We must realize that we are capable of doing much more than we think.
This post first appeared on HuffPost Brazil in December 2015. It has been translated into English and condensed for an English-speaking audience.
For more Olympic coverage:
Calling all HuffPost superfans!
Sign up for membership to become a founding member and help shape HuffPost's next chapter
BEFORE YOU GO
PHOTO GALLERY
The Real 2016 Rio Summer Olympics