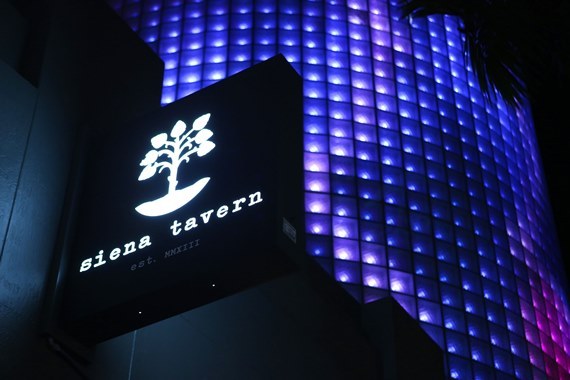 The opening party for Siena Tavern -- in the iconic 404 Washington Avenue space on South Beach, former home of China Grill -- was one of those crazy, eclectic parties where you saw people you haven't seen for years. (For more party photos, visit WorldRedEye.com)
While the Flintstonian-portioned lamb chops and jumbo meatballs bathed in marina sauce were scene stealers to be sure -- the Siena Tavern Meatball has its own Twitter account, yet -- the real star of the show was charismatic super chef Fabio Viviani, former Top Chef contender and poster boy for the kind of man you really should take home to meet the folks.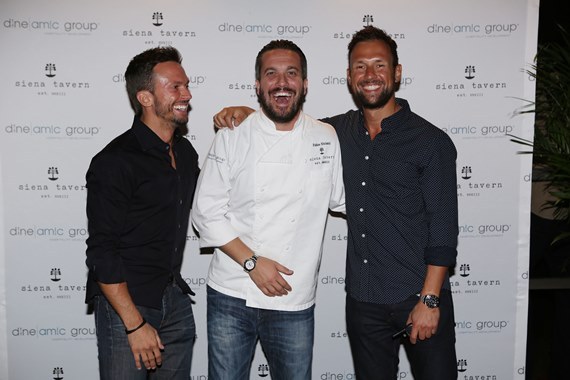 Fabio, along with partners Luke Stoioff and David Rekhson of DineAmic Group (Pictured above L to R with Fabio centered), who together have seven restaurants nationwide, have created a snazzy, rustic-glam destination that, despite being 14,000 square feet, feels downright cozy. The sister restaurant to the partners' original location in Chicago, Miami's Siena Tavern has been tweaked for the South Florida market, including a massive bar that could have its own zip code and a humidity-defying pizza recipe. (More on the latter, later.)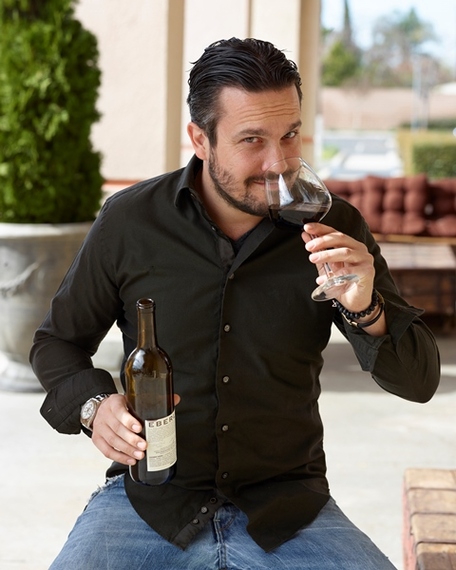 In his spare time, Fabio has written a third cookbook (did we mention he also has an online magazine and is launching a wine collection?), "Fabio's American Home Kitchen", which holds over 125 recipes in the 288-page Italian-American bible, taking all your favorites from mac and cheese to green bean casserole, reincarnating them with Italian zest. The book can be found in print and in e-book form at Barnes & Noble.
We recently caught up with the gregarious Florentine over lunch at Cecconi's at Soho Beach House where he was just as unfiltered as we had hoped.
TARA SOLOMON: Fabio, congrats on Siena Tavern, it's the perfect addition to Miami's culinary scene.
FABIO VIVIANI: Thank you! I think Siena Tavern Miami is going to bring a good culinary perspective to the Miami scene -- almost like a combination of what Miami is used to, which is the hot, new, up-and-coming trendy kind of spot -- and the neighborhood restaurant that everybody is really asking for. 'Cause at the end of the day, I think most people want to have a spot where they can go and have a great meal and a good time, just enjoy and relax.
TS: What's your take on Miami Beach's new culinary 'hood in SoBe?
FV: : We are excited to be a part of this area. I mean if you think about it, it's a really hot neighborhood. There is a lot of residential that is here and more being developed in the area, plus all the tourists who visit. I think that if the restaurant does half as well as we did in Chicago, it's going to be the newest and greatest hot spot.
TS: In terms of square footage, Siena Tavern is one of the largest restaurants in Miami, correct?
FV: It's a 14,000-square-foot space, with 400 seats, outdoor patio, big bar in the middle, crudo bar, pizza bar. I mean, it is probably safe to say it's one of the three largest restaurants that Miami has ever seen. There are other big restaurants, but this is a big restaurant with a capital B-I-G.
TS: I hear that Siena Tavern will have a strong entertainment component, as well.
FV: The culinary is very important, but so is the entertainment. Culinary is fifty percent of the deal here, because the reality is that when you go out for dinner, you don't go out just because you're hungry. You can cook something at the house and be done with it. When you go out, it's because you want that experience. And so that's what we do, we provide that experience; food is only one of the components. The entertainment, the music, the drink program, the DJ's, the night scene, the lights, the décor... everything is part of the entertainment business -- not just the food. The food is great, that's not my concern. My priority is that everything else is on point, to make your experience feel like, 'Jeez, I got to go back to that place because it's out of control!'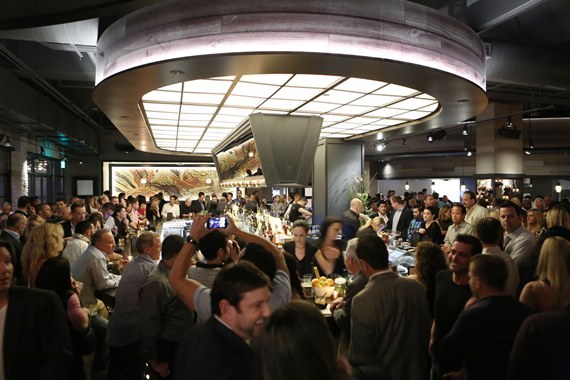 TS: Your new cookbook, Fabio's American Home Kitchen, was just released, with the Fabio spin on American classics, including green bean casserole, which most of us have a love-hate relationship with.
FV: You're going to love my version! This book is a collection of recipes that I collected over the past ten years, with my Italian take on classic American dishes like pot pies, mac and cheese and flapjacks. The dishes are true to my Italian roots while still reflecting the melting pot of my adopted home. I wrote it over a year and a half, and based it on dishes I ate on my travels, and talking to the local people. I love America, man.
TS: Other than the fact that you really know your way around a kitchen, one thing I really admire about you is your work ethic. You work, like, 130 hours a week, without exaggeration. Where did this come from?
FV: Fear of losing everything. It's what drives my motivation. It's not achievement -- I am an overachiever, I know that I have the skills, the wit and the capability for accomplishment. But the thing that keeps me motivated is me witnessing my mom and my dad as a young guy, they could barely afford to make a living. I mean, I was broke. I grew up on food stamps. I was never hungry because food was never missing on my table, but I got so close to it that I could smell it. But the reality is, it will not happen to my kids, it will not happen to my legacy. Our group with all of the restaurants, the media company and everything -- we have over 1,000 employees. And if you think about it, for being in this county for not even nine years, I think I did alright for myself. But that's not the bragging rights. The bragging rights are that I have created more business and enhanced more people lives around me that could ever have dreamed in my life. That's a good motivation there.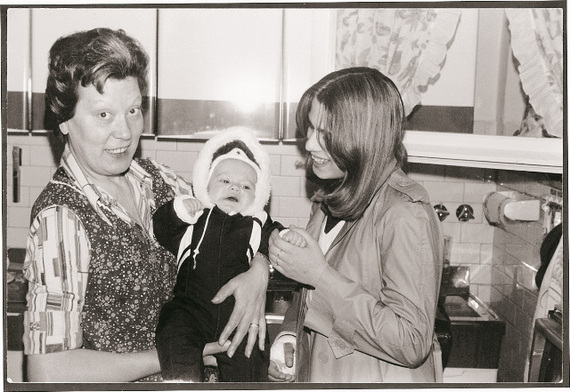 TS: Tell me about your first job.
FV: My first job? I was baking pies and bread all throughout the night at a bakery in the foreign suburbs. I was 11 years old. I could only work at night, since no establishment would hire an eleven-year-old kid to work during the day due to child labor laws; they are pretty strict in Italy. But at night, nobody gives a crap because it's Italy. Who controls the night? Nobody. But I went to work because my mom got really sick. We really needed money for therapy, surgery and everything she has to go through and I was the only one not working. So I said, 'f*ck it.' I had to go work and stop playing with girls, soccer or whatever you do when you're eleven years old.
TS: Now, when you come to Miami, you have so many super chef friends, including Scott Conant and Michelle Bernstein. How do you decide where to go to eat?
FV: I only go to eat at the places where I know somebody. I'm not good at waiting, waiting in line, reservations three months ahead... I can't deal with it. So the reality is that if I don't know somebody when I get there, I don't even want to bother to order. I just want to sit, enjoy, pay, and leave. So I go where I know the chef and I trust that they are going to provide a good experience. I'm very new to this country and if I can only do half as good as my friends Scott Conant and Michelle have done in Miami, I think I'll be proud of myself.
TS: You've coined the term `cravers.'
FV: Cravers define the menu. A lot of chefs are happy when they put out a menu, they express themselves. There is an old saying, `If you don't like the chef's food, don't eat,' meaning, you're allowed not to like something on the menu. You don't have to like everything, as long as you like a couple dishes, I guess we're good, right? Well, it doesn't work like that for us. What we do when we open an establishment, we do cravers, which are dishes that people just go bananas over. We want people to scream, `Holy sh*t! I got have to another one of this. This is amazing!' For us, good is not good enough.
TS: So what are your favorite cravers that your chef friends prepare? Does Scott Conant have a craver that you love?
FV: One of my ultimate favorite dishes is Scott Conant's spaghetti with tomato and basil. It's amazing how well-executed and perfectly balanced it is. Another dish that I cannot leave without when I'm in Miami is Scott's polenta with roasted mushroom and truffles. It's amazing. You know, those are cravers. There is another restaurant that was a must-stop for me every time I came to Miami -- Puerto Sagua, the little Cuban restaurant on Collins. They make the best croquettes with ham that I have probably ever had in my life, delicious. Those are cravers. That's what I want to do. I walk in, sit down, get croquettes, get up and leave. That's it. That's a craver for me.
TS: What do you predict will be the cravers at Siena Tavern?
FV: You know, coccoli, which is a savory puff dough filled with things like prosciutto and stracchino cheese, with truffle honey. The meatball is really good. I wouldn't under estimate the power of a good meatball because not many people have had a good meatball. Our pizza is definitely a craver.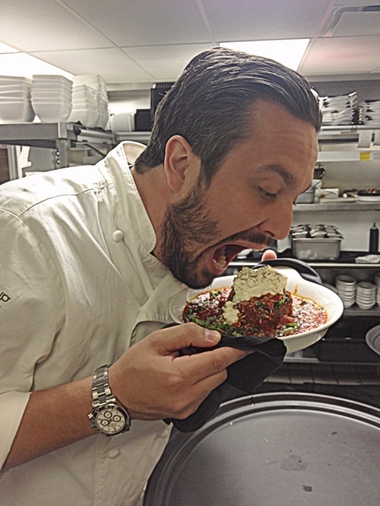 TS: It's not so easy to make a good pizza in Miami.
FV: We have a proprietary blend of flour that we specifically mill to our specifications. The same flour recipe that we work in Chicago will not work in Miami because of the humidity. So we have to test the air, the temperature, the alkalinity of the water we use, everything. It's a science that we had to get down to a T. We tested the humidity every day for a month.
TS: How interesting. So you are part scientist, part chef.
TS: And speaking of being a showman, how was your Top Chef experience?
FV: The Top Chef experience was fun -- I lost it twice! I didn't excel in it, but I didn't suck at it, either. I was the fan favorite. People liked my personality. Some people liked the food, but they can't really taste it so I take it with a grain of salt and that did well for me. It broadcast who I am, what I do and that's all I can ask for. It's the kind of publicity that you can't pay for.
TS: What was your TV experience prior to Top Chef?
FV: I have never done TV prior to Top Chef besides small morning show 'Let's broadcast my restaurant' kind of things. I had never been on TV before and to me it's very natural, probably because I don't care about cameras. I'll say anything about anything or anyone without a filter.
TS: You have no filter. (laughs)
FV: I have no filter. I have some filter. I don't have them in places where you believe they should be (laughs), but I have some sort of filter.
TS: It's a subjective point.
FV: I'm trying to be polite, not politically correct. (laughs)
TS: Touche'. What do you want to tell us that I haven't asked?
FV: A lot of good questions, I think we covered it.
Related
Popular in the Community