Over the past few days, Fabletics, the Kate Hudson-fronted athletic apparel website owned by online retail giant Just Fab, has come under fire for claims it is scamming customers into being charged a monthly subscription fee that is difficult to cancel.
A new video from ModaMob (seen here) investigates the accusations, claiming the brand makes canceling "really difficult." It goes on to say that "it has been reported that within the last three years, more than 1,400 Better Business Bureau complaints were filed against JustFab for unwanted subscriptions."
Buzzfeed News, which claims that the brand (which is owned by JustFab) has been "conning customers into unwanted subscriptions since at least 2004," spoke with a representative from the brand, who said "as a fashion company, our flexible-subscription business model makes it possible to pass along the substantial savings we realize to our customers."
Still, the complaints about confusing and unclear practices on the site rage on. Julia Jornsay-Silverberg, one of many customers to issue complaints about the deceptive "VIP" option listed on the site, chatted with The Huffington Post about her particularly trying experience with the brand.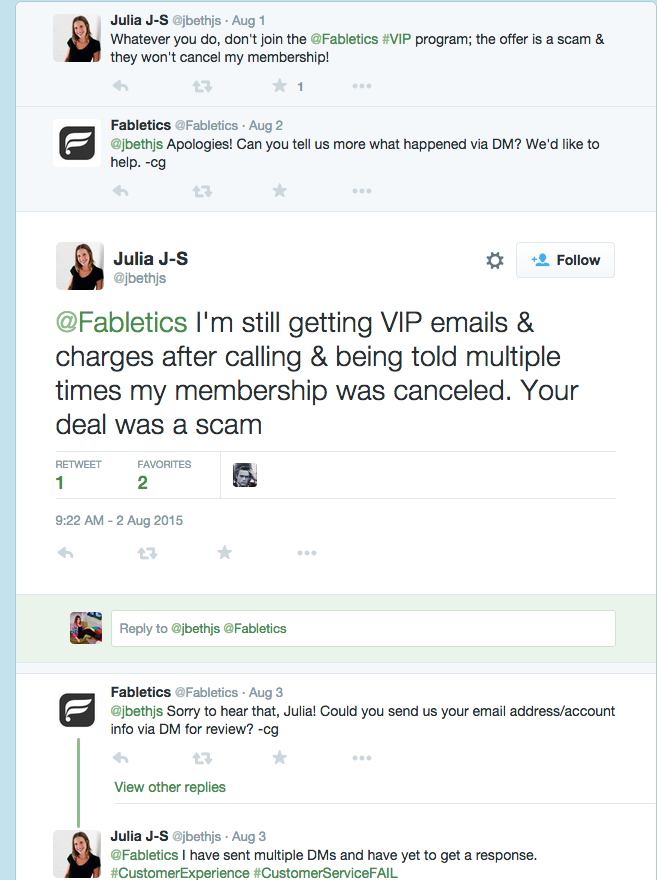 Upon searching the site, it seems you are able to check out as a one-time customer, without signing up for a monthly subscription. For a promotion, which Jornsay-Silverberg said is what brought her to the site in the first place ("I saw the deal promoted through an aggressive paid Facebook campaign run by Fabletics"), you are required to become a "VIP member."
Opting in to VIP membership means giving Fabletics authority to charge your credit card $49.95 each month -- UNLESS you log in by the 5th to "skip the month" for each month you don't want to choose an outfit.
It may seem like a no-brainer to simply buy things one time, but the site itself is confusing, listing three prices for each item, and it's not always obvious which option that is. Jornsay-Silverberg adds, "Only after purchasing the item did I see that I was now a registered for a VIP program. It felt awful to be duped like that," she said.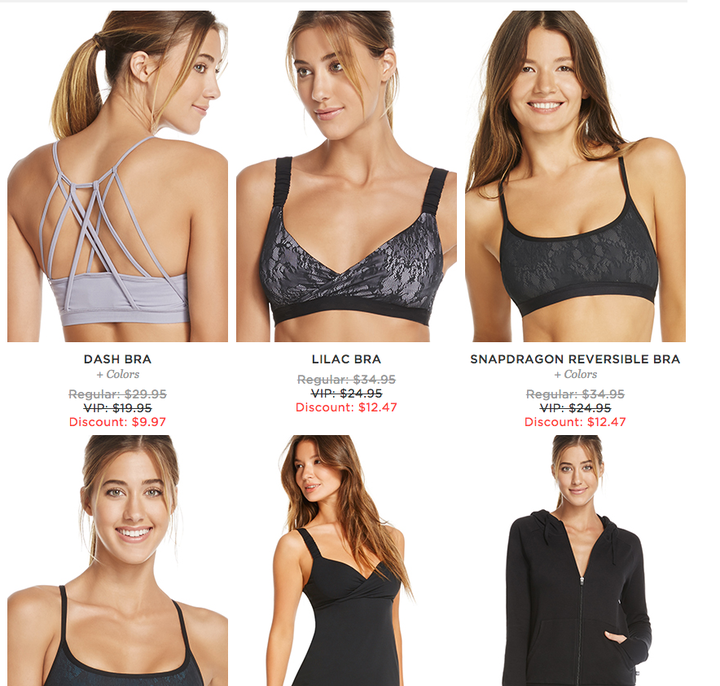 The real issue with the site appears to lie within its customer service experience.
"I took the initiative to contact the company via e-mail, phone and Twitter and got contradictory responses," said Jornsay-Silverberg. "I was told over the phone that my account was canceled, without having to provide a confirmation or account number. When I tweeted, one person said the account was canceled and another told me I had to do it over the phone."
HuffPost Lifestyle's Chanel Parks, who tried recently to use a gift card on the site, expressed similar woes about the brand's customer service. "I tried using a gift card that was still valid on the site, yet it kept telling me I couldn't use it," said Parks. "After trying to get through to customer service and being hung up on a couple of times (which prompted me to keep calling), I finally got a solid answer."
After going back and forth on Twitter (through a DM response Jornsay-Siverberg says came hours later), she finally got back on the phone with Fabletics' customer service and "it finally seemed to go through."
So what was she left with? "An admittedly nice pair of leggings and a big headache," along with a tank top "so bad I had to throw it out" and a sports bra. "I actually really like the leggings. But out of principle, I won't buy from a company that engages in shady campaigns and promotions like this," she said.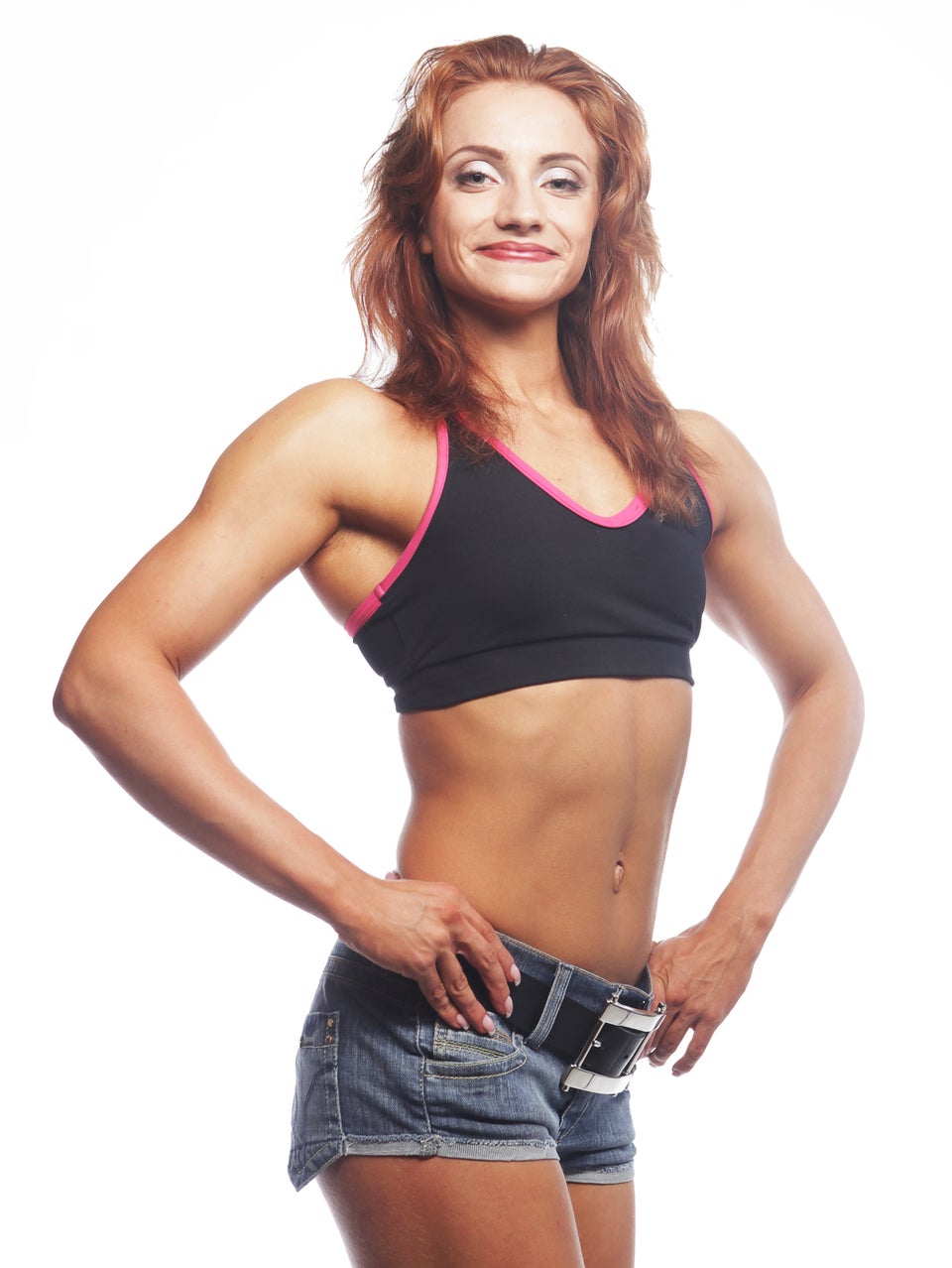 Workout Clothes No One Should Wear
Related