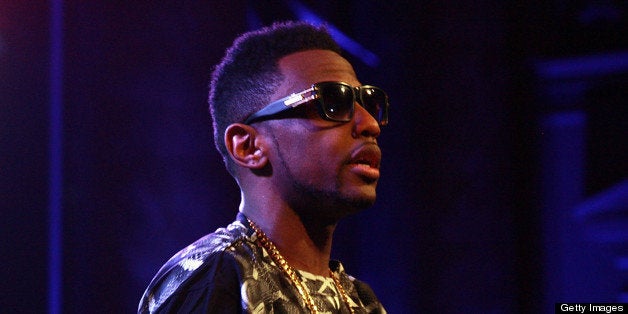 Some people make the news with controversy; others have the ability to state an opinion and make that become news -- like Fabolous.
Fabolous fans know him to be an artist that keeps it real in life and in music.
In an interview with radio personality Jay Postal, Fab does exactly that. He talks openly about reaching the next level of evolution in his life, his sixth studio album dropping in June, and voices his opinion on Ray J's latest single I Hit It First.
Fab's latest single Ready featuring Chris Brown has gotten a very welcomed reception from fans -- it's a very good indicator that the new album will have no problems selling. Those producing the album include No I.D., Hit-Boy, and Pharell Williams.
It was impossible not to hear the passion that Fab has for the project, he filled Jay in on what music audiences can expect from the upcoming album and why he decided to start the introduction to his new project with Ready.
"I just wanted to have strong, relatable records." Fabolous said. "We led off with Ready because it was a genuine Fab record. If you look at my career, I've always had that kind of record."
"We have a few features [on this album], Chris Brown, Trey Songz, Ne-Yo, FYUTCH, Rick Ross, Jeezy - I'm not even done, I'm trying to see if there's any other features I want to add to the album as well."
"The album is called Loso's Way II. It kind of continues the story from the last album Loso's Way. It's the story evolving and of me growing as a person, as a man, as an artist, as a father, as a friend - from the last project which was three years ago, you go through a lot of things and I wanted to show my growth over the last three years and do that musically as well."
Evolution is going to be a strong recurring theme in this album. Fabolous has been in the game for more than a decade and again is widely respected for keeping it real and not doing what the industry wants him to do -- he does his thing. It's pretty safe to say that this album will be Fab's most personal story; it will chronicle not just the artist, but also the father and the man deep within. The need for deeper stories in today's music is real and in lacking.
It's possible that there are many people out there who would argue that growth and maturity was not present during the physical confrontation that took place between Fabolous and Ray J last year at a casino in Las Vegas.
When asked what he thought about Ray J's latest single I Hit It First, here's what Fab had to say:
"It's not really my place to speak on with other people are doing. I guess whatever he's doing with that maybe he feels that it's something that can help his career in some way. I don't know. I don't really think it was appropriate for him to do. At the same time, this is an era where people are just doing everything. I think that before people's morals were stronger than making records saying that I Hit It First or something like that. Like I said, it's a different time and people are trying different things. I guess until it goes back to people having a little integrity and morals that they won't do things of that nature. Then again, people have done worse. It's hard for me to be a judge; I would just say that I wouldn't do it."
A completely solid point is made here about I Hit It First. The controversy here is not so much that the single unfortunately plays out like some desperate plea for help from a high school boy trying to get the attention of his "in-crowd" ex-girlfriend who's now dating the quarterback.
It's just like Fab said, it's not something that many people would encourage at all, but everyone has their motivations. It's just very unfortunate that those motivations don't cater to a better sense of ethics and morals in a society that needs more of it. The truth is with Ray J's talent level, we have seen better and expect better from him.
What do you think? What will Ray J think? Come on now, this is not a diss at all.
Anyway, just be sure to listen to the new single Ready from Fabolous featuring Chris Brown if you haven't already -- and if you already have, then listen to it again and again until Loso's Way II drops on June 18th.
Calling all HuffPost superfans!
Sign up for membership to become a founding member and help shape HuffPost's next chapter