This is the eighth installment in a series titled "FABRICATIONS" that elevates the work of up-and-coming queer individuals working in the fashion world. Check back at HuffPost Gay Voices regularly to learn more about some of the designers of tomorrow and the way their work in fashion intersects with their queer identity.

Jessica Lapidos and Tom Barranca are a design team operating out of New York City under the joint label TILLYandWILLIAM. The work of this design duo focuses on transformative, comfortable, gender-neutral fashion that can be worn by a variety of body types. In a way that mirrors queer identity, the clothing produced by TILLYandWILLIAM is malleable and not restricted by a prescribed set of constraints -- the user wears and adapts the clothing in the way that they see fit. Additionally, TILLYandWILLIAM is an environmentally conscious brand, ensuring that no material goes to waste and all products can be upcycled. Read the interview below to learn more.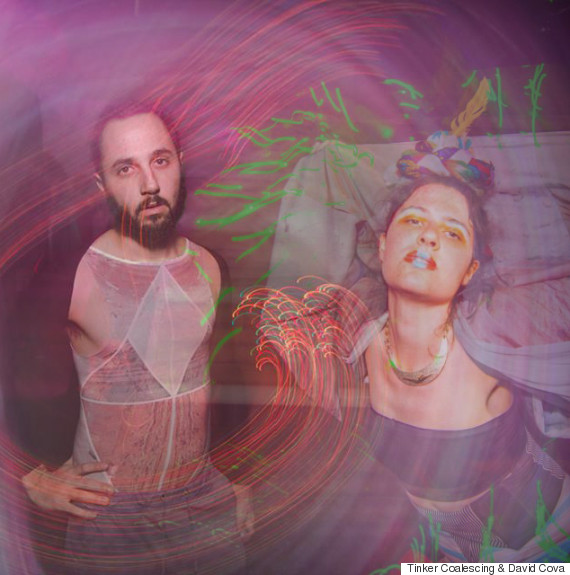 The Huffington Post: What have your journeys as queer artists and fashion designers entailed?
Jessica Lapidos & Tom Barranca: What's interesting about TILLYandWILLIAM is that we never intended for it to be a queer brand when we started out. To us, the idea to make gender-neutral clothing that could transform with each different wearer just seemed like a logical next step in the evolutionary process of fashion. We had been pushing along with this idea unaware of the fact that we would create such an impact within the queer community. We thought we were making clothing for the masses, and we still are, but now it makes a whole lot more sense when it is put inside the context of queer fashion. It was like all of the sudden it dawned on us that this was our audience, these were the people we had been designing for this whole time. We finally feel we've found our place in the world, and it feels good to be home.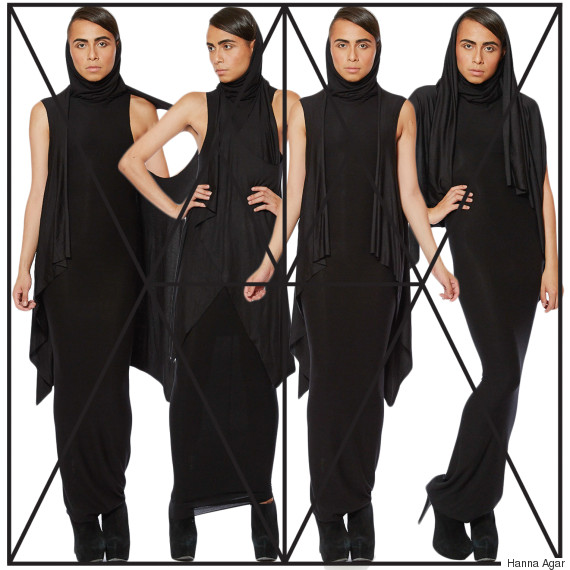 Where have your designs appeared?
Our first NYFW runway show appeared on Elle, NuMode, StyleDefined NYC, and a whole host of independent fashion blogs. Our clothes have appeared in the Lactic campaign to support fundraising for Leon Finley's top surgery. We created a whole collection of recycled materials for the team of the MIX Queer Experimental Film Festival. They've also appeared on performers such as Will Sheridan and Boywolf. Paramount to all of that, though, they've appeared in people's everyday lives.

They also appear in independent boutiques like Treehouse Brooklyn in Williamsburg, The Rising States and A. Also, Turen on the Lower East Side, Haus of Love in LA, Sweet Liddle in Nantucket, and online at Runway Passport, Oui Broke, Ecohabitude, and the brand new masculine yet gender fluid ELKEL.nyc.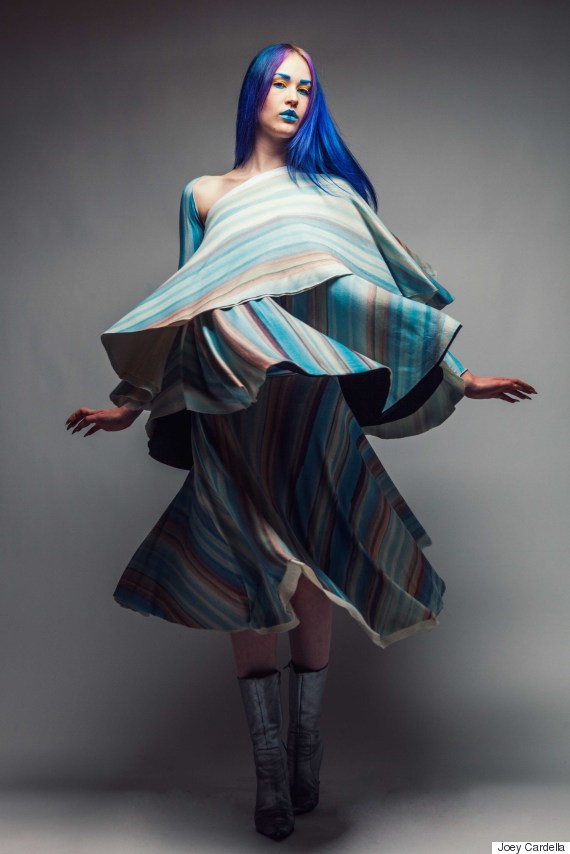 Where do you draw inspiration for your designs?
There are four major points in the TILLYandWILLIAM philosophy: First, a garment must be gender-neutral. Second, a garment must be able to transform. Third, a garment must always be attentive to comfort. Finally, a garment must allow its wearer full movement of their body.
Everything we design is passed through these standards before it is brought into creation. A lot of times we think about the simplest way to reach these goals. We employ a great deal of mathematics and geometry when creating the patterns. But mostly our inspiration is the human body itself. We think about what the body needs, we think about what a human needs, and then we make it.
We feel like, in many ways, we've approached fashion from a functional standpoint. We think, How will this garment function in someone's day to day life? The fusion of form and function is so rare in fashion at large; one seems to exist at the expense of the other. We work to keep both in tact at all times.
The transformative and malleable nature of your designs speaks to the queerness of your brand. What does this mean to you in terms of self-identification and self-expression?
In regards to self expression, one of our greatest hopes is to help empower individual self-expression through the exploration of a TILLYandWILLIAM garment. Express and be expressed; transform your garment and be transformed by it.
As far as identity goes -- which is a tricky topic to begin with -- we acknowledge the belief that what you wear holds the power to help express or even create one's identity. There are brands that engage this aspect of fashion by selling a label as a way to magnify what it means to be you. But our approach is queer, and what we mean when we say queer in this regard is that we are trying to invent a way for people to feel that they aren't being labeled. Rather, we hope that the transformable nature of our clothing will free them from labels in much the same way identifying oneself as queer does for one's identity. Yet we all know it's an oddly double-edged sword. Of course wearing TILLYandWILLIAM will label you in some way (as there will obviously be label sewn into your garment), just as identifying as a queer in some way holds weight over your identity.
TILLYandWILLIAM frees you from a label because there is no one way to embody it, it holds the potential to create your own definition of it, and that is essentially what the queer movement fosters -- it's the idea that you are not a label. You are your own definition. You are queer.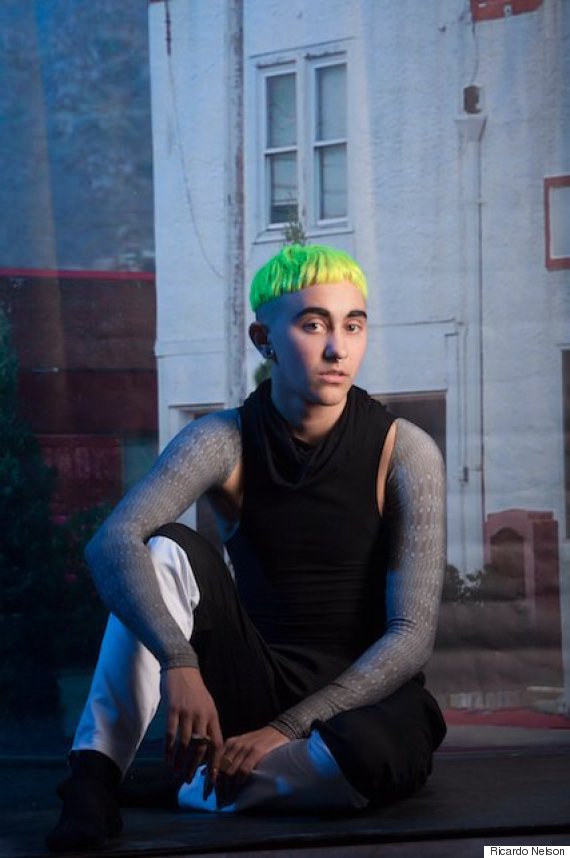 What sets TILLYandWILLIAM apart from other fashion brands?
We've spent a lot of time talking about the design aspects of our clothing. i.e. it's gender neutral, it transforms, it's queer. What we haven't yet talked about is what we do from a manufacturing standpoint. We feel that something that sets us apart from most other designers is that we are not only concerned with creating new and never-before-seen fashion, but we are concerned with how it is made. Where do our fabrics come from? What impact does it have on the environment?
We felt very conflicted in the beginning of this process because we knew the horrors that lie beneath the make-up on the pretty face of the fashion industry. We know what evils lurk behind factory doors in foreign countries. We're aware of the effect mass production is having on our planet, and when we started out, we asked ourselves: is this something we want to be a part of?
In addition to all the things we have done to try and further the evolution of fashion, we couldn't ignore the process as a whole. What sets us apart is that we are very concerned with the environmental and social impacts of our fabrics and manufacturing methods. We are committed to only producing our clothing locally, in factories that we ourselves have visited first-hand. We don't want to further this idea that the fashion industry has created, that if something is pretty on the outside, it doesn't matter what it looks like on the inside. We have set out to create a company that is beautiful from the inside out. We want to change not only the way we think about getting dressed, but also the way we think about ourselves. Beauty is on the inside, too, and that is something we as designers cannot ignore.
PHOTO GALLERY
TILLYandWILLIAM
What's next for TILLYandWILLIAM?
Well, we've been in talks with a modern ballet troupe, and recently our friends at Manufacture NY have opened their brand new space at Liberty View in Sunset Park (the near-future dreamland for made in New York, independent design and production). So we were hoping to put together what we call a Transformance in March. A Transformance is our way of expressing our clothing through performance. We've felt that the traditional runway show wasn't exactly suited to our modes of transformability, so in turn we've created our own type of show that allows us to express our clothes and ideas through dance and performance.

We are looking forward to the time when our Reuptake Method matures and customers bring back their old TILLYandWILLIAM, either for experimental repair (overdyeing, mending, etc) and/or exchange for discounts off their next new clothes from us. It is important to us that no material goes to waste; it can all be upcycled. We hope to make that even more of a reality with the Cradle to Cradle way of design, where everything is made of either a biological nutrient or a technical nutrient, and thus endlessly, chemically, safely upcycleable. We're not there quite yet, but it is part of our growth.

We also want to close the gap between the consumer and the people that actually construct the clothing, by creating stores as community spaces, and localizing production to each store; empowering communities, rather than exploiting them.
Fashion has the power to uplift, and we want to create space for that.
Want to see more from TILLYandWILLIAM? Head here to check out the designer duo's website. Missed the previous installments in this series? Check out the slideshow below.
PHOTO GALLERY
FABRICATIONS
Calling all HuffPost superfans!
Sign up for membership to become a founding member and help shape HuffPost's next chapter