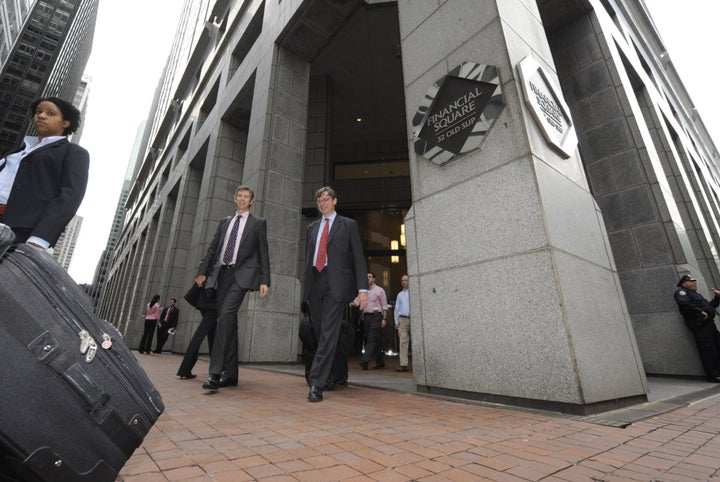 This story is being updated, scroll down for photos
The 31-year-old Goldman Sachs vice president charged with securities fraud by the Securities and Exchange Commission on Friday is Fabrice Tourre, a French graduate of Stanford known for his "goofy sense of humor" who has worked at the Wall Street firm since July 2001.
On Monday, the firm told CNBC that Tourre remains an employee, has not been suspended and made a "personal decision to take a bit of time off." It is not clear if Tourre received a share of the $5 billion in bonuses announced by Goldman.
In an email to a friend on January 23, 2007, the London-based trader called himself "The Fabulous Fab" and warned about the coming collapse in the subprime mortgage securities market, according to the SEC complaint. In the message, he also dramatically expresses his own lack of foresight about the consequences of his risky trading activity:
"More and more leverage in the system. The whole building is about to collapse anytime now... Only potential survivor, the fabulous Fab[rice Tourre]... standing in the middle of all these complex, highly leveraged exotic trades he created without necessarily understanding all of the implications of those monstrosities!!!"
The Telegraph of London ran the following photo of Tourre with its story on the trader: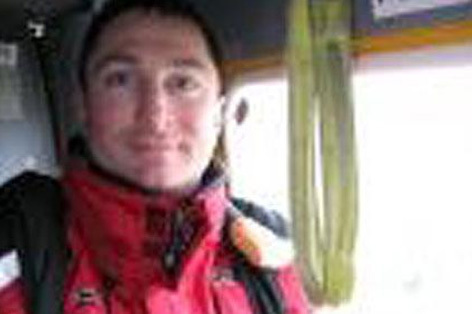 Here's an AP photo from the latest hearing: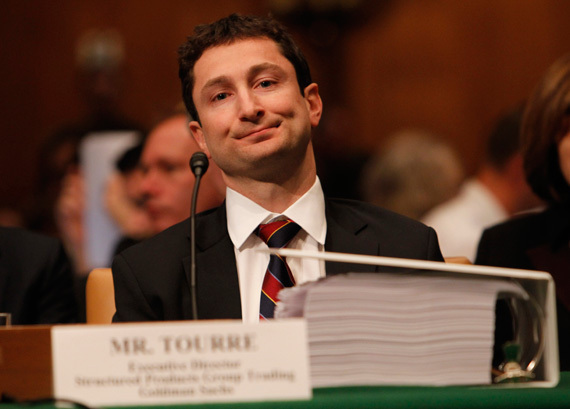 Last December, the New York Times reported on Tourre's role in helping create Abacus deals, which allowed investors to bet for or against mortgage securities through credit default swaps:
Mr. Egol and Fabrice Tourre, a French trader at Goldman, were aggressive from the start in trying to make the assets in Abacus deals look better than they were, according to notes taken by a Wall Street investor during a phone call with Mr. Tourre and another Goldman employee in May 2005.

On the call, the two traders noted that they were trying to persuade analysts at Moody's Investors Service, a credit rating agency, to assign a higher rating to one part of an Abacus C.D.O. but were having trouble, according to the investor's notes, which were provided by a colleague who asked for anonymity because he was not authorized to release them. Goldman declined to discuss the selection of the assets in the C.D.O.'s, but a spokesman said investors could have rejected the C.D.O. if they did not like the assets...

"Egol and Fabrice were way ahead of their time," said one of the former Goldman workers. "They saw the writing on the wall in this market as early as 2005." By creating the Abacus C.D.O.'s, they helped protect Goldman against losses that others would suffer.
Tourre, a midlevel trader was richly rewarded for taking big risks on mortgage loans, receiving $2 million in 2007, reports the Wall Street Journal:
"That compensation was due partly to his success with the deal at the center of the controversy, according to one of those people."
Tourre, who is represented by Pamela Chepiga at Allen & Overy LLP, did not respond to requests for comment. He was unavailable when a reporter from efinancialnews.com called his trading desk in London and a GS colleague hung up the phone when asked if Tourre was still at his desk. Goldman says it has done nothing wrong and is fighting the charges, filed in a New York federal court.
Here is the Financial Industry Regulatory Authority's BrokerCheck report on Tourre:
Related
Popular in the Community