Rarely at the top of "Bucket List" travel destinations, the birthplace of Superman- according to the life-size exhibit in the baggage claim of Hopkins Airport explains, has had a rough 50 years.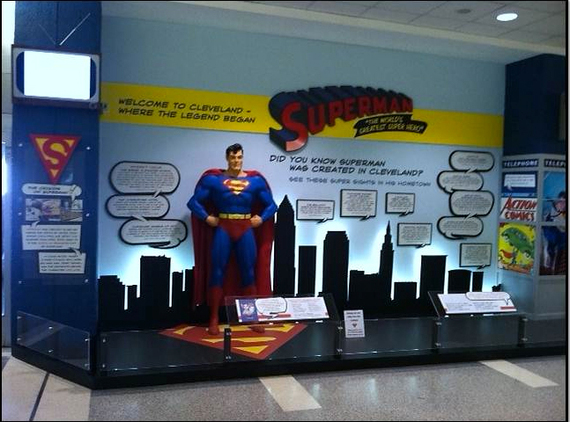 Few cities have suffered as the punchline to more classic jokes than this sturdy Midwestern Metropolis.
Spinal Tap's "Hello, Cleveland!" just gets funnier every time you see it.
Charlie Sheen made a mockery of their baseball team, then hometown hero LeBron dissed their basketball team by announcing his departure in a comically pretentious ESPN special... and winning two rings somewhere else.
But during a recent visit, I discovered that Cleveland... isn't Cleveland anymore. LeBron's back, anglers fish the river for Smallmouth Bass and the 10th Annual Fabulous Food Show has firmly established Cleveland as a bona fide Foodie Mecca.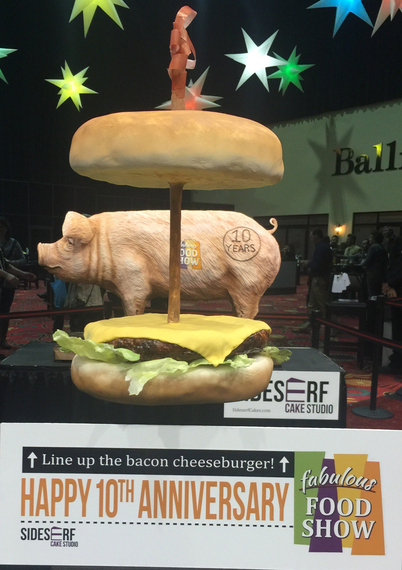 The turnaround began in 1997 when self-described "meat-centric" chef Michael Symon opened his first restaurant, Lola, in the city's Tremont neighborhood. By the time he moved Lola to downtown Cleveland in 2006, the "Mistake on the Lake's" renaissance was in full bloom.
That same year, the inaugural Fabulous Food Show began silencing the snickers by stuffing delicious ethnic tastes from around the city - and the world - into the hungry mouths of foodie pilgrims enlightened enough to make the trip. And what they found was no laughing matter.
A study in modern urban renewal, and a beneficiary of Drew Carey's inventive title sequence-
Like many 20th Century Midwestern cities, Cleveland is made up of discrete neighborhoods. For foodie travelers, each neighborhood presents unique ethnic food and bar joints; Indian in Middleburg Heights, Puerto Rican on the Westside, and Hungarian and Slovenian restaurants scattered all around the downtown core.
For Good Ol' American drinking and meat-eating, you can't miss downtown's East 4th street, preferably before or after a Cavs or Browns home game.
Cleveland's rich musical heritage lives on in several centralized nightlife areas where musicians and rowdy people fill the nights with a Midwestern buzz, so there's no excuse for going back to your hotel early. Music? Cleveland?
Yeah. Just drive your Chevy down to the levy on the shoreline of Lake Erie and spend the afternoon at the Rock & Roll Hall of Fame. As the world's definitive archive for Rock & Roll, the Hall features clothing, instruments, videos, a live XM broadcast studio and one of a kind shows all year long.
DJ Alan Freed of WJW coined the term "Rock & Roll" in the 50's to describe the leeching of early R&B, Jazz and Blues onto the AM radios of white America at the dawn of a sea change in popular music. Everyone who's Anyone in Rock is represented in this shrine to the soundtrack of the world. Check the site for showtimes and hours.
After you rock out, walk out a few blocks to find America's Meat Messiah. Michael Symon's Lola sits in the middle of Downtown Cleveland's nightlife on East 4th street. Metropolis' Meat Master seems to have a genetic understanding of how to feed hungry meat and potato peoples the protein they crave. DO NOT leave Lola without the Smoked Pork Chop and Tiramisu.
Amazingly talented Audi Sharif performs classic lounge songs with the style and power that makes you wonder why she's not crushing your iTunes!. Host/owner Nick Kostis keeps the whole place humming with a smile and an old world affinity for hospitality that makes you feel like a Clevelander yourself. And that's no joke.
This week's show also features a comical CLEVELAND QUIZ, audience members acting in commercials for VitaMix and Bertman's Ball Park Mustard, and our special guest Tracy Murphy, the winner of our Fabulous Food Show VIP Experience. Watch it here. And see and hear all our shows at A Fork on the Road.