Sinterklaas Rhinebeck is everything you want in a village holiday celebration. A full day of activities starts at 10 AM this Saturday, December 4, and runs non-stop until midnight. For a full schedule of the festivities, click here. Sinterklaas Rhinebeck is a reprisal of an old Dutch tradition, which in turn was based on ancient celebrations.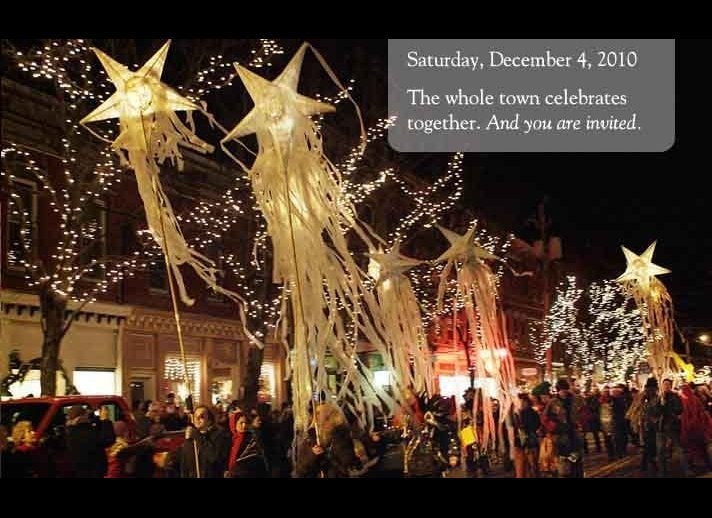 Sinterklaas Celebration in Rhinebeck, NY
Throughout the day at every turn in the village and in many venues, performers and activities engage visitors, leading up to the Starlight Parade -- a historic recreation of an old Dutch parade with Sinterklaas on his Horse, The Turtle, The Snow Geese, The Seven Sisters, Giant Figures, Music, Stilt Walkers, The Wild Women, the Grumpus, Creatures of the Woods, Rip Van Winkle, the Dancing Bears, Fire Jugglers and All the Children and Townfolk. Think Mardi Gras meets Sesame Street, it's visual and fantastic and G-rated.
For families, you'll find Sinter Cirkus and Vaudeville Show with the Bindlestiff Family Cirkus and the Hey-Ya Brothers, marionettes, ice sculpting, storytelling, crafting and creative opportunities all over Rhinebeck. This is one day that parents will not hear the dreaded refrain of "I'm bored, there's nothing to do."
Adults enjoying Sinterklaas might opt for brunch with the general at the Dar House. Revolutionary War re-enactor Gary Petagine will depict General George Montgomery and tell first-hand stories from his life. At the Lutheran church, a full set of performances include Woodstock Renaissance and Mystic Minstrels at the Musicale. After the Parade, there is a dance for adults at Starr Place featuring a Battle of the Bands between the fabulous Dixieland sound of the On The Lam Band and the wild Balkan rhythms of the Raya Brass Band.
Rhinebeck, NY is an easy 90 minute drive north of New York City, and is accessible via Amtrak to Rhinecliff, NY.