 On the eve of Domestic Violence Awareness Month, advocates across the nation are working to engage, inform and empower victims, survivors and supporters with billboard campaigns, Public Service Announcements (PSA), grassroots outreach and fundraiser events. As a spokesperson for the National Domestic Violence Hotline, I intimately understand an advocate's plight in raising awareness and resources for an epidemic that many fail to appreciate.
As a guest on Anderson Cooper, I sat with Connie Culp whose face was shot off by her husband during one of his frequent beatings. Her life was miraculously spared but her beautiful face was demolished and her spirit shattered. Like Connie, many victims in America and around the world, are beaten to the point of disfiguration and very often, there is no help in sight. That was until four years ago when Deborah Alessi and her husband, Beverly Hills plastic surgeon, Dr. David Alessi decided to create Face Forward. Deborah Alessi, a graduate from Glasgow University, was a victim of domestic violence during her college years and she has never forgotten her pain. "There are so many women out there who don't have a place to go, who don't have my strength and so me and my husband said we can't change the emotional part but we can change the physical part and we decided to start Face Forward. I never dreamed that it would grow into a huge initiative, with a gala that assists in our helping so many victims," Mrs. Alessi said.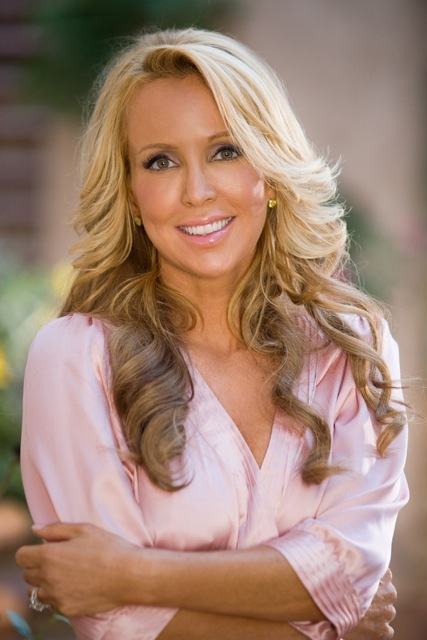 The faces of domestic violence represent the entire spectrum of racial, cultural, socioeconomic backgrounds. Researchable data indicates that one out of four households are effected by domestic violence. However, those of us who passionately engage in domestic violence awareness and eradication, know that these numbers do not fully, nor accurately represent the incidences of domestic violence. "When people hear domestic violence, they think it will not happen to them. It's a neighbor, a VP of a bank or someone else. That's not true. When you do these galas, I have so many women come who up to me and say I was a victim a for 15 years or I was a victim for 20 years," said Deborah Alessi.
Many occurrences of domestic violence are purposely hidden by the victim from family, friends, and the authorities. But there are some extreme acts of violence that can not be hidden because the victim's face is literally broken and shattered at the hands of her abuser. Face Forward's mission, work and results are like no other domestic violence non-profit organization that I have seen. They identify victims whose faces have been beaten and battered and offer them a new face -- and thus a new life -- free of charge. Their outreach exceeds the borders of America, and victims come from around the world. One can see the tangible results of Face Forward's mission.
The mission of Face Forward is to provide physical and emotional reconstruction for women and children who have been victimized by domestic or gang related violence. Face Forward vows to provide each victim with the best possible treatment pro bono.

Face Forward works with community leaders around the nation to identify victims of violence who are legitimately working toward recovery and who carry the physical evidence of past abuse. We are able to provide our services to individuals who are committed to their recovery by partnering with local community centers, which offer complementary relief: housing, counseling, job searches, and legal assistance. We are one humble part of the recovery puzzle; however, the immediate results of our healing efforts provide individuals with the confidence to literally put their best Face Forward once again.

Face Forward conducts about 100 surgeries yearly and yet, that is not enough for Deborah. "My goal is to build a house for the women so that we can conduct more surgeries simultaniously and help more women," she said. In fact, many victims require numerous surgeries. Dr. Alessi conducted 25 surgeries on one client in an effort to rebuild her face that no longer had bone structure. As a survivor, Mrs. Alessi appreciates that it can be very difficult to leave an abusive relationship, but that is one of the criteria to receive help from Face Forward. Another requirement is that the potential client receives treatment for her emotional scars. "We work with other non-profits who help the women with the inside part. Healing the face won't fix the inside part, which is even more important in a victim's ability to heal," said Mrs. Alessi.
Domestic violence makes the headlines every time a celebrity is charged with, or is a victim of domestic violence; and for a day or two, there is a heightened awareness for this cause. But domestic violence is destroying people, families and communities on a daily basis. As an advocate who travels the country, I often tell my audience, "Don't wait until October to become a part of the solution of eradicating domestic violence and holding abusers accountable for their violent and criminal acts. There are organizations that are helping victims in a real, measurable, life-changing ways -- support their efforts. Support them now!"
Dr. Alessi, Mrs. Alessi and all of their supporting surgical staff work pro bono and the medical equipment is provided free of charge. Additionally, the pre- and post-counseling is offered without a fee. Yet, there are funds needed for necessary after-care for Face Forward clients. To raise after-care funds, the Alessis host a star-studded fundraiser event in Beverly Hills California. Mrs. Alessi said, "When we started, it was a small gathering and I had no idea what I was doing. We had about 100 people come to the first one. Then we did a few events at stores. I took very little steps and now we have grown to this amazing event." Although the purpose for the event is heart-wrenching, Alessi produces an event wherein the supporters enjoy themselves and celebrate their ability to help change lives. "I make it a fabulous evening so supporters will come back next year, they will support our cause. People attend and meet Saundra (a Face Forward client) and the night touches their heart. The next year they tell a friend, and they tell a friend and that's how it has grown. We are so proud of what we are able to do for victims everywhere. We are helping victims face forward and move on with their lives," concludes Mrs. Alessi.
October is Domestic Violence Awareness Month but victims of domestic violence need our help every day of the year. For more information regarding Face Forward gala contact: Face Forward
If you are a victim and need help contact National Domestic Violence Hotline at 1−800−799−SAFE(7233) http://www.thehotline.org/


Popular in the Community