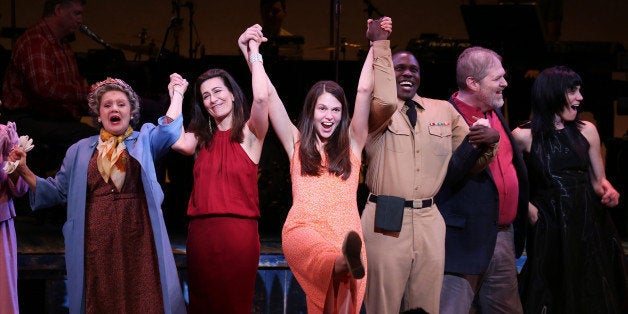 When the Tony awards are presented June 8, the names of many dazzling actresses will be announced. As for women behind the scenes? Not so much.
In fact, only one female will be among the writers and directors of Broadway's top shows this season. That would be Leigh Silverman, 39, who helmed Violet. The unique musical stars Sutton Foster as a woman whose face had been terribly scarred as a child, and who embarks on a journey across the South to seek healing by a televangelist.
"The first thing people said to me when I was nominated," says Silverman, "was congratulations. The second was, 'why are you the only one?'"
Good question. Let's be charitable and say this may just be a fluky year: After all, last year's two winners -- for best direction of a musical and of a dramatic play -- were both women. But even the lone nominee herself is simultaneously glowing and alerting the theatre community to wake up. "I don't think we're anywhere close to parity and producers have to consciously think about including more women -- and all minorities -- until it becomes part of their natural planning."
Silverman, a graduate of Carnegie Mellon, was nominated once before, in 2006, for Well, another show with a female protagonist. "At that time, I was only the seventh woman ever to direct a Broadway play," she says. Despite others since, such as Susan Stroman and Pam McKinnon, a glass curtain still remains.
It is usually only through a network of those who know and admire their work -- which has traditionally been honed "downtown and off Broadway" as Silverman says -- that the lucky few get to take charge. Not unlike in the film business (where Kathryn Bigelow remains the exception) the reception may be more favorable when the material is considered softer, "character-driven."
Violet surely fits the bill. This piece had been performed off Broadway 17 years ago, got some notice, won some awards, but disappeared from the dramasphere. Fast (well, not so fast) forward to 2013, when the Encore series -- which reprises underappreciated shows -- performed Violet in a one night concert version. Silverman was brought in to direct, the show was cut to one act, pared down in terms of stagecraft, and was such a success that a Broadway run was deemed possible.
"We like to call it a 'reviviscul,'" laughs Silverman of the re-imagined show. "Frankly, I think the world has caught up with it, including being willing to watch something with a woman at its center. Though our audiences are male and female because at heart it is really a father-daughter story. It's a vulnerable piece of theatre."
The fact that it is also about a woman dealing with external versus internal beauty has also taken on more resonance in these youth and beauty-obsessed times. As Silverman sees it, "we are all scarred in some ways." One key decision she made was not to show the much-discussed damage on the main character's face. "We thought about that," she says, "but decided that the story exists as a metaphor and we wanted that aspect to work in the audience's imagination."

Female playwrights still have the much tougher time making Broadway the Great "Write" Way. There the statistics are frankly horrible and the sexism seems systemic, even unconscious. It's simply who is familiar with whom, and the club has been far more male dominated. Ironically, investors and producers seem more comfortable allowing foreign female writers, such as Yasmina Reza, to take center stage.
The good news is that a few more female directors are being trusted with calling the shots, even with well-known and possibly new-to-stage actors like James Franco and Zach Braff. If Leigh Silverman takes home the Tony in a few weeks, maybe things will loosen up a bit. Though it didn't work last year, did it?
In the meantime, she is not letting this solitary spotlight go to her head: "The day the Tony nominations came out," she says, "I started working on my next show, which is in a 99-seat theatre way off-Broadway. But don't get me wrong, it is every director's dream to be on Broadway. It is still the forum that signifies who really matters in this arena. I am honored to be nominated but I truly would rather not be the only representative of my gender."
Related
Popular in the Community