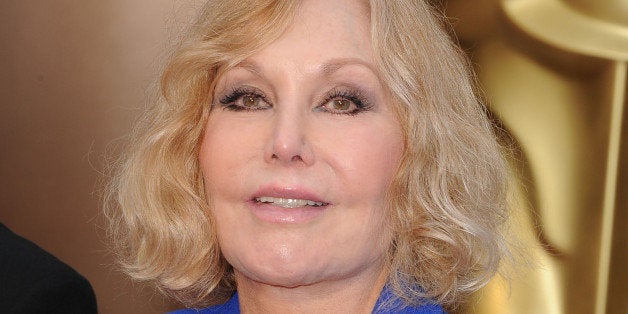 Here is my recommendation for every woman who is stressing over the physical ravages of time: watch two interviews on TCM, conducted by that movie channel's host, Robert Osborne. The first is with Kim Novak, now 81, who was once admired for a gorgeous sultriness that made William Holden dance and Jimmy Stewart want to jump off tall buildings. The other is with Eva Marie Saint, who exuded less sex, but still enough cool elegance to win the cinematic love of Marlon Brando, Paul Newman, Cary Grant, Montgomery Clift and Yves Montand.

Well, thanks to the Oscars -- as well as with her equally painful TCM discussion -- we all know what has become of Novak's face, the sad result of self-esteem too closely tied to how she looked rather than who she was. Saint's face -- she is nine years older than Novak -- shows every crease, but is full of expression and her mind and memory are as sharp as Novak's seem dulled. The truth is, Saint appears the younger woman. You do the math.

Personally, I felt saddened watching Kim, inspired by Eva and shamed at how much money I have thrown at anti-aging procedures and potions over the years.

I am not losing sight of the fact that these are two well-known celebrities who have enjoyed long lives filled with folks we'd be happy to see in passing, let alone kiss on screen. But I would argue we could see them as representatives of so many others in our own lives. Kim was the golden girl like many we grew up, or attended school, with -- you know, the ones we assumed would never have a rough moment because of their god-given physical gifts. Kim Novak's was a screen test kind of life and her beauty took her further than even she expected.

Eva was the hard-working girl from a middle class family in New Jersey on her way to becoming a teacher when she agreed to do a college play and got hooked. She hit the pavement of New York City, faced much rejection, but worked her way through all the mediums of the time. She was the girl we all liked growing up, pretty and sweet, who didn't elicit the same kind of untouchable envy as Kim.

All these years later, we are seeing that the one known for her looks may very well have the harder time as the years pass. What is left of this person? Kim Novak won our respect for quietly exiting a business (not unlike Doris Day or before that, Greta Garbo) that wasn't bringing her pleasure any more. She took to the horses and hills of Oregon and we envisioned a let-it-all-hang-out anonymity out there in the wild. That was why her appearance, and her obvious vulnerability and susceptibility, seemed especially shocking and disappointing.

Eva Marie Saint has continued to work, deep into her 80s, in age-appropriate roles. She remains a handsome, warm and witty woman who seems totally comfortable in her own skin. (I am not being naïve here. I assume she's had hair coloring, though I truly doubt much more in the case of artificial stuff) She attributes much of her happiness to the fact she has been married to one man for more than 60 years and has children and grandchildren. The balance was always the goal. Novak has been married (her second time) to a veterinarian for a highly admirable four decades. Both women, let it be said, deserve much credit for either choosing to escape, or never falling into, the rumor mill of Hollywood.

I try to convince myself that there is no shame in taking advantage of what modern pharmaceuticals now offer, if they make us look more like we feel. But where are the addiction groups for those of us otherwise smart women who fall for every latest gimmick and goo? What many of us most need may be an old-fashioned therapist to remind us why we should go the Eva rather than Kim route.
Calling all HuffPost superfans!
Sign up for membership to become a founding member and help shape HuffPost's next chapter