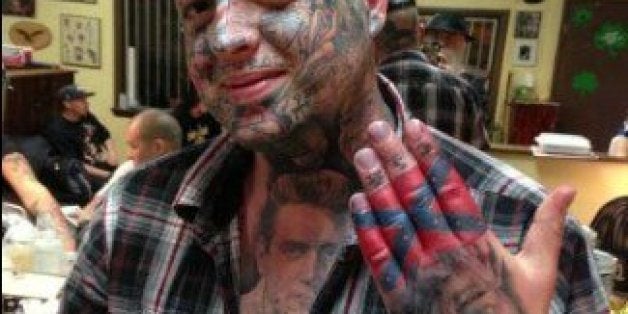 We all know It's wrong to judge people by the color of their skin -- even when a person's face is a rainbow swirl of green, violet, orange and pink.
Still, an outrageous face tattoo sparks a simple question. Why?
For some, it's all about the money. For others, it's a personal statement. Then there are a few who will just keep you guessing.
Whatever the reason may be, these nine folks have got some serious facial ink.
BILLY GIBBY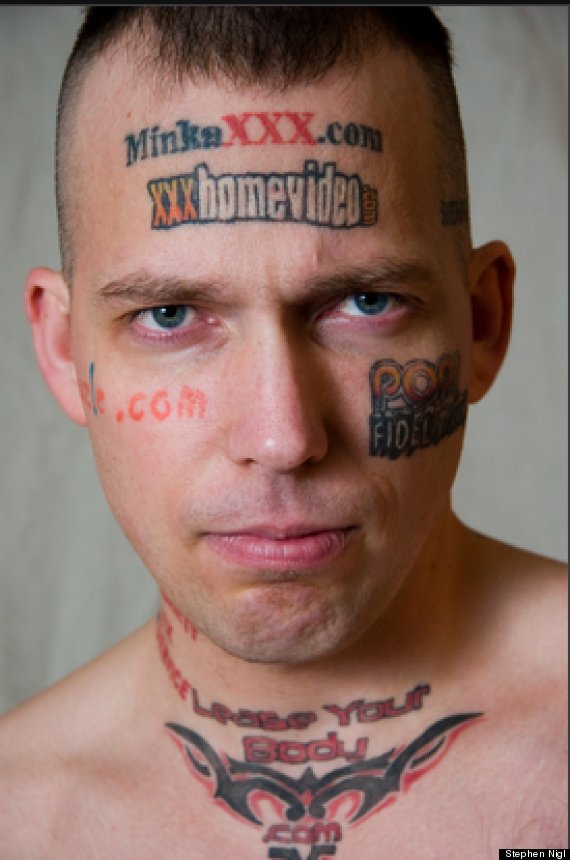 Human billboard Billy Gibby is feeling a bit of buyer's remorse after selling out his face for some permanent advertisements. Gibby, also known as Hostgator Dotcom (yes, he was paid to legally change his name) sold skin space for as much as $1,000 and as little as $75. Now, Gibby is trying to sell ad space on his body to raise the $4,000 needed to remove the ones on his face. And yes, those forehead tattoos are porn websites. We uh, did a thorough investigation.
TEDDY BOY GREG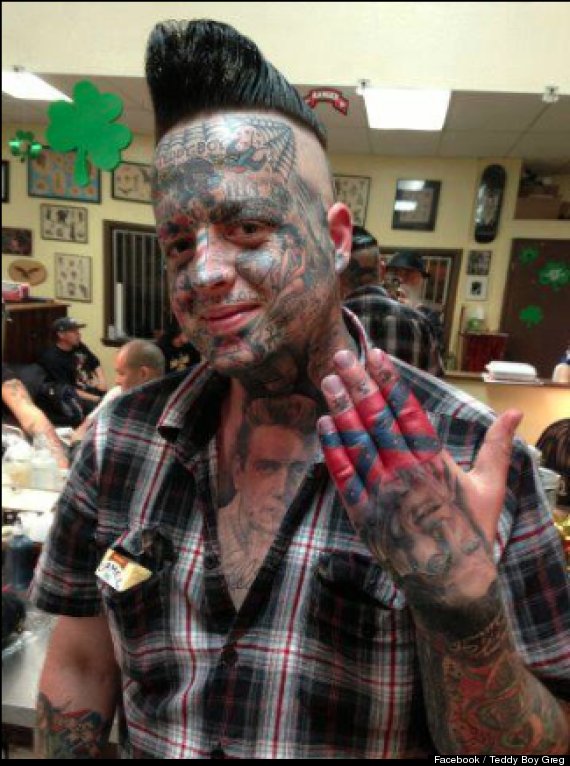 Teddy Boy Greg, a New Jersey native living in Southern California, is currently going to barber school and hopes to one day open his own 50s style barbershop. But he might face some difficulty with his seemingly random array of face tattoos and whatever the hell he's trying to say with that confederate flag on his hand. Oh, did we mention he loves dropping N-bombs? We're not saying that's reflective of anyone else with face tattoos (because it's not), we're just saying he's not your typical barber.
ERIC HARTSBURG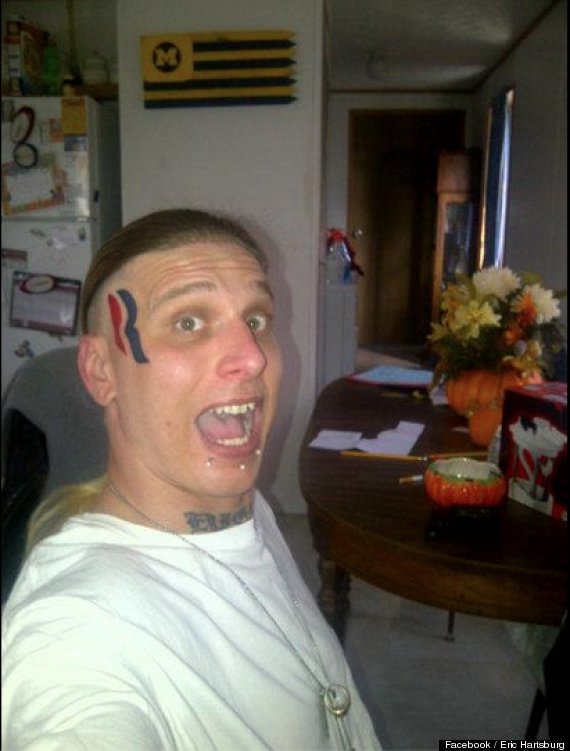 30-year-old Michigan man Eric Hartsburg accepted $15,000 in exchange for getting a Romney/Ryan tattoo on his face during the duo's failed election campaign. Though Hartsburg initially said he had no regrets, he later (wait for it!) said he regretted the decision. "I'm the guy who has egg all over his face, but instead of egg, it's a big Romney/Ryan tattoo. It's there for life," he told Politico after the election.
ADAM ROBERTS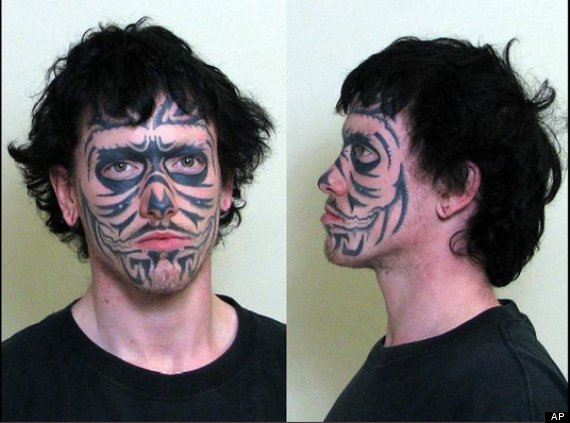 Adam Roberts, 24, is suspected of burglarizing 28 storage lockers in Godfrey, IL. It's unclear whether he thought his skeleton (or is it some sort of weird tiger?) face tattoos would hide his identity. He's like a super villain, minus all the cool parts.
DJ DRAMA DIABOLOS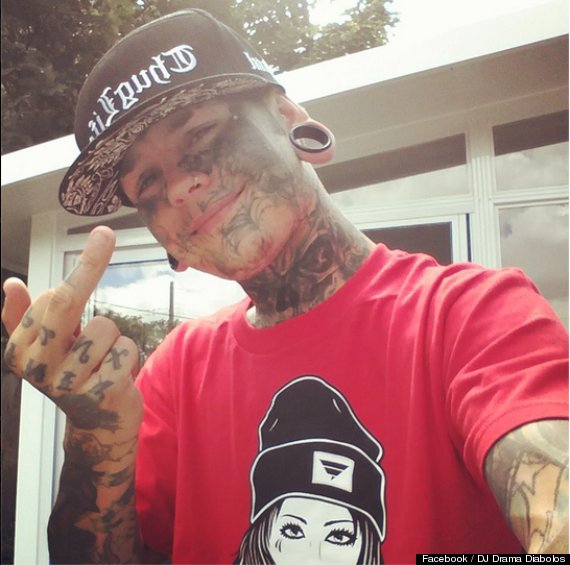 28-year-old Canadian DJ Drama Diabolos has a multitude of face tattoos including tear drops, diamonds, a flower, the phrase "die young" and some weird squiggly lines near his lips. On his Facebook, Drama decries the "mass manipulation by media" as he takes Instagram selfies. DJ Drama was on television for a short time as the winner of a video jockey competition on Canada's MuchMusic. We hope his interesting musical abilities pay off, because those tats might not.
LESYA TOUMANIANTZ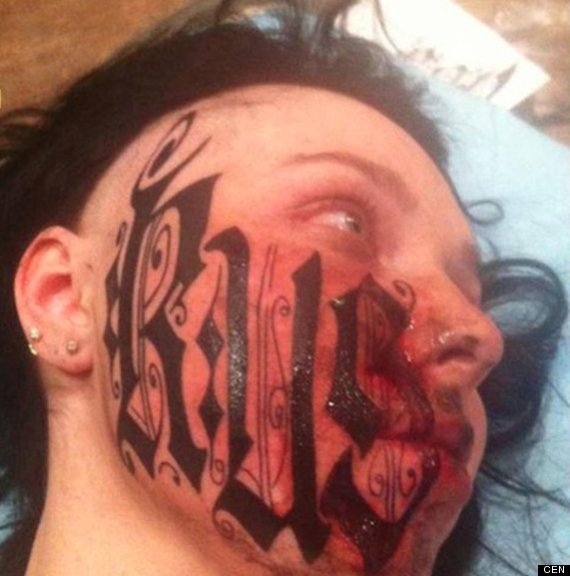 Russian college graduate Lesya Toumaniantz allowed her boyfriend to tattoo his name, "Ruslan," on both sides of her face only a day after meeting, well, face-to-face. They previously communicated over the internet and are now engaged. Never mind employment, let's just hope this relationship works out.
ALBERT TEJEDA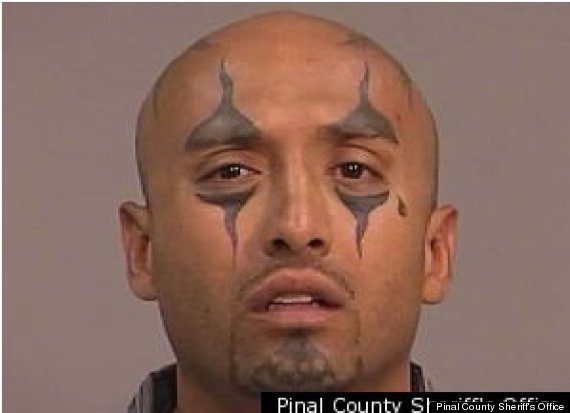 We're not sure what look this samurai-sword carrying man was going for with his face tattoos. But we're pretty sure Albert Tejeda was harnessing his inner sad, confused circus clown when he got this ink.
KIMBERLEY VLAEMINCK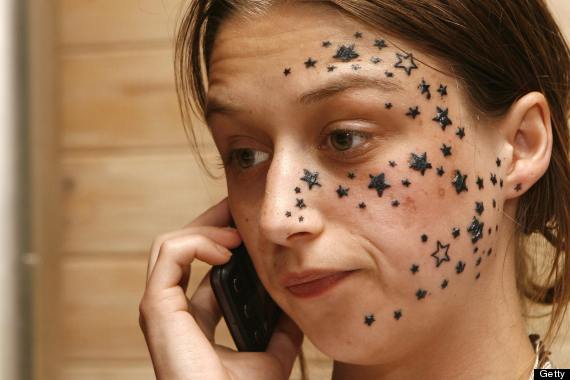 In June 2009, Kimberley Vlaeminck lied to family and reporters that she had asked tattooist Rouslan Toumaniantz (the same man who recently tattooed his name across the face of girlfriend Lesya Toumaniantz) for just three stars near her eye. Vlaeminick claimed she was sleeping when the artist put 56 stars on her face instead. She has since admitted her lie (because really, who can sleep through a needle inking your face 56 times?) and hopes to get the tattoos removed.
WHITEY BLACK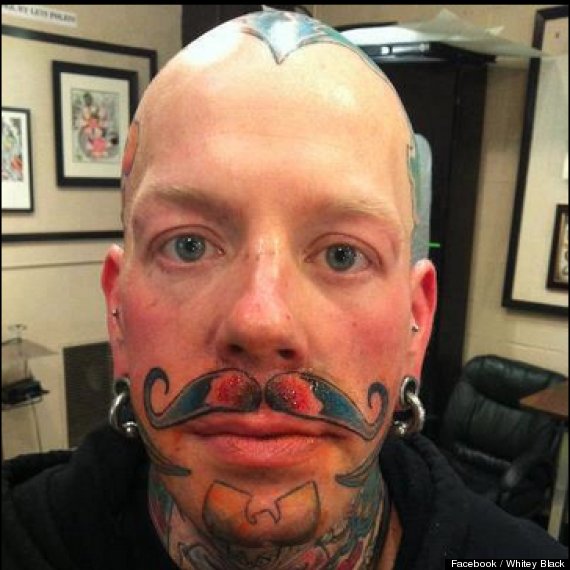 Whitey Black explained his tattoo to BME.com, saying: "the comical aspect is that 'nothing says classy like a gentleman with a well groomed mustache'… and believe me I am not classy and far from being a gentleman!" We aren't especially surprised.
Before You Go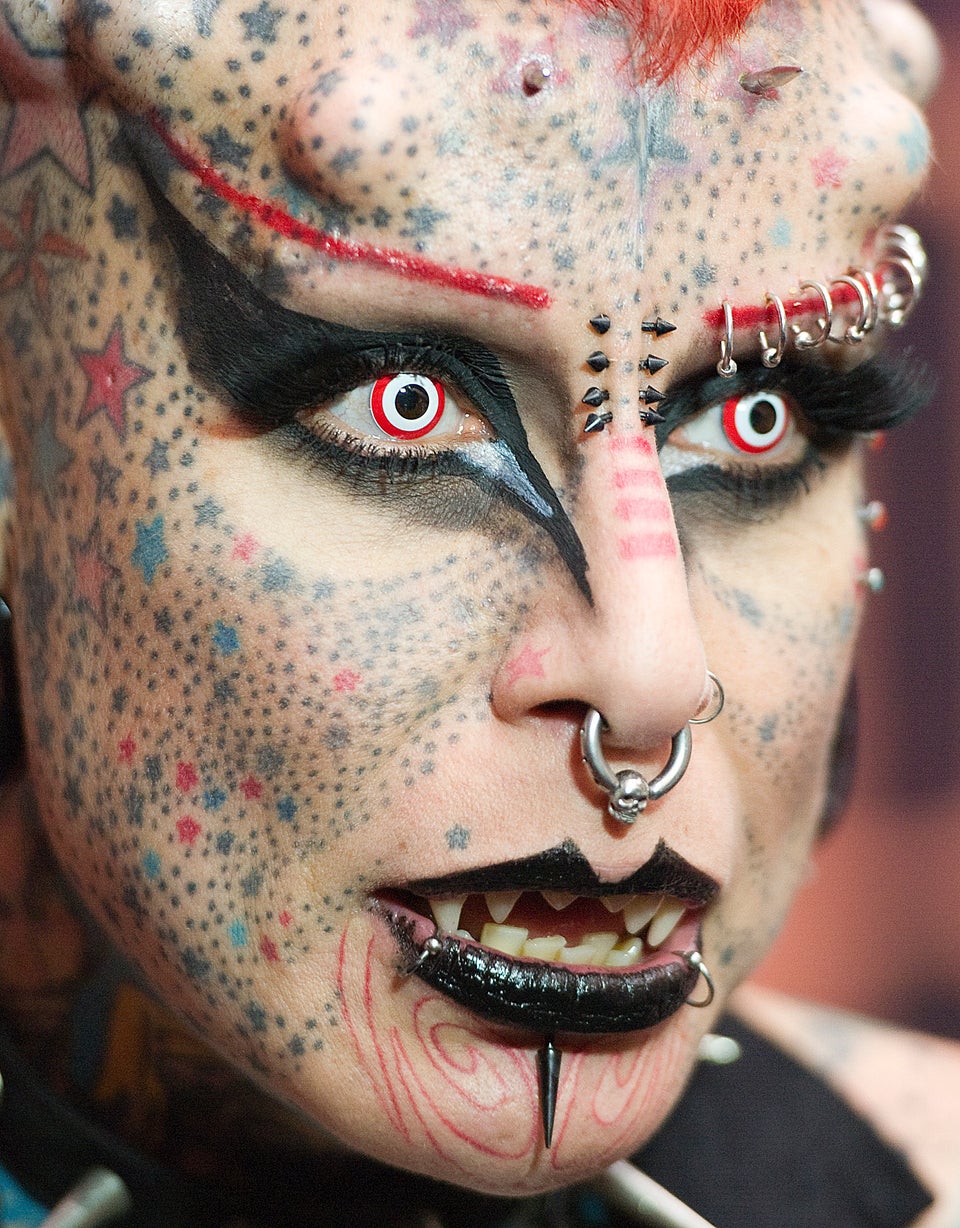 The Craziest Tattoos We've Seen
Popular in the Community