I recently had the pleasure of working and chatting with the beautiful, witty and bright actress Jordana Brewster. Please peruse the behind the scene moments with her for her first appearance on Late Night with Jimmy Fallon. She also shares her thoughts on style, her newly lopped hair, and her obsession with frozen yogurt. Be sure to check her out in Fast and Furious 6 opening May 24th!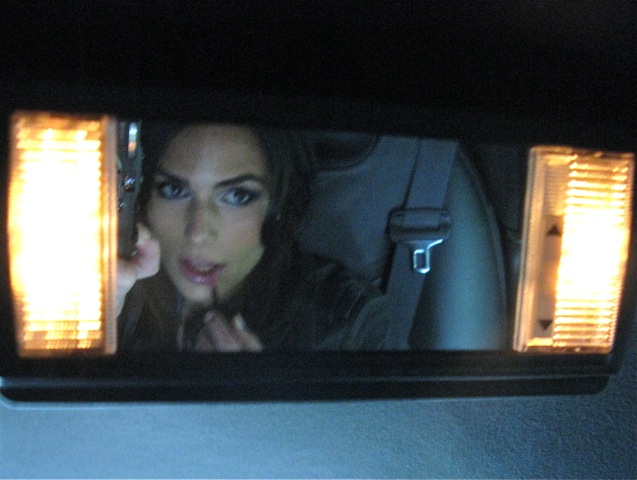 Tell me a bit about your stylist Jessica Paster, she dresses you for press, events and red carpet appearances. What do you think makes it such a great working relationship?
Jessica and I have been working together for years. Whereas some people take fashion very, very seriously, Jessica makes fashion fun. We laugh together constantly and have a great time. She also pushes me (in a good way). For example, if I'm in a rut and consistently going for the same look, she encourages me to push the envelope a bit more. I've evolved a lot through my work with Jessica.
What are some of your fashion or accessory essentials?
I love bags. I thing the right shoes and bag can transform a boring or super casual outfit into a unique one. I love classic shapes and colors, especially the Hermes garden bag. I also have a bit of an addiction to Lanvin ballet slippers. A good leather jacket (mine is by IRO) can go a long way. Certain pieces are worth while investments.
You recently cut your hair a substantial amount. Are you happy about that decision?
I am so happy I cut my hair off!! First of all, it takes so much less time to style and dry it. Secondly, I think change is really important. It's good to shake things up a bit. It feels much lighter too!
What are your beauty product must-haves?
I always have either Johnson's baby oil or pure jojoba oil from Whole Foods, to remove my eye makeup. And the other product I always have is EOS lip balm. I like it because it's all natural, so I can re-apply as much as I want.
You are always in such fantastic shape! I see a lot of muscle definition there. Do you workout pretty regularly?
I need to workout in order to remain sane. I like sweating and getting aggression out. I run and hike about six times a week. I also work out with my trainer, Harley Pasternak, three times a week. I'd like to get into yoga, but I haven't been able to yet.
With the second season of Dallas wrapped, how are you planning to spend some of your time off?
I'm in full nesting mode right now. I'm finally home, which feels so lovely and I've begun spring cleaning. Which includes cleaning the closets out, throwing out papers, etc. Next I have to tackle the garage.
Your husband, producer Andrew Form, has been in NYC working on a film, has it been fun visiting on occasion?
I grew up in New York City. I love visiting and discovering new parts of the City. Right now I am really digging Tribeca.
How do you make your space comfortable and homey when you're on location or traveling?
When I'm on location or traveling, I make it feel at home by going to the nearest Whole Foods as soon as I get off the plane. I like having essentials in the fridge so that I can cook wherever I am. I also bring book and my journal so I feel grounded.
Have you always been an avid reader? What are some of your favorite reads?
I absolutely love reading. My favorite books include Javier Marias's Your Face Tomorrow, and John Fowles's The Magus.
It seems to me you are a bit of a frozen yogurt connoisseur. Which brands do you like best?
I love frozen yogurt! Its my favorite treat. I've loved it ever since I was a teen growing up in NYC eating Tasti D-Lite. Now my favorites on each coast would be the Big Chill in L.A. and 16 Handles in NYC. I eat it at least a couple times a week.
You must have so much fun working on the Fast and Furious movies. Are you looking forward to the upcoming premiere?
I've had such a great time working on the Fast and Furious franchise. I cannot wait to see Fast 6, and to promote it with the cast in London. It's an amazing franchise to be a part of because we all know each other so well, and have traveled the world together.
Recently you made your first appearance on Late Night with Jimmy Fallon. Who was on the show with you that night?
I met Tom Cruise and I was completely nervous!!! I tried to seem cool and together but inside I was dying!!!
PHOTO GALLERY
Face Time with Jordana Brewster
Calling all HuffPost superfans!
Sign up for membership to become a founding member and help shape HuffPost's next chapter