Tata Harper antiaging and wellness products are 100 percent natural and nontoxic. They smell and feel wonderful and work wonders as well. I recently had a chat with the creator herself while she was in Manhattan for the day. Tata lives with her family on a 1,200-acre farm in Vermont, where some of the products ingredients are grown and hand made in small batches. Here's what Tata has to say about common skin issues, an upcoming teen product line, and which product completely transformed her skin.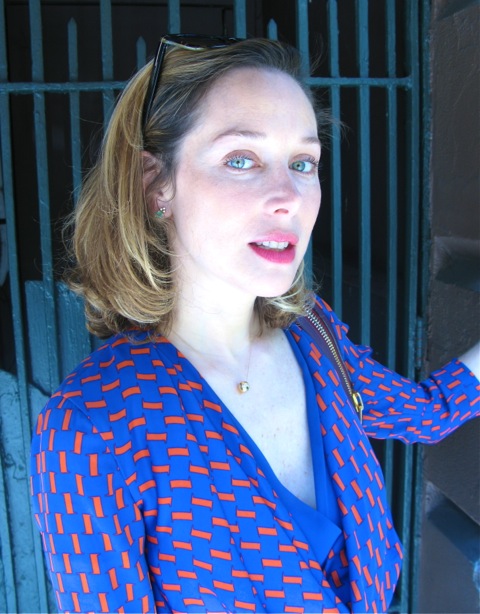 Photo By Tina Turnbow
What are some of the most common skin concerns and issues women have?
Since I'm constantly meeting my customers all over the U.S., I feel like I have a pretty good sense of common concerns, and I've been encountering a lot of women wondering how to keep their skin healthy, plump and glowy at all ages. Something I've noticed is that there is a trend right now of turning toward aggressive peel treatments to treat the lack of glow or fine lines, but these can really affect the strength and resilience of the skin when you use them on a regular basis. What women need is a good antiaging regimen that keeps skin thicker, plumper and more resistant, to combat age, so they don't have to turn to dramatic treatments as often. Having a daily regimen that keeps up with the accumulation of cells and with loss of moisture is the best way to treat the lack of glow issue.
In what order do parts of the face age, starting with...?
A good way to think about it is that the areas of your face with the thinnest skin are the first to show signs of aging. The thinnest skin on our faces is actually the lips, which start developing lines first because they're constantly in motion, and an it's area that is exposed to environmental damage all the time. The lips feel environmental changes first, when it's dry or cold out, and we often forget to protect them with SPF. It's not an area that people think about in terms of preventative care, but the lips really benefit from antiaging treatments.
The second thinnest skin is around the eye area, where our skin develops crows feet because of all of the facial expressions that happen there; in some cases, the skin there is so thin that people have chronic dark shadows around the eyes, which is actually the muscle tissue visible underneath. This area is especially susceptible to premature aging. Then the forehead, where lines also develop from facial expressions, which turn into permanent wrinkles, and lastly the neck and jawline area. This is an area where the affects of gravity are really visible, and it's skin that ages quickly because of lack of attention -- we often don't think to apply treatments, spf or our daily skincare there, but it's exposed all the time. Women tend to be very stingy with the jaw and chest area until it's too late.
Which of your products would you suggest to target specific concerns?
Our Rejuvenating Serum is our best-seller because people see the antiaging results it offers right away; it has 29 active ingredients including a natural muscle relaxer, Spanish Lavender, that reduces muscle contractions by 95 percent in two hours. It's a triple collagen treatment for global antiaging results, to lift, plump and hydrate the skin, and we recommend it for anyone seeking preventative and corrective antiaging benefits, anywhere on the face, neck or chest -- and it's great of course for the forehead or other wrinkle-prone areas.
For the eyes, our Restorative Eye Creme contains high concentrations of anti-inflammatory and microcirculation-stimulating ingredients to promote brightness and reduce shadows, puffiness and lines, and we suggest adding our multivitamin oil, the Replenishing Nutrient Complex, to the eye area as well for added hydration. Our Lip Treatments are a complete antiaging treatment for the lips, which is an area that needs much more than just hydration. These treatments address loss of volume, environmental protection, and the lip lines that form from expressions, movement and environmental damage -- and of course they're conditioning and moisturizing.
Lastly, our Resurfacing Mask is like a facial in a bottle -- it's amazing for providing an instant glow, minimizing pores and redness, and fighting breakouts and blackheads.
Do you believe in combining any injections or fillers with good skincare, to help look your best as a woman ages?
I embrace all of the new antiaging technologies -- as long as they aren't damaging to our health. In this world of skincare, there are so many options and procedures out there; as a rule, we don't love the idea of injecting anything synthetic into the skin, but there are a lot of very advanced and effective natural treatments. There's one I've heard of recently, called Laviv, that is a 100 percent natural treatment that involves rebuilding that fat pad with your skin's own fibroblasts. I believe that there's a time and place for these treatments, but that ideally, a good corrective antiaging skincare regimen should be the main approach to young skin.
Eco-friendly and organic seem to be the cool thing these days. Do you think many companies have jumped on board and make some misleading claims about how natural their products are?
Definitely -- when companies make misleading claims about the naturalness of their products, it's not just because eco-friendly and natural ingredients are cool but also because it's what consumers are demanding because natural is good for the skin and trusted. Companies create products that are combinations of synthetic and natural, yet they market their products as natural with misleading packaging, claims and messaging. This greenwashing, and the fact that the only purely natural products I could find were very basic and didn't have any advanced technology, is really what inspired me to create this line. I wanted to create a solution for people, like myself, looking for true antiaging results without a single drop of synthetic chemicals, made with really groundbreaking and high-performance technology.
The price of your products reflects the tricky and expensive process that makes them 100 percent natural, 70 percent organic and non-toxic. As opposed to products that contain chemicals, yours are healthier for you and the environment. Do you feel they are as effective?
Absolutely. There's a misconception that natural products don't work, but for example with my skincare line, every ingredient represents advanced natural skincare technology, and is extremely high quality. Each ingredient has been clinically tested in vivo for results. We won't use an ingredient unless it demonstrates in tests on actual people that it works. We manufacture all of our products by hand, in our own labs, for our commitment to quality and freshness, which isn't the case with synthetic formulas that need to be able to last for years on shelves. Our upcoming products, which are 3 super targeted antiaging treatments, contain natural ingredients that are groundbreaking for how effectively they treat and prevent the signs of the aging in the skin. If you seek out natural skincare that is made with truly high quality, clinical-grade natural ingredients, that have been tested to deliver antiaging benefits, you'll experience results.
If a person could only afford one product, which would you suggest?
Our Rejuvenating Serum! It is our best-selling product and offers amazing visible results, both immediately and long-term. I can't live without it, it's completely transformed my skin!
Is it true you are working on a sunscreen and a teen line as well?
Yes, we're working on developing both; sunscreen in particular has been challenging to make but we're in the midst of making progress and are trying some new technologies from France. We've gotten a lot of feedback from customers and fans who really want Tata Harper products appropriate for their teenage sons' or daughters' needs, and also we believe that getting into a healthy skincare regimen when you're young is really important. Plus, teen bodies are experiencing a lot of hormonal changes, and it's a crucial age for people to pay attention to their chemical exposure and the toxicity of their products. It's an exciting project!
You have three children, yet you have maintained an amazing figure! Any secrets you could share as to how that is?
When I first had young kids, I found I wasn't taking the time to take care of myself and maintain my healthy regimens and lifestyle habits. It really felt like something was missing, so I recently started to create time for myself again. I re-focused on exercise, diet and on setting aside time to restore and re-energize myself. For example, I just got home from a five-day yoga retreat with friends in Costa Rica, which was amazingly energizing! One of my tips for working mothers is that though there's a lot of guilt associated with taking time off, you need to create some time to take care of yourself. It's an important element in a good long-term health strategy and plus, you'll be able to give more back to the people in your life.
What is it about your diet and lifestyle that helps keep your skin looking so beautiful, from the inside out? Do you take any supplements that you feel are helpful?
I have a very balanced diet -- I eat a little bit of everything, and don't believe in any extreme diets. Growing up in Latin America I was taught at a young age to take care of my skin and body, and that health leads to beauty, so fresh juices, salads and balanced meals have been a part of my everyday life as long as I can remember. In terms of supplements, I take Omega 7, which is really good for the skin, resveritrol, tumeric -- an amazing antioxidant -- Vitamin D3, and antiaging probiotics from New Chapter.
You're very chic and stylish, who are a few of your favorite designers? Have you discovered any that are eco-friendly?
Unfortunately I haven't found many options for eco-friendly design, though I love Stella McCartney and I know she incorporates environmentally friendly practices where possible. I don't follow a lot of designers, but there are a few that I love -- mainly I look for practical style. I love Isabel Marant, Markus Lupfner, Philip Lim to name a few, and Diane Von Furstenberg for her ability to make dresses that are perfect for all occasions, from breakfast to dinner.
Do have any favorite natural cosmetics or hair products that you use on a regular basis? I keep my cosmetics to a minimum; I really love a simple and natural but elegant look. I wear RMS cheek and eye illuminators, and for my hair I love Rahu shampoo and Yarok hair serum as a conditioner. My every day go-to is my own Be Adored lip treatment, which is perfect for the rosy-lipped look while offering antiaging benefits.
Can you describe what a productive and great day is for you?
Given that there's so much that I need to accomplish in a single day, the fact that any day is productive makes it a great one. But I love the fact that there's always a new day tomorrow, when you get another chance to finish your to-do list. And of course, spending quality time with my kids makes any day great.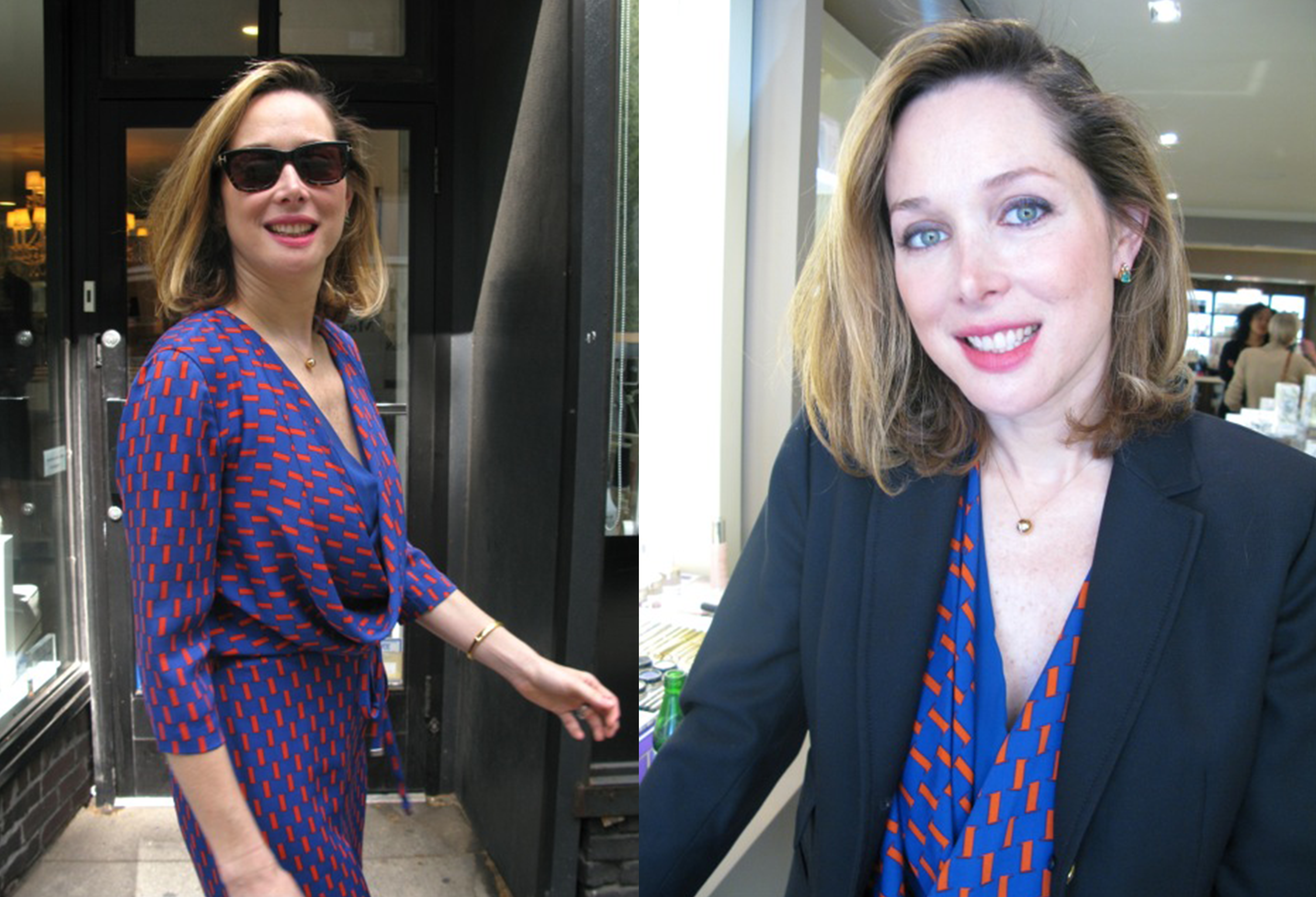 Photo By: Tina Turnbow/Photo taken outside Space NK