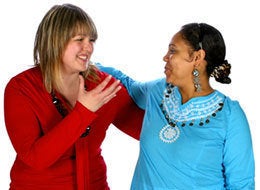 I first learned about Women for Women International from a good friend named Susan who had become the sponsor of a sister in Kosovo. When Susan showed me her sister's picture and described WFWI's mission my response was immediate, loud and clear: "I have to help." The WFWI motto, "One woman can change many things and many women can change everything" resonated very strongly for me. In life there are times when you know you have to become involved and make a commitment. And for me, this was one of them. There was never any doubt or hesitation. The stark contrast between the abundance in which I live and dire circumstances of so many thousands of women suffering from the devastating effects of war were powerful calls to action.
I was so moved by WFWI that I created a one-of-a-kind empowerment initiative called "Face-to-Face". "Face-to-Face" incorporates the power of many women in a collaborative co-creational dynamic by a direct link for customers with these women survivors of war through Women for Women International (www.womenforwomen.org). The FACE Company underwrites the cost of each sponsored survivor for one full year, while the customer agrees to write personal monthly letters, lending critical emotional support.
This one-on-one "sisterhood" provides the recipient with the tools and resources she needs to move from crisis and poverty to stability and self-sufficiency. And it gives her sponsoring FACE "sister" an opportunity to make a real difference in another woman's life. When I started the FACE Company I wanted it to be a company that improves the way people look and feel about themselves.
I am now the sponsor of 2 sisters to who I write each month. My sister Marie is Sudanese and Najeeba is Afghan. It was extremely humbling for me to read the fact sheets describing the grim realities of each of their lives. They live in places where just being a woman is inherently dangerous. They have both suffered great losses and have virtually no resources with which to rebuild their lives or those of their loved one. Neither sister has access to a clean water supply or electricity. The both have many children. Neither can read or write. Yet, despite all this hardship, they both hope to improve their circumstances and provide a better life for their children by participating in WFWI's program.
I am also a part of a group of 20 women from The American Cathedral in Paris who will sponsor 20 sisters in Rwanda. Last May I invited a speaker from WFWI's London office to address the St. Anne's Guild of the Cathedral, where I am a member of the Board. The women who heard the presentation were so impressed with the work of this organization that they decided to form a group of 20 to sponsor an incoming class of 20 women I Rwanda. Our hope is to someday visit these sister when they complete their 12-month program.
The letter writing that I do requires me to strip away cultural difference and relate to my sisters solely as a woman, mother and concerned human being who happens to live very far away in very different circumstances. I first wrote that since I was a little girl growing up with two brothers, I've always wanted a sister, and finally my prayers have been answered. I am thankful to have them in my life. I write about my affection for my son and how proud I am of his determination to work hard and achieve his goals. I ask Marie and Najeeba to tell me about their children, their goals and their experiences in the WFWI classes. I ask them what they need. I ask for pictures. And I always ask them to write back and hope that someday I will receive a response. I also pray that my letters will assure them that there is a sister far away who is rooting for them to be strong and succeed. I feel connected and committed to being a supportive force in each of their lives.
I have not had a return letter yet and know that there are many obstacles preventing a response. But I am hopeful that someday I will and that our correspondence will continue even ever the program is finished.
I am also grateful that Women for Women is there for Marie and Najeeba, to care for them and their children and provide them with the means to build confidence, self-esteem and self-sufficiency. It would be wonderful to meet them in person someday.
With my work in the FACE-to-FACE initiative and WFWI I hope to prove the "butterfly effect", that one person's actions can, in fact, produce large changes in outcome, and I wear a small diamond butterfly around my neck everyday to remind me if this. The concept of the butterfly effect is often describes as the novelty of a minor change in circumstances causing a large change in outcome. I am convinced that the novelty of the minor change we have made to The FACE Company's corporate structure, i.e. our FACE-to-FACE initiative, will indeed cause large changes in outcome for many women in the world, not only for the woman who receives, but also for the woman who gives her support. It becomes a means by which all of us can recognize and honor our similarities, our human-ness, and the fact that all of us, in the end, want the same things for our children and families: peace, health, productivity and the means by which to make our world a better place.