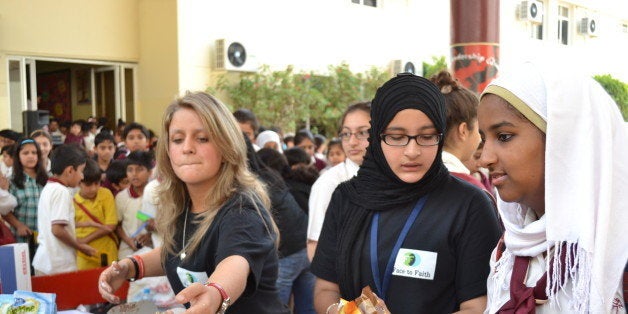 The Huffington Post is proud to support the Tony Blair Foundation's program Face to Faith by featuring the finalists of the 2014 'My Friend of a Different Faith' essay competition. It is our hope that by giving them a platform, these young people might help lead all of us into a future with more compassion, acceptance and peace across religious and cultural lines. Please find a short explanation of the competition below, followed by the essays written by the five finalists.
Congratulations to all who participated!
Across the world we face a constantly growing and evolving threat from violent extremism, much of it religious in its motivation. To propagate their views extremists use networks of outreach to young people and understand the power of education, whether formal or informal.

This is why we need to start thinking of education as a security issue. We must do what we can to give young minds the best chance to develop the skills necessary to resist extremist thinking.

Globalisation, technological change and increased migration heighten the need for a new way of educating. Before the digital revolution, young people met people from other countries and cultures in largely moderated circumstances. Today, they can interact with people anywhere in the world in seconds on their smartphones and are exposed to a variety of opinions, beliefs and cultures. There are great opportunities, but not all of them are positive or safe.

To help young people navigate these challenges our global schools programme Face to Faith promotes cross-cultural dialogue among students aged 12-17 around the world. Reaching students in over 20 countries - including Pakistan, India, the US, Jordan, Egypt, Canada, Italy, the Philippines and Indonesia - our programme connects students via a secure website, where they interact from their classrooms under the guidance of trained teachers.

As part of that programme, we run an annual blog competition on the subject of "My friend of a different faith or belief". This year, as always, we received hundreds of entries; with many young people writing passionately (in what is sometimes their second or third language) about what they have learned from their encounters with those who come from different backgrounds to themselves.
We would like to highlight the winning blogs from that competition, and invite you to reflect upon how the open-mindedness of these young people can be an example to us all.
2014 Face to Faith Finalists

Student: AFlores
Country: Mexico

We live in a world full of different cultures, religions and preferences and it is vital for our society to understand that no matter which are our social origins, race, gender, sexual preference, religion or nationality we all have the same rights and we should look for a common objective, which is a peaceful and respectful coexistence between people and different cultures.

I met my friend Luis Steiner at high school, he is older than me and we became friends because I knew most of his friends; despite the fact that they were all older than me, we were friends because when I started high school I made a meeting at my house and I invited some people I knew, these people invited other people and in the end my house was full of strangers who later became my friends.

One day, I was with a group of friends talking about what we were going to do next Friday and suddenly Luis arrived with some other friends. I didn't knew him but I started talking to him as if I already knew him, then I invited him to come with us on Friday but he told me that it wasn't possible for him to go out on Fridays because he was Jewish and that he had to have dinner with his family every Friday because of the Shabbat.

After that conversation I had curiosity and I asked him about his traditions and his family´s traditions; I also made some research and found out that for Jewish people the sacred days are Saturdays (Shabbat). It is a day when they usually go out with their friends and it is because in Jewish religion it's supposed to be a day to rest in which no work should be done, it is also supposed to be a day for spiritual enrichment in which they shouldn't perform certain activities such as building or writing. Preparations for Shabbat start on Friday afternoon with the preparation of the food and all the activities that shouldn't be done during the Shabbat, once they have finished preparing their Shabbat, they bless their food and they eat with their families, the act of blessing the food and being thankful for its preparation and availability is a common point that we can easily observe in other religions such as Catholics and Christians.

It's always important to maintain the respect between cultures and religions in order to coexist and avoid conflicts, misunderstandings or even uncomfortable moments and through my friendship I learned that every culture will have things that we like or dislike, things that we may agree or disagree with them but the most important of knowing multiple cultures is taking what seems best for you and your individual beliefs and keep it for applying it on your daily life.

Having a friend from a different religion is an effective way to increase your knowledge and culture and it is always important to know even a little bit about a religion or culture because there may be some things, acts or subjects that for people of certain cultures may seem right while it may be an offense for others because we all have different beliefs and traditions depending on our culture.

We have to be cautious when we get into cultural conversations while talking in a group because sometimes we may not know that there are people from another religion in the group and we may make them feel uncomfortable with a subject or an action without even noticing it, for example, we should take into consideration that there are religions that exclude certain food from their diets, that is usually a common mistake when you invite someone from another culture to a meeting and you offer them food that they can´t eat because of their beliefs, it will not be seen as disrespectful but you will make your guests have an uncomfortable moment while rejecting it.

This friendship has made me more conscious about the way I am around others, the way I think about others and the way my friends from other cultures may thing about me. I discovered that I am a person with the ability of understanding the reasons of many behaviours and traditions, I am a person who likes listening to people from other cultures explain their beliefs and traditions and who really enjoys a good conversation about a lot of different subjects.

I can also say that for my friend it has also been an enrichment friendship because my traditions are different than his traditions and he may consider them as strange but, we learned how to coexist in the same environment, respecting our differences, appreciating our similarities, with the same group of friends and we achieved to increase our culture and to enrich, both of us, our culture and knowledge.

Finally I can say that having a friendship like this has given me the opportunity to increase my thinking horizons and my level of understanding of other cultures, it has given me the ability to visualize cultures from different perspectives, for example , it has given me the opportunity to look at my own beliefs and question myself about them, but above all, it has given me the tolerance for respecting other people's ideas even when they may be opposite to mine, which I think is the key for a multicultural society.

Student: Lakshi Bhatia
Country: India

The Myriad Reminiscences

"Everything that is new or uncommon raises a pleasure in the imagination because it fills the soul with an agreeable surprise, gratifies its curiosity and gives it an idea of which it was not before possessed." I have been constantly been gathering my thoughts through the words of wisdom above on how we undoubtedly long to be in a different space. It doesn't necessarily reassure us of our identities, our principles but of the plethora of ways in which we tend to be different than others and how it becomes important to understand the differences. It becomes a collaborative cohesion amidst diverging or similar interests. But I think we are more fascinated by the idea in theory and not in practice–when it comes to faith and religious beliefs.

But pushing back aside the stubborn and complex belief, I welcomed the strange realization of being capable of surprising myself in the most obscure ways. 19th December, 2013 began my journey in the city of Malang in Indonesia. I chose a societal developmental project –'Pbox Tourism' through AIESEC which required me to teach subjects and impart knowledge and values of our culture and religion.

In the beginning, I felt like a fragile soul caught in the hands of time, slithering a little everyday as a momentary sadness hovered around my head. Honestly, the place didn't appeal to me as I was used to the hustle-bustle of a metropolitan city life. The glory of a modern city always captures the popular imagination so being born and brought up in a city like Delhi with an elitist education, I felt a little arduous to adjust, not realizing the perks that a traditional city can offer. But then at last the wait was over and I witnessed the grand commencement as all Aiesecer's came to our host family. I had loads of fun with them who were brimming with enthusiasm. And then I met my soul mate for life…DEVINA MAHARANI. Her tinkling smile and charming persona made me talk to her. From then on, we met on several occasions, actually daily, and I gradually accepted and reciprocated positively to her efforts. I used to get up early, at 5 in the morning, get ready and sleep again. But she never rankled about coming from so far to Mbak Dilla's place (the owner and my sister!) and everyday we got up hearing the knock at the door. I still remember the first day when she sat quietly and didn't even utter a word. And the next day, I witnessed a beautiful girl clad in elegant white who happily began blabbering about her Shah Rukh Khan fandom moments, and then everything clicked from that instance. I asked her what stopped her that day and she diplomatically replied 'your over-enthusiasm!'.

We began with describing about what we are currently pursuing, what interests us and how well we juggle between studies and the cultural initiatives that we are a part of. Her aspirations were soaring high as she talked to me about her Oxford dreams. She expressed her desire to be an academician as she loved exploring different forms of culture. And then I was engrossed deeply in conversations with her as I shared the very same interests: Religion, culture, travel and Korean 'POP' music…what an exciting galore!

Unfortunately, not everyone is comfortably acclimatised to be so amiable and can operate as harmoniously as my friend did with me, knowing that our faiths and sensibilities are entirely different and poles apart. Besides going to places, roaming around with friends, we started a tradition of expressing ourselves more profoundly i.e. the aura that we live in, the culture that we have embraced, our lifestyle. But most importantly, it was a mutual exploration of our ideologies, conventions and belief systems that made it very intriguing and enriching. But there was disparateness too in our views which inherently came from being devout followers of our own religion. We both tried to understand the Hindu and the Muslim cultures. I observed her nature to be very subdued, calm and composed which was contrary to mine and it thus balanced for both. I asked her to 'demystify the hijab' for me and she very inquisitively asked me about our rituals, practices and festivals. We tried to learn each other's language. In the due course, we both realised the value of such a meaningful discourse. Here winning wasn't necessary but reconciliation to the different ideas of faith. 'This makes sense to me'…we usually condemn the 'other' in the prospect of what our religion believes is right. So unless and until we condemn the other belief mechanism, ours will always stand invalidated.

I've failed miserably at many junctions as I stumble while trying to wobble upon my thoughts on what to chose from my faith, which for me was the only driving force and then I was constantly swayed by the other structures in place. I've been condescending, and irrational at times to people who I actually value and desire and that they must be treated with reverence. Ironically, I always wondered whether the conception of a 'righteous faith' had to be so complex that we make a choice out of it. And she made me understand that every practice or faith has dominant internal structures which are bound to influence one but then principally every faith has certain universal isms which talk about a human's value, good over evil, right over wrong. So the idea is to adopt a stable system which cultivates strong human relations and bestows you with the peace of mind so that you stay happy and content. I learned so much from her about peace, materialism and morality. I was able to understand her view that at the root of every religion stands an arbitrary truth which is we all want to love and be loved. Love and goodness are two great places at the threshold. And I also learnt to not be judgemental about other's beliefs and how to simply accept that not everyone will be a whatever-version-of-Hindu I am. Not all of my kins whether in the past present or future, will weigh things in life the way I do. So I realised that there were more things that we traced between our belief systems, so many commonalities that helped weaved our bond today.

For every inter-faith exchange I have experienced, this was certainly the most worthwhile. Going to an alien city to finding one of the best persons I could ever meet in my life, I couldn't have asked more and I guess my destiny had choreographed something like this. Being her friend evoked a sense of belongingness in me not only towards her but the world she lives in. She was externally conservative but more liberal and opinionated about it. She broadened my horizons on issues of gender roles and on being discriminated under the pretext of religion through her myriad reminiscences. Nowhere was she a partisan of all the practices of her religion that she had to forcefully embrace in order to be 'happy'. Everything was evenly balanced and sensibly discussed. And here I express my heartfelt gratitude at this juncture for all the privileges that I have been bestowed with to the almighty. I certainly felt more responsible towards the community and realized that every religion is intrinsically linked to all human sensibilities. They proffer the virtues of respect, understanding and compassion which lurk behind the veil of our religious practices.

As clichéd as it may sound, I've always learnt that loving when it's difficult is the best love of all. The words below certainly summarised it all for my communion with her: DEVINA MAHARANI…

There was nothing in sight
Running away from the carnage
The memories left abandoned
All gone in a blink of the eye
Sometimes beginnings aren't so simple
Sometimes goodbyes not the only way
I did not realize we had to depart
I wish to say more
Words can't suffice
As a solitary teardrop slid down my cheek
I packed my bags
Heading towards the sunset
Where life awaits and
Tomorrow I hope to forget about my grief today…
Student: Nathan Sutandi
Country: Indonesia

Find Similarities and Earn Respect from it

It is not difficult to find a person with a different belief here in Indonesia. There are so many culture and we avow 5 large religion and more but Islam is the major one here. With 5 different religions there are also schools based on the religion. I graduated from Saint Ursula elementary school (Catholic school) back in 2009 and this is a story about my bestfriend.

His name is Fauzan. Fauzan is not dumb but he is an average student. We spent a lot of time during recess or classes. We spent years of having lunch and playing plastic football in the hall while recess. We spent that 15 minutes of joy together with the others. Sometimes I offered him help when he got in trouble with math and the same he did for me on social studies. It was fun back when we went pranking, playing,studying together.

It's a common thing that Fauzan doesn't make his homework that sometimes caused him trouble and his parents had to be called due to his lack of scores for assignments (not tests). Well me ? I always do my homework and I warned him too. His score at tests are average though. Sometimes theyre good sometimes theyre perfect and sometimes theyre terrible. I always tell him that test score doesn't determine a person's future. So yeah he didn't seem to have problem with tests and exams.

Fauzan is a Muslim and just like other of his people every Friday he always went to a mosque just next to our school to pray in the Istiqlal Mosque (largest Mosque in South East Asia). It becomes his habit since 4th grade when he learnt sholat and in the same time we started to know each other. He is considered as a saleh person.

We both learnt about Catholic belief since it was in the curriculum of our school. Unlike other people who are not Catholic, Fauzan seemed to be fine with the Catholic religion subject, even though he doesn't always ace the tests. I was too curious I once asked him "Hey Fau, aren't you having trouble about understanding this subject? I mean I knew you are a Muslim and all." He answered that people has the right to study other beliefs but also still be faithful with their own. Because he had to study about Catholic every grade, he took the subject not as a belief but as a knowledge. He is still a saleh Muslim.

Fauzan and I realized that sometimes Muslims and Christianity cannot blend in Indonesia. We both read the news about Front Pembela Islam(a Violent and Fanatic Islam Community in Indonesia) in a newspaper one morning about how a church has been demolished by the organization. I remembered when Fauzan told me he was ashamed of their actions and his thoughts are people had to mind their own business and care less about sorts of things. About the organization, they were quite famous because of some incidents and some controversional actions that they have done. The National Police and Government realize that they ended up taking other people's rights. The reason they were formed in 1998 was because there were human rights violations everywhere, there were things that was "unclean" according to Muslims, and there was an obligation to preserve and maintain the dignity of Islam and Muslims. Fauzan told me that the organization itself is hated throughout the majority of his people because of this "ethnic and religious radicalism". It is also because it is a contrary to our Ideology "Unity in diversity".

In my opinion we both could stay friends till this moment because we didn't care about our differences and we had looked for similarities throughout the years. Fauzan doesn't care if I have a different belief but he respects me as I respect him as a person with a belief. We both think that differences separate an individual with the other and similarities unite. For example: us. We are still bestfriends although we know study in different schools. I feel happy and grateful I have a bestfriend like Fauzan, ignoring every differences that we have. Our friendship has changed a bit since his school is far from mine now, things got a little bit lonelier.

Although we have different beliefs , we have the same principle : Respect. That's how you maintan your friendship. :)
Student: Sara Medina
Country: Mexico

Unlimited Friendship

Well, as you may know, there's this contest going on where you write about friends from other religions and beliefs. I thought I might take the chance to write my thoughts on this subject. My school asked us to blog something, but I think I have a little more to say than just the requirements.

Personally, it's not strange of me to have an unpopular opinion. I'm a feminist in a very sexist environment. I have dared question my religion once and over again. I question authority, I question the system. I question almost everything. I have questioned myself: my gender, my sexuality, my identity, what I love, and why I am what I am. I believe that breaking down what you have and building it back up from scratch is the best way to make it stronger. I've changed my opinions and feelings on many subjects many times after putting a certain aspect of me through this process.

You might ask, what does this even have to do with having friends from another religion or belief? Well, for some people, I'm that friend. Where I live, most people are devoted catholics, and I'm constantly surrounded by this religion's ideology, its symbols, its chants and prayers... In short, I'm the one who sees Sunday Mass as a strange ritual here. (I'd like to note that I was raised a Catholic and I go to Church every Sunday, because my family is also Catholic. However, I have questioned wether this mindset is fit for me specifically, and have found that it's just not my thing.) It's never been a problem when making friends, mostly because it's not very common to just come up to someone and wave your religion like a banner all over their face. You talk about other less complicated, less controversial sorts of things: the weather, their favourite colour, the latest sports matches or whatever. Religion is a touchy subject and usually it's not the best way to make a friend. Anyway, when I'm already friends with someone and the subject comes up, I speak my mind. I'm always up for a good, peaceful debate. Of course, I make it a point to never, ever be disrespectful and to only say things I'm 100% sure about. It's not easy, because people usually think their own religion or mindset is the best, forgetting that it's the best for them only and that not everyone thinks the same way or is comfortable with the same things, so they try to convince me to change my mind and sometimes attempt to do this in pretty strong or rude ways. Also, sometimes my points of view are so opposite to common ones, it's hard to keep the debate peaceful and someone ends up exploding. It's a complicated thing, and I can only talk about this comfortably with some people who I know will not get all intense and start screaming at me for not believing the same things as they do. It's important that both parts agree to debate, question their own points, offer their best, and enrich their beliefs with the best that the other has to offer.

I have this friend though, who is a non-practicing Catholic. She believes in God, Jesus, the Virgin Mary, almost everything that most Catholics believe, but she doesn't pray in public, doesn't go to Church, and is really more about a personal connection to her Superior Power. One time, we were over at another friend's house, whose family is a very devoted Catholic bunch. They bless their food before eating, and when we were all ready to eat, we were stopped and asked to adopt a proper attitude in order to say a prayer. She calmly explained she didn't believe in that, and just got up and respectfully left the table to let the others pray without causing any inconvenience. The host's parents were utterly shocked. Their eyes were wide with surprise and the color had flushed from their faces. My host friend quickly started the prayer to get it over with and afterwards called my other friend to join us again. The shocked parents asked her what was all that about, still in disbelief and with a slightly rude tone. It just seemed so strange to them. And this is within variations of the same religion. This experience taught me a lot about religious diversity. Among our friends, religion had never, ever been a problem. With them, I have had various conversations about religion, and we exchange ideas, always respectful for each other's beliefs and convictions. These conversations are in fact very enriching—not only do we learn from different views of the world and beliefs, we learn to accept them and, most importantly, to separate friendship from individual points of view.

On the other hand, I also have friends from other religions altogether. I used to be very close friends with a girl whose family practiced Protestantism. I became aware of this after a long time of being friends—it was never a problem. We never talked much about religion, and our friendship grew on other bases. It was an amazing friendship, and we respected each other's beliefs and just ever lightly talked about it, without getting in too deep or anything. It was not a need to cover, and we never cared much for that at all. I also have a classmate who is Jewish. His family celebrates all the Jewish holidays and he posts pictures sometimes. I've never seen anybody comment anything or bully him about it, actually. I think it's really cool to know someone from another 'major' religion that has so many complex customs and traditions all by itself. I've learned a lot about Judaism, more than I ever have in textbooks or even the Bible. The internet has also been quite misleading when I was curious about that religion, and knowing someone who's a part of it is an excellent primary source to answer my questions. Just ask respectfully, and you'll get an honest, nicely given answer.

One of the guide questions to make this blog post was about what I've learned from this friendship about myself. As I've said before, I think the best way to make my own beliefs stronger is to tear them apart and build them back up. Interacting with people who think differently than I do sometimes makes me question my own beliefs: their arguments are valid and sometimes even seem to be better than mine. So yes, talking about religion and other beliefs such as political views or social opinions is a great way to make my own thoughts stronger and steadier. I've learned, through this questioning process, about the things I really care about, what I really believe in, what I don't really care too much about, and some things I believed just because I had been told to believe in them. It's also a process of self-appreciation and getting to know yourself and your beliefs and principles.

Quick recap. Important points so far:
1. Exchanging ideas will make your own ideas stronger and richer.
2. Respect is FUNDAMENTAL. Without it, an enriching debate will turn into an ugly fight.
3. Knowing people who belong to different religions is useful to understand those religions better and with reliable information.
4. By knowing others you'll find out about yourself. What you identify with, what you disagree with, etcetera.
We are complex human beings. This of course leaves a lot of room for diversity, but we must not forget that we are all just that: human beings. That's the only thing we ALL have in common. We're human and we share this Earth. We deserve respect because we're equal on that basic level. Now, since we are so complex, that means that there's a lot more to a person than just a single aspect of their personality: religion, gender, sexual orientation, race, age, physical appearance, you name it. Evaluating somebody under just one of those aspects is terribly limiting their whole value, so we shouldn't ever forget that. That's why we can be friends with people from a different religion: there's a lot more to them than just what they believe in. Maybe you guys like the same sport, or are both into art or computers or whatever. Let's live peacefully and accept each other for what we are. We're all individuals. We have the right to individuality.
Let's agree to disagree.
Student: Kevin Pratama
Country: Indonesia

Bhinneka Tunggal Ika - United Despite the Differences

The cold night air breezes through my feet, earphones are plugged in and delivers the music of soul into my ears, I type effortlessly on my oily keyboard, such a peaceful night to enjoy here. And I am feeding ambient musics into my ears, sprinkled with raindrop sounds in it, the ambience, and the atmosphere that made me very calm and peaceful like I was never before. I feel very light like as I am floating in my seat right now.

As in this perfect state of mind to share some life values, I want to tell a story of mine when I was in elementary grade. Yeah, when I was about 12 years old. I remember joining and participating in Mathematics Competitions that time, with my friends from all over my country, Indonesia. I remember when I struggled from local scope of the competition until I made into international scale of the competition. But it wasn't all about the competition, the mathematics problems, the solution, the theories, and the logics in solving the problems, not that. There was more than just reading, writing, thinking, analyzing, and solving questions, and that life's values was : friends. Not just friends, but friends that I met through the whole competition, whom I struggled together, whom I worked together to achieve medals and took it back home. And the most important and memorable thing was : they have their own beliefs and faiths.

At first, I was very cold, and by nature I am a quiet person, though I do love speaking and talking to new friends. I rarely talked to my friends the first time I joined the Maths trainings, until one day they introduced themselves through our first conversation. I also slept with 2 of my friends in one room so we got to know each other. I admit at that time I was shy and not very open to others, but I found that my friends accepted me for who I am, even I had a different belief from them. Slowly but sure, I also accepted them and it ended up that I communicate very often with my friends, discussing math problems, learning together, playing together and magically I became friends with them, no matter what our beliefs and faiths.

And hey, I really enjoyed playing with them! I was having fsun with them the whole time through the competition and the preparations. When I had problems, they always helped me. When they had problems, I always helped them. And when we both had problems when solving a math question… we discussed it together, even sometimes some of us had to work alone to concentrate enough on one problem. I… I can't describe how memorable and how beautiful the moments were at that time. I never look down upon my friends with different faiths until now, because… it's their own choice. Who are we to force them to have the same faith as us? We as humans have the free will, right? We have the independent mind, that's why we have our own thoughts, to become creative, to become who we want to be, to become just ourselves.

And all from that, we had also our own differences as humans. My friends that I mentioned the whole time are mostly Muslims, and my faith is Catholic, and one of my friends' faith is Buddha. We had our own traditions and ways to worship in our faiths, as my friends who are Muslims, they also have prayers at 4-5 AM. They really respected others by not disturbing others' sleeps. I also kept quiet when I awoke so they could pray fervently. And when I was praying myself before each having meal, before tests, and before going to bed, my friends never had the intentions to disturb me, though they often commented on how long I prayed. But I knew they were joking to me, I always responded it with a laugh! And that's the similar part, we always respect each others' faiths and beliefs as one group of friends.

Oh, how I remembered the good times when we were working together when we participated in team competitions. We separated the problems, from the easiest to hardest according to our own strengths and weaknesses. We only thought that we need to work together despite our differences in faiths and beliefs to achieve the best. Now I always think, how great and beautiful the teamwork I had with my friends that time, I learned that no matter how your faith is, we always stand up together, as our own country's motto : "Bhinneka Tunggal Ika" which is a Sansekerta language for "united despite the differences." I learned that as long as we respect others as a human like us, respect their beliefs and faiths, we can work together and achieve the best with our differences. I also learned from myself, that I, myself should be respect toward each other, and if possible, share the values of our own faiths to other people so we can understand other beliefs, the history, the ways, the concept of it. That way, we can be more respectful, and make a better, peaceful, friendly and helping community in this digital-era world.

And thinking of the changes, I feel that I am more respectful towards other people with different religions. I always seek new opportunities to meet, be friends, and I never have the intentions to start conflicts with people of different faiths. As Jesus Himself taught in my faith, He always love everyone equally and never discriminates people of different beliefs, faiths, or different ways of thinking. And from these experiences I have, I always try my best to treat people as a free individual with their own faiths and beliefs, because we are all humans.

So those are my spills of thoughts about my friends, and their own faiths. May we always take the life's values and the essence of our own experiences for a better world. Thank you.

"A friend is someone who knows all about you and still loves you."
― Elbert Hubbard
Popular in the Community