Egypt is once again at loggerheads with itself over Islamic dress codes, reports Tom Trewinnard.
In the latest episode of what is becoming an increasingly contentious debate, an Egyptian court banned women students from wearing the full-face veil -- the niqab -- in university exams.
The courts say the niqab allows students to disguise themselves as other candidates.
In a statement justifying its decision,
:
"If niqab is regarded as personal freedom, it is not an absolute one that is beyond all restrictions. The authority concerned shall intervene to temporarily ban in a specific place according to the nature of the circumstances and the public interest."
ذا كان النقاب يدخل في إطار الحرية الشخصية إلا أنها ليست حرية مطلقة من كل قيد وإنما يجوز للسلطة المختصة التدخل لحظرها لمدة مؤقتة وفي مكان معلوم وفقا لطبيعة الظروف وللصالح العام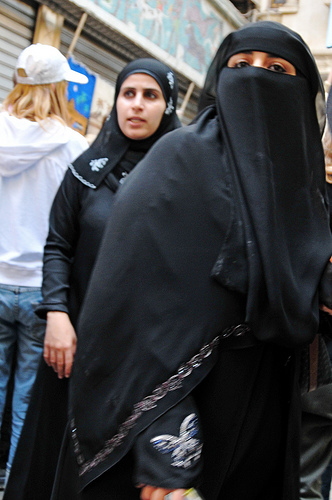 Image by Ed Yourdon.
The legal battle between the niqab-wearing students and the universities has been raging for some time.
The last round was won by the students after it was ruled that universities could not ban veil-wearing students from entering university residencies.
On the issue of that court order, the same administrative court said in December last year (quoted in independent daily Al-Shorouk):
"Wearing the niqab is considered one of the manifestations of freedom, and no administrative body, or any other institution, has the right to ban wearing it."
ارتداء النقاب أحد مظاهر الحرية ولا يجوز لجهة الإدارة أو أي جهة أخرى حظر ارتدائه مطلقا
So how could the courts defend the right to wear the niqab and then remove that right shortly after?
If no administrative body has the right to ban the niqab, how can the very same court refuse to allow entry to exams for niqab-wearing students less than a month later?
"... criticized the court for wording its verdict as provisional ban depending on the time and place of the test, in order to get around violating a 2007 ruling .... which stipulates against the imposition of absolute banning of wearing the niqab as it contravenes the constitutional protection of personal freedom and freedom of belief."
انتقد البيان استناد المحكمة فى حكمها على ما وصفته بالحظر المؤقت والمحدود بزمان ومكان الامتحان، وذلك لتسويغ عدم مخالفته للحكم الصادر فى 2007 عن دائرة توحيد المبادئ بالمحكمة الإدارية العليا بعدم جواز فرض الحظر المطلق على ارتداء النقاب لمخالفته للحماية الدستورية للحرية الشخصية وحرية العقيدة
The pro-niqab statement also questioned the court's argument that the niqab could be used to cheat in exams:
"Such measures taken by universities administrations under the pretext of combating cheating are the most strict of measures especially since the students expressed their willingness to reveal their faces and to be searched before each test."
لجوء إدارات الجامعات لهذا الإجراء بدعوى مكافحة الغش هو أكثر الإجراءات تشدداً خاصة وأن الطالبات أبدين استعدادهن للكشف عن وجوههن والخضوع لإجراءات التفتيش الذاتى فى بداية كل امتحان
The decision has created something of a stir in Egypt.
"What happened to the personal freedom and the freedom of belief that you keep chanting about? There must be a 100 ways to tell their identities other than this unjust law that is not based on any principle."
فين الحرية الشخصية وحرية العقيدة اللي بتتغنوا بيها؟ فيه 100 طريقة تقدر تعرف دي مين من غير هذا القانون الجائر الظالم الذي لا يستند إلى أي مبدأ
Another Al Ahram reader suggested the whole debate was misplaced and a sign of a deeper malaise in the Arab world's most populous country:
"I wish we would save our efforts for more important issues and admit that we are backward states, economically, scientifically and in all other domains. It is all because we are too busy with such nonsense."
ياريت نوفر مجهودنا لمشاكل اكبر ونعترف اننا دول متخلفه اقتصاديا وعلميا وكل شئ بسبب الافكار الهبله دى اللي احنا واقفين عندها
You can read more and add your comment on Meedan.net.
Thanks to Deena Hassan for translations.
Related
Popular in the Community