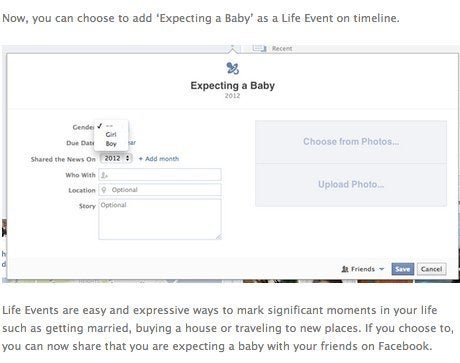 Single, in a relationship, engaged, married and now, expecting a baby?
Facebook is now encouraging people to share that next big life event -- pregnancy -- by adding "expecting a baby" as an option on timelines.
But whether updating 500 of one's closest friends about a pregnancy over Facebook is akin to looping them in on other life events, such as moving to a new city, remains up for debate.
"On the spectrum of touchy emotional moments, a miscarriage ranks pretty high. If you toggle the "Expected: Child" option, imagine how difficult it is to deal with that loss in public," Rebecca Greenfield wrote.
Greenfield goes on to cite a posting from an online community forum, in which a woman noted how difficult it was to receive messages inquiring about her pregnancy on Facebook after she'd lost her baby.
And then there will be those people who might have liked to hear the news in a more personal way, such as over the phone or in person.
As Graff asked, "How does Aunt Judy feel when she receives word through your news feed that's read by 544 people?"
Related