WASHINGTON ― When Facebook announced details of a new disclosure policy for political advertisers last month, it said the policy would roll out in the U.S. starting with ads in federal elections. The buyers of Facebook ads targeting elections for president and Congress would have to be disclosed and collected in a database. The buyers of ads aimed at state and local elections could stay secret — at least for now.
But fake ads don't all come from a Russian troll factory trying to take advantage of America's national fault lines on race, religion and immigration. Candidates up and down the ballot are the target of deceptive digital ads from groups masking their true identities. Without mandatory disclosure, it's impossible to know the true source of these online ads.
"We hope to expand to the state and local levels in the future ― and are actively working on that now," a Facebook spokesman told HuffPost.
A handful of legislators at the state level want to speed up that process and have introduced measures to require disclosure from anonymous online advertisers.
California Gov. Jerry Brown (D) last month signed legislation that would mandate disclosure from "dark money" nonprofits and any group or political candidate buying advertising on digital platforms. Illinois state Sen. Ira Silverstein (D-Chicago) introduced an online advertising disclosure bill. New York state Sen. Todd Kaminsky (D-Long Island) also proposed a bill to mandate online ad disclosure.
New York's state elections have seen their fair share of deceptive online ads from fake groups. But no one has been targeted quite like state Assemblyman James Skoufis, a Democrat representing Woodbury in New York's Hudson Valley.
Beginning in December 2015, Skoufis was inundated with a stream of ads, at least 30 by his count, that accused, praised and attacked him on nearly every issue imaginable. In many ways, these ads mirrored the activity in last year's federal elections by Russian trolls, who took on false identities and created fake groups to irritate Americans about the issues that would bother them the most.
The groups targeting Skoufis had names like "My Hudson Valley," "New York Immigrant Rights Coalition," "I Love Bear Mountain New York," "Lyme Disease Awareness―New York," and "Not Our Tax Dollars." Their creators and backers were anonymous. An ad from New York Immigrant Rights Coalition thanked Skoufis for supporting "free college for illegal immigrants," a position he had never expressed. My Hudson Valley accused him of winning his previous election thanks to support from the Kiryas Joel ultra-orthodox Jewish community, a not terribly popular voting bloc that isn't even in his district. One ad from Lyme Disease Awareness—New York even claimed that he was pro-Lyme disease.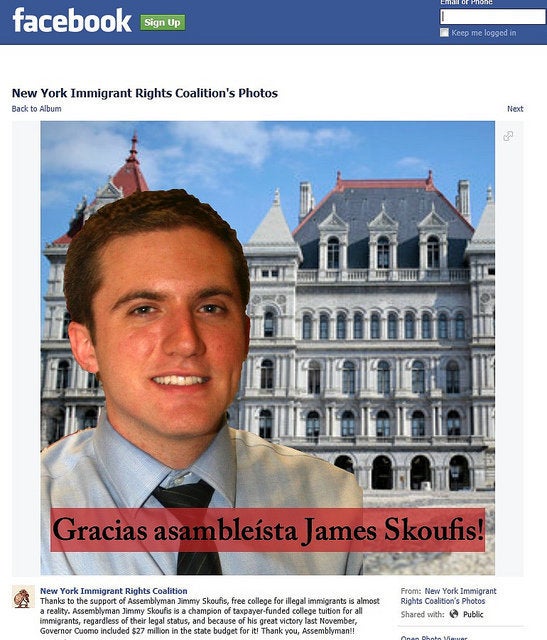 Skoufis believes this online campaign was aimed at hurting him in case he decides to run for the Hudson Valley state Senate seat, which is currently occupied by Republican Bill Larkin. The ads were targeted within the boundaries of the state Senate district. Facebook allows advertisers not only to target specific ZIP codes, but to microtarget individuals who might be most susceptible to messages from anonymous groups about immigration, taxes or Lyme disease.
"I think at a minimum there should be adequate disclosure on these ads," Skoufis told HuffPost. "People should know who is paying for them. I was glad to see that Facebook finally took some steps to do that on their own."
Kaminsky, the state senator who introduced the New York disclosure legislation, also faced attack ads from anonymous groups when he ran for office in 2016. One group that attacked him was called "NYS Public Schools"; it had no apparent connection to the state's public school system. Another claimed to represent law enforcement officers in Nassau County, but there was no way to verify if it did or not.
It's difficult to track these sorts of campaigns because the buyers of the ads are not disclosed and the ads are often targeted to very specific audiences who would be more likely to react as the advertiser wants them to react than to raise an outcry. Online ads are also ephemeral; they vanish when the advertiser no longer backs them with money. Many candidates may not even know that they were targeted.
"We're talking a lot about Russia and the presidential election," Kaminsky told HuffPost. "But these types of ads, people coming up with false pages, false identities — that's happening right here under our noses."
CORRECTION: A previous version of this story said the state senator for Skoufis' district is Terrence Murphy. It is Bill Larkin.
HuffPost wants your help reporting on digital political ads. Digital advertising is targeted to specific individuals, groups and geographic regions so we don't see the same ads that you do. That's why we need you to send us links, screenshots or copies of political ads from Facebook, Google, YouTube, Instagram, Twitter or other online platforms. Email any online political ads you see to paulblumenthal@huffpost.com.
Calling all HuffPost superfans!
Sign up for membership to become a founding member and help shape HuffPost's next chapter