Amber alerts are getting a new platform for the social media era: Facebook.
As of Tuesday morning The National Center for Missing and Exploited Children will be able to issue Amber alerts via the giant social media site. If a child goes missing in your area, Facebook will put a notice on your News Feed with all relevant information, including a photo of the missing child and location of the possible abduction. It will look like this: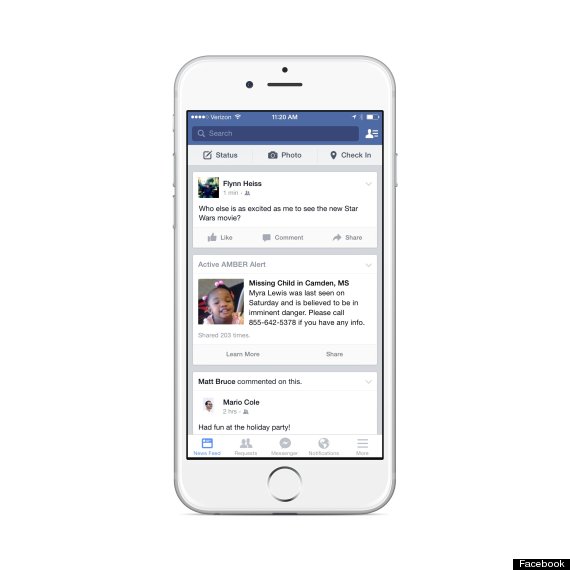 Previously, Amber alerts have gone out on more traditional media: television, radio and on highway signs. But with a reach of 1.35 billion monthly active users worldwide, including 57 percent of U.S. adults, Facebook is putting alerts directly onto people's computers and smartphones.
Facebook is the first social media site to partner with The National Center for Missing and Exploited Children, which also works with Google and Bing. Those sites provide Amber alert information in response to a user's relevant search query.
Emily Vacher, trust and safety manager for Facebook security, told The Huffington Post that users have long been using Facebook to share information about missing persons. "We've been inspired by people who already use Facebook on their own for this purpose," Vacher said. "What we did was really just amplify what was already happening."
The notices are targeted by location, so one will only get alerts about nearby incidents. Users may never see an alert, as Amber alerts are thankfully quite rare. Vacher said that only about 180 alerts are issued in the U.S. annually.
"If we sent an Amber alert for something that was two states away, people would stop looking at Amber alerts," Vacher said. "We don't ever want these to become something routine."
"If you see one of these alerts from Facebook, you're in the position to bring a child home safely," Vacher added.
If you see or hear something that could help find a missing child, Vacher recommends that you call 911.
Related