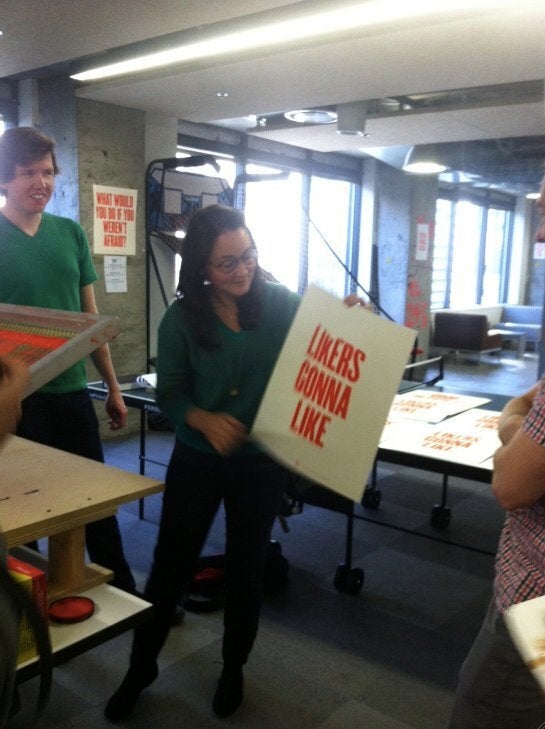 I enter the cafeteria of Facebook's New York headquarters and am handed a little red book. This one doesn't have inspiration from Mao, but from Zuck, the co-founder and CEO of Facebook.
Still, whoever has put it together seems to have studied their propaganda posters.
"The journey is 1% finished," "We are a culture of builders," and "Everything we build should facilitate human connection" are just a few of the pithy Facebookisms presented in this little red Face-book of mottos to live and work by. There are even facsimiles of past emails sent by Mark Zuckerberg to his staff. (One sent after a leak to the press has the subject line "Please resign" and warns, "I'm asking whoever leaked this to resign immediately… If you don't resign we will almost certainly find out who you are anyway.")
When Facebook staffers returned from a party celebrating the social network's 1 billionth user, all of them had one of these thick, bound guides waiting for them on their desks.
Indeed, though the lab is partially intended as an outlet for the online-obsessed to work with their hands, its main function is churning out posters, booklets, T-shirts and other objects that help translate physical space into a manifestation of company culture.
This analog antidote to the social network's digital world underscores Facebook's effort to avoid an identity crisis as it grows, and ensure its employees -- whether there are 10 or 10,000 of them-- are well-versed in its mission and values.
"When companies grow you have bureaucracy and politics and stuff like that start to creep in and become norm," said Facebook designer Ben Barry, the custodian and father of the Analog Research Lab, who worked at a screen printing design firm in Austin, Texas, before joining Facebook in 2008. "I see the Analog Research Lab as trying to push that back and stay true to the startup culture, hacker culture, that made Facebook successful all along ... The book especially is an attempt to really instill those values across our organization."
Even within Facebook, which built a billion-user business by fostering digital correspondence via likes, pokes and status updates, the most important messages are still shared physically, not digitally, and must be printed, not typed.
"By committing stuff to a physical form, you're elevating its importance," Barry notes. "So much of important information is distributed online and it's much more efficient to do that. But when you make a book or make a poster, it's a strong signal that this idea is worth paying attention to."
Many of the posters follow the same basic design, one that Barry cribbed from a 1920s-era anti-war poster created by the National Council for Reduction of Armaments. Short sayings like ""Good design is good business," "Stay focused and keep shipping" and "Move fast and break things" are emblazoned in bright red, all-caps lettering. The slogans on some signs, like "Done is better than perfect," are borrowed from famous phrases Berry stumbled across and wrote down in his journal a decade ago.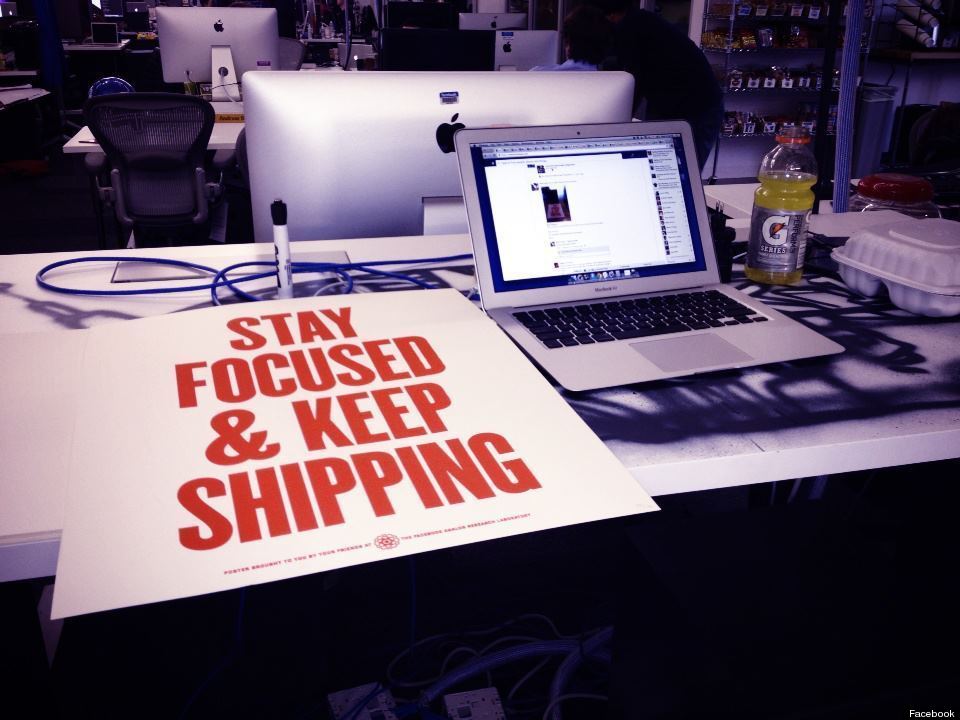 The day after Facebook filed for its public offering, Zuckerberg posted a photo of this poster from the Analog Research Lab on his desk.
One of the latest posters is "Likers gonna like," and more than a dozen Facebookers on Thursday crowded around a makeshift silkscreen press Barry set up in the Manhattan office's cafeteria to help spread the magic of the Analog Research Lab.
A series of 20-something employees took turns gingerly using a large squeegee to push red paint back and forth on the screen.
"Oh snap!" one yelps as he steps back to examine his handiwork.
"Ohhhh," his colleague agrees. "Sick."
A few people asked Barry to sign the prints. "Please make it out to eBay," someone joked.
It was a coming out party of sorts for the Analog Research Lab, which started as a pet project of Barry's two years ago and grew out of a personal love for printing. Kate Aronowitz, Facebook's director of design, recalls Barry and his colleague Everett Katigbak asking her for a screen printing press, a paper cutter and a few other tools. The piecemeal requests continued until they'd built up a humming printing facility in a spare warehouse on Facebook's Palo Alto campus, along with a dark room, woodshop and metal working facility.
Now, groups of employees from different teams come in weekly to print their own posters with the "rallying cry that inspires them," according to Aronowitz. The handiwork can be found wallpapering the company's many offices. Facebook even has an artist-in-residence program, which invites artists to spend 30 days on the company's campus and create a site-specific artwork with help from employees.
Barry said he hopes giving people control over the look and feel of where they work will in turn shape how they work, and encourage employees to make bold decisions.
"I really believe that if people take ownership of their physical space, then they feel like they're empowered and in control," Barry said. "To me, that small signal about our physical environment translates into how we develop products and the risks people are willing to take and how much they're willing to push for products and great work."
For a company that prides itself on a "culture of builders," it's also crucial to allow people to, well, build, Aronowitz noted.
"There's something great about physically building something and getting back to roots of your craft," Aronowitz said.
Support HuffPost
The Stakes Have Never Been Higher
Related
Popular in the Community