"The aesthetics are slightly different in each one, but I actually could work in either one," said lead architect Primo Orpilla when asked which office he would prefer. "Facebook is in a 60s building and AOL is a 90s building. I think they both have really neat details." How diplomatic.
Orpilla (the "O" in Studio O Plus A) and his firm have designed offices for companies like Paypal, Yelp and Levi Strauss. But the firm's recent projects for Facebook and AOL have turned the heads of more than one design blogger.
"Facebook was like the un-design," said Orpilla to Inc.com. "We sought to create an office that's as minimalistic as its online platform."
To achieve this, Orpilla left many elements bare, like weathered concrete floors and exposed rafters. The minimalist space is warmed up with details like a rich olive-and-sage striped wall and midcentury coaches and lounges in reds and browns. The studio also reused materials from the original building, breathing new life into old wreckage with details like a crane converted into a conference table. The project became the first commercial building completed under Palo Alto's Green Building Ordinance.
A mod 60s theme lends the building Mad Menesque sophistication. But of course, it wouldn't be Facebook without a little juvenile delinquency: the office houses turntables, a basketball court and areas for skateboarding. Surely Mark Zuckerberg is drinking keg beer somewhere.
For AOL, O Plus A aimed to create an open space to mirror the company's goal of total transparency.
"Key to this approach is the concept of 'honest materiality' -- the embrace of materials and processes that originate in the construction industry and that increasingly provide the finish motifs for modern workplace design," said Orpilla in an interview with Abduzeedo.com. Orpilla used oriented strand board (board created by densely packed layers of wood shavings) as an accent throughout, appearing on doors, sitting areas and ceilings, and injecting the space with rusticity. A recycled wine barrel became a board room table (we're sensing a trend), and rooms were built to blend into one another, promoting movement throughout the building.
"These rooms [the kitchen and multipurpose areas] also are wirelessly connected so you can work in them, you can hang out there rather than being chained to your desk all day," said Orpilla. "In an open office, you don't want people kind of hiding. It's all about transparency."
Take a look at the slideshow below. Which one do you think wins the battle for coolest office? Let us know in the poll!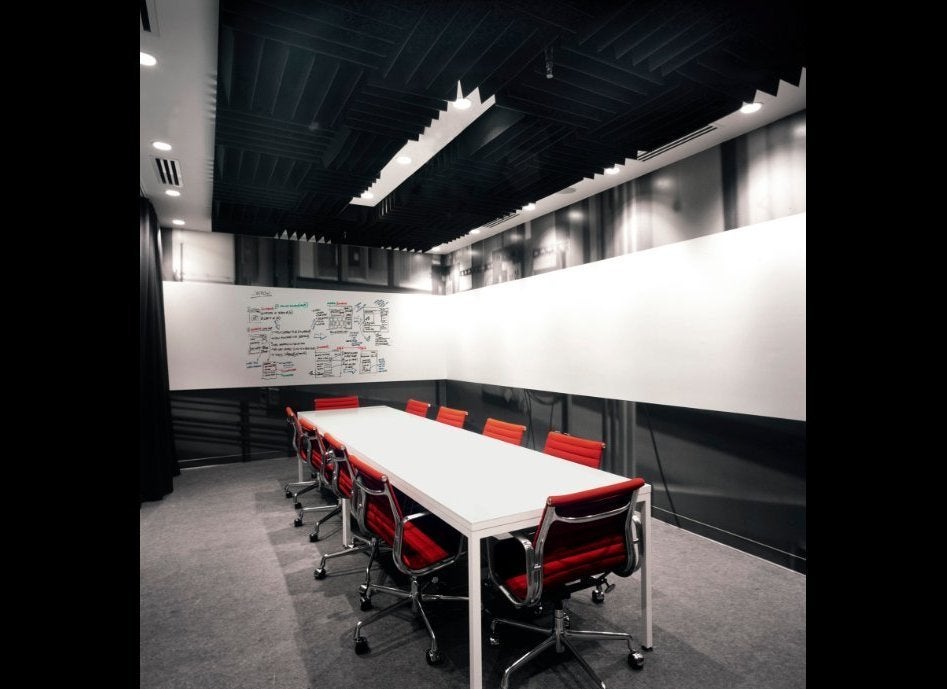 Gallery