Facebook's ironclad rule that you must use your real name on the site isn't going anywhere. But the social network soon won't care whether or not you're anonymous elsewhere online.
Engineers at the company announced on Wednesday that soon, when using Facebook to log into other apps like Spotify or Flipboard, the social network will allow you to do so without having to share your name or other personal information with them.
When logging into new apps, it's often easiest to do so through Facebook instead of creating a whole new profile on an app. But privacy-conscious Facebookers often chafed at having to provide every other app they use their life story by connecting it to Facebook.
What may seem like a small step to protect people's privacy by allowing some anonymity is actually uncharted territory for a social network that once distinguished itself from Myspace by requiring real names. The social media juggernaut may have its eye on a new generation of apps such as Secret and Whisper, which are designed explicitly for incognito sharing.
Under Facebook's new option to anonymously log in, you'll be able to register on apps without sharing anything from your Facebook profile with the outside companies that run them. Here's what it will look like: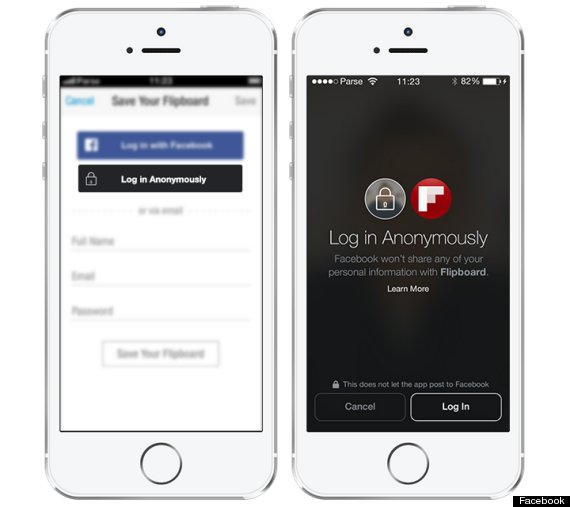 The new anonymous login is currently available to a small number of developers and will be given to more in the next few months, Facebook announced during its annual developers conference on Wednesday. There is no mention of when the feature will be available to everyone.
The option of logging into an app while sharing your data with it will still exist. But soon under Facebook's new rules, you'll be able to go line by line and choose what information you'd like to share and what you'd like to keep private. If, for example, you'd like to share your birthday with an app while keeping your list of friends to yourself, you'll be able to do so.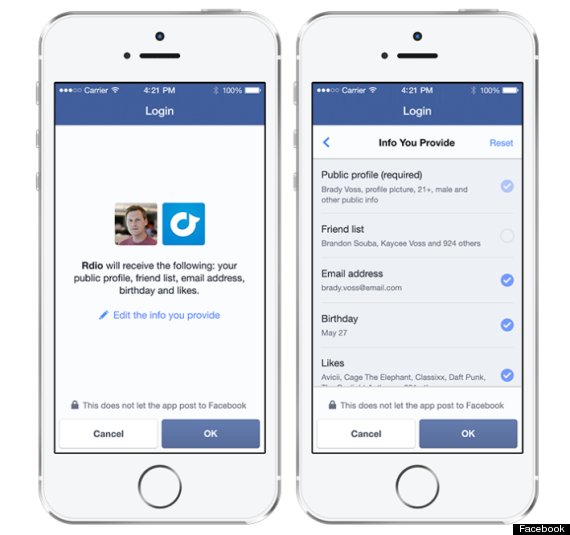 The final change to the login process is a better organized app control panel, which will tell you which apps you're using and what those apps know about you. Transparency? In your Facebook settings? Yes, you read that right. It's shocking and a potential step in the right direction.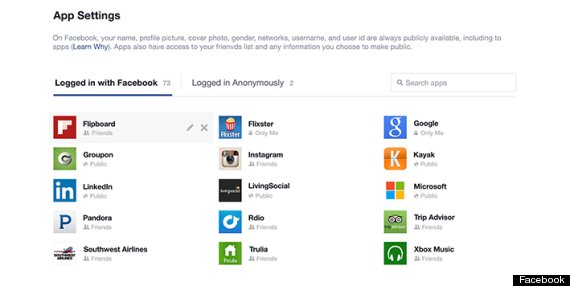 Calling all HuffPost superfans!
Sign up for membership to become a founding member and help shape HuffPost's next chapter