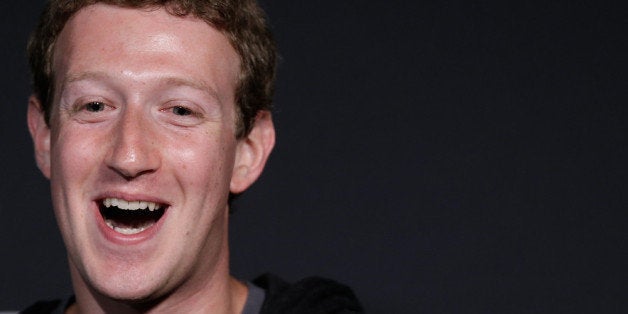 Through Facebook's decade-long history, one thing has been consistent: You had to use your real name to do anything on the website. But now, Mark Zuckerberg is suggesting that he's willing to loosen the reins on anonymity and let people use Facebook -- in some cases, at least -- without their real names.
The Facebook founder dropped that hint in an interview with Bloomberg Businessweek for his company's 10th anniversary. "I don't know if the balance has swung too far, but I definitely think we're at the point where we don't need to keep on only doing real identity things," Zuckerberg said. "If you're always under the pressure of real identity, I think that is somewhat of a burden."
In the interview with Bloomberg, Zuckerberg did not detail in which specific ways the real-identity rule would be pulled back. But Facebook has already made a $1 billion experiment in anonymity with Instagram. Since its inception, the photo-sharing app has let its amateur photographers post under pseudonyms, and Facebook has left that part of Instagram alone since buying it. New pockets of Facebook that might allow anonymous sharing may come out of a new division called Facebook Creative Labs, which promises to introduce several new standalone Facebook apps. The first is a news app called Paper, to be released on Feb. 3.
To understand how radical a shift even a little anonymity would be for Facebook, you have to look back to 2004. Facebook entered the world asking prospective members to verify their true identities with a college email address, a demand that the biggest social network at the time, Myspace, never made. Facebook managed to bring order to a chaotic web where you could never be sure if a creeper lurked behind an AIM handle or a Myspace profile. Over the past few years, a Facebook login has become lock and key to much of the rest of the web, necessary to access apps like Tinder and comment on websites like HuffPost.
"This notion of a profile made a lot of sense in the binary experience of online and offline," Spiegel said in a recent speech. "It was designed to recreate who I am online so that people could interact with me even if I wasn't logged on at that particular moment. Snapchat relies on Internet Everywhere to provide a totally different experience. Snapchat says that we are not the sum of everything we have said or done or experienced or published – we are the result."
Popular in the Community